Top 7 Best Paint Colors For Small Bathrooms
May 07, 2019 10:55 AM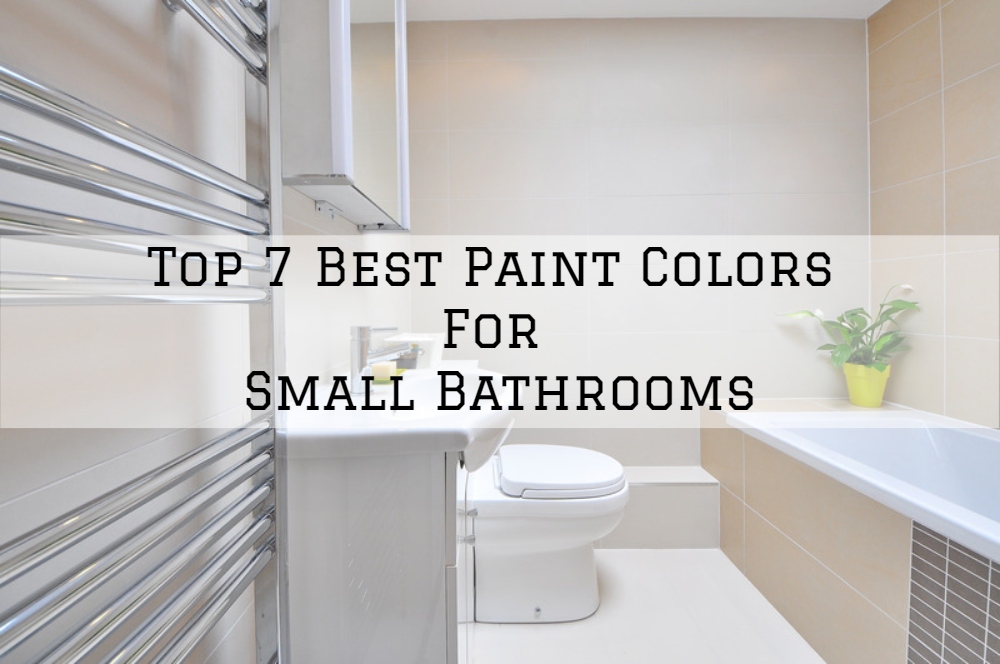 Painting and decorating a small bathroom can be quite a headache, especially when it comes to choosing colors. Small bathrooms are known to be dark and cold, and every design and painting effort is often tilted towards making the space feel warm, brighter and larger.

Generally, the best way to make your bathroom or any room seem larger is to use bright paint colors. While white is the default color for many homeowners looking to brighten up interior small spaces, painting your entire bathroom white can make it feel even colder, flat, featureless and clinical. So step out of your comfort zone and try out one or more of our recommended paint colors for small bathrooms below:
Pink

Pink is an awesome pick if you're looking to create a warm, flattering glow with a feminine touch. If you want to make the place less girly and more modern, go for soft rosy pinks and pair them with black or white. Using a slightly muted pink hue such the Sherwin-Williams Charming Pink will create a more grown-up appeal for your walls. If you're looking for a sophisticated vibe, pair your soft pink with charcoal gray or deep brown.
Yellow

Painting your small bathroom in a sunny yellow paint creates the feeling of artificial light and adds a cheerful and playful vibe to your little private space. Pair sunny yellow or the marigold shade with light wood details and white accents if you're looking to create a bright warm space. If your small bathroom receives a considerable amount of natural light, sunny yellow will definitely brighten things up.
Mint Green

This will be a perfect choice for those looking to create unconventional bathrooms. The soft, mint green sets a tranquil tone in the room and evokes the calm of nature. So if you want to bring a bit of the outside, inside, consider adopting cool or mint green.
Aqua Blue

Nothing suits in a small bathroom and creates a cool space like the Spa blue paint hues. The pale or blue light up the walls and work perfectly both in modern and traditional bathrooms by bouncing light around. Complete this look with shiny metal fixtures and accents, crisp white trim and all-white towels. Consider painting the ceiling in a similar color, but 1-2 shades lighter to open up your small space even more.
Light Gray

Gray is not necessarily a trendy color when it comes to painting bathrooms, however, choosing soft, light shades will work great in brightening and opening up your small bathroom. If you're looking to add in a bit of sophistication, then considering using greige (a combination of gray and beige) and pair it with white bathtubs and sinks.

A warm gray or greige will balance out the cool white and silver found in most bathroom fixtures. Pale pink, blue, or green linens with white accents will create a classic theme when coupled with light gray.
Blue Gray

Well, we're not done with the grays just yet, and here comes the blue-gray. Blue-gray paint color provides a bit more depth than the powder blue or light gray without making the space seem overwhelming. Now, if you want to add a hint of color and still keep things fairly neutral, you know how.
Bright White

Still color-shy? Well, let's default to the traditional white. Classic shades of white create a crisp, clean look and reflect light, helping to make your small bathrooms feel just a little bit larger. Pick a shade of white that matches or complements your tile and bath furnishings to keep the look cohesive.
If you're looking to repaint your bathroom to brighten and open up things a little in Omaha, Nebraska, our professional crew at Brush & Roll Painting will be more than happy to help. Book a free estimate below or call us today for more details.