Should You Install Countertops or Refinish Cabinets First?
November 17, 2023 11:46 AM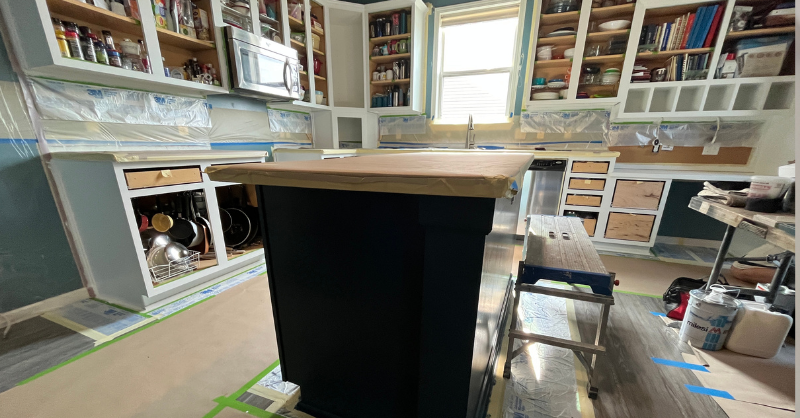 Home renovation projects can be both exciting and challenging, especially when it comes to kitchen upgrades. If you're planning to give your kitchen a fresh, new look, one of the dilemmas you might face is whether to install countertops before or after cabinet refinishing or painting.
At Brush & Roll Painting in Omaha, NE, we have refinished cabinets to provide a lasting finish and impression since 1996. Over the years, we have picked up some tips and tricks that have allowed homeowners a seamless kitchen remodeling experience.
There is no right or wrong way to go about a kitchen remodeling project. The decision should solely be based on what is better for you and your project. In this article, we will give examples of when countertops should be installed before Cabinet Refinishing and when countertops should be installed after Cabinet Refinishing.
Countertops After Cabinets
Doing Your Project in Stages
If you dislike your cabinets and countertops, but the budget does not allow you to do both in a short time frame, refinishing cabinets is a great first step.
Cabinets are the focal point of a kitchen, commonly the first thing people see when they walk into the room. Cabinets are a vertical surface that meets the eye level, while countertops are horizontal, and you typically have to look down to see details.
Likely, you can find a paint or stain that looks great with your countertops. This might help you like your countertops more now that they would have a great match. If not, later down the road, you can match a cabinet color or stain that you love, with a new countertop.
If you choose to replace your countertops first, it may be more difficult to match a countertop that you love with your existing cabinets that you might not like so much.
Countertops Before Cabinets
On the opposite side, if you want to have your whole kitchen remodel completed in a few short months, installing countertops before cabinets may help with an efficient workflow and protect both investments.
If you choose this route, pick out your countertops and a cabinet paint/stain color simultaneously. Comparing your samples will help you find a perfect match for your space. If you are struggling with this step, interior designers or color consultants might be helpful in this process.
Protecting Your Investments
Countertops and cabinet refinishing are significant investments in any kitchen renovation. By installing countertops before refinishing your cabinets, you can protect both pieces from accidental damage that may occur.
Installing countertops first provides a protective barrier and ensures that they remain in pristine condition throughout the cabinet refinishing project.
Countertops can be easily protected with paper and plastic covering the entire surface. Protecting cabinets from countertop damage is more complicated. This comes with risks of nicking or chipping parts of the cabinet wood.
Efficient Workflow
Efficiency is vital in any home improvement project. Installing countertops before cabinet refinishing streamlines the workflow, reducing downtime and disruptions in your kitchen. When countertops are in place, you can continue using your kitchen for meal preparation and other daily activities while refinishing the cabinets.
On the other hand, if you refinish your cabinets first, you may need to temporarily remove or relocate them during the countertop installation, causing significant inconvenience and additional labor.
Laminate Countertops
If you have laminate countertops and are changing to granite or quartz, you will need to have the laminate at least removed first due to the lip on the edge of the laminate countertops. Removing laminate will expose wood on the base of the cabinets that will be shown with granite or quartz countertops.
Likely, you do not want unfinished, bare wood shown after you have refinished cabinets and replaced the countertops. So to avoid this, ensure that the countertops are fully replaced first, or the laminate is removed.
Make the Best Choice For Your Kitchen
If you are tackling your kitchen remodeling project in stages, refinishing your cabinets first is a route that is more budget-friendly and will allow your space to look transformed quickly.
If you are looking to have your whole kitchen remodeled quickly or within a few months, it may be a more efficient workflow to install the countertops first and then move to Cabinet Refinishing.
When you're ready to refinish your cabinets in Omaha, NE, schedule an estimate with Brush & Roll Painting. Our proven process begins with extensive prep work and ends with a lasting finish, protected with a 9-year warranty.