2022 Bedroom Paint Color Trends in Omaha, NE
August 18, 2021 10:39 AM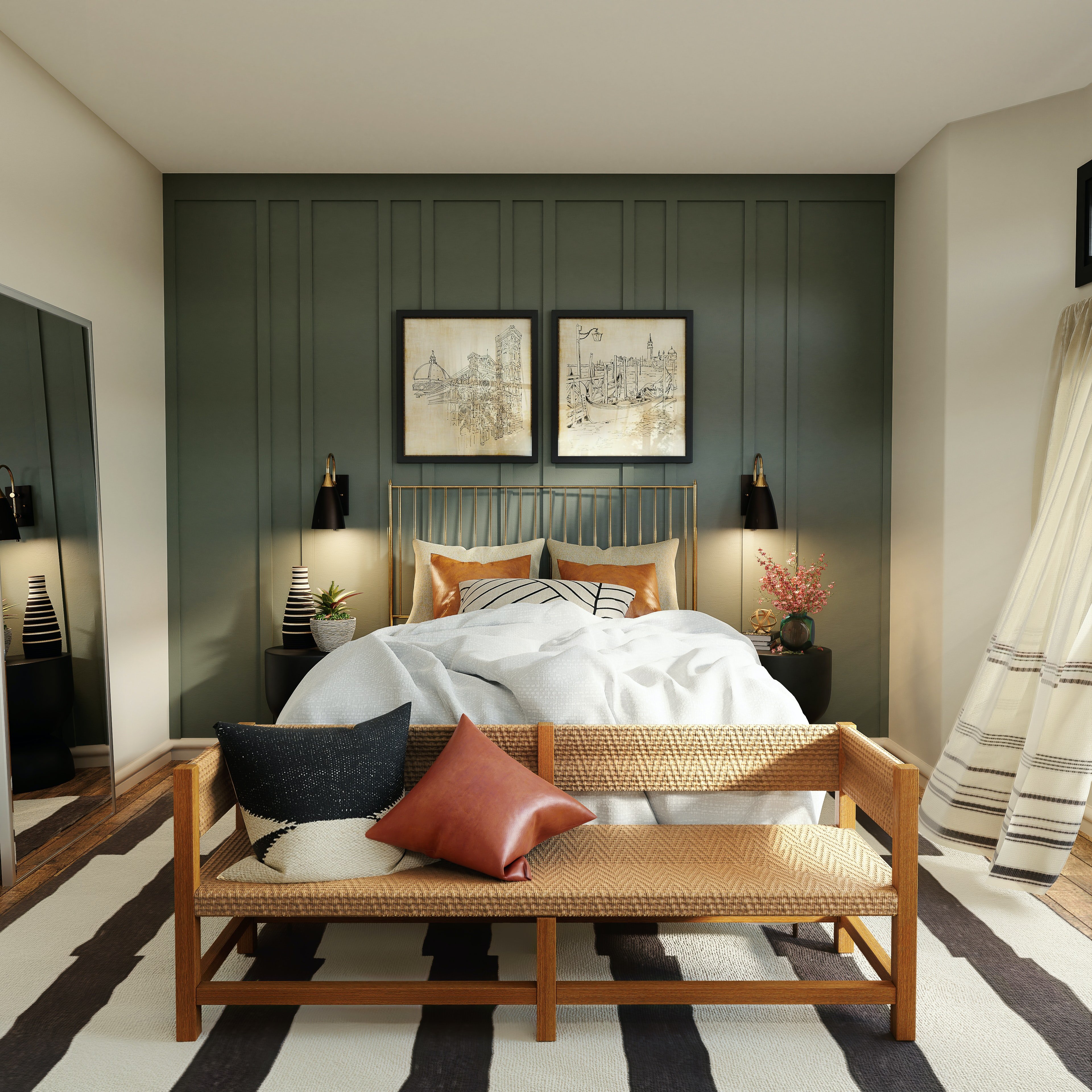 Your bedroom is your sanctuary. It's where you unwind, and it's the first and last thing you see in your day. Make it as serene as possible and a reflection of your personal style with a fresh coat of paint! Bedrooms are personal spaces, after all, so consider shades that make you feel best and bring your look to life.
Our color experts at Brush & Roll Painting shared their favorite trending paint shades for 2022 and beyond in the bedroom. We're going over everything from calm and tranquil to bold and beautiful. Read on to see which shade to try next in your bedroom.

1. white
Serenity reigns in a minimalist bedroom with white walls. Whether your style is modern farmhouse, Scandinavian, or transitional, white will pair with anything and make your space appear larger. That's because white reflects light and makes spaces feel more open. White paint will also let other design elements stand out, like shiplap, decor, or statement-making furniture. Choosing the perfect shade of white isn't an easy task, but White Heron by Benjamin Moore is a universal favorite that's versatile enough for any space.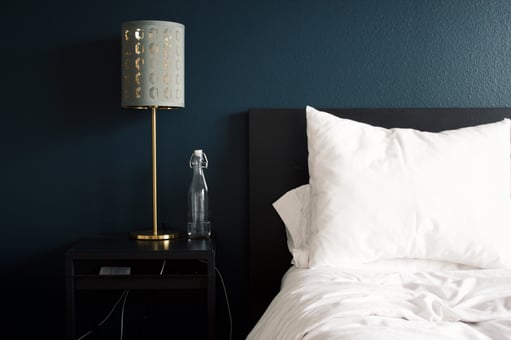 2. Navy blue
Make your bedroom feel especially cozy with a dark, moody shade like navy blue. It's not pitch black but still dark enough to make an impression. You can lighten things up a bit with white linens and bright decor for a cool contrast and to create depth. Benjamin Moore's Hale Navy is a timeless classic that's deeply saturated.

3. Gray
It's really difficult to find a space with gray painted walls we don't like. Gray is versatile, elegant, and completely foolproof. It flatters cool and warm tones alike and gives an instant sense of calm that's still stylish and exciting. This subtle neutral is seen in modern bedrooms, modern farmhouse, mid-century modern, transitional, and just about any other style we can think of. Edgecomb Gray by Benjamin Moore is a tried and true favorite among professionals.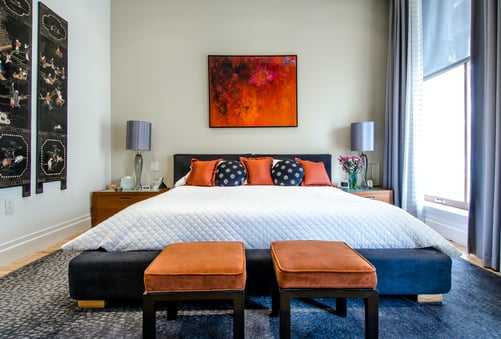 4. creamy beige
When paired with your favorite furniture and decor, beige is anything but boring. It brings in just the right amount of warmth and is a nice alternative to crisp white walls if you want something a little different. Beige is subtle and neutral enough to not take over a space, especially with unique interior design and decor, but still draws the eye. Interior designers choose Manchester Tan by Benjamin Moore as their favorite beige paint color.

5. Light Blue
Just like how you can transform your bathroom into a spa with light blue, you can create the most soothing, dreamy space with this shade in your bedroom. Light blue is fresh and ethereal, a pop of color that's still entirely neutral enough to pair with any style of bedding and decor. Smoke by Benjamin Moore is a stunning, grayish, barely-there blue that will make you wake up refreshed every morning.

6. Greige
Greige has become a fast favorite among professionals and homeowners because of its ease of use and versatility. It's also an incredibly calming shade. It pulls both cool and warm, which is good news if you already have bedroom furniture and decor that you love and don't want to switch it out. Greige will go with any interior design style and breathe new life into your space. Give Classic Gray by Benjamin Moore a try.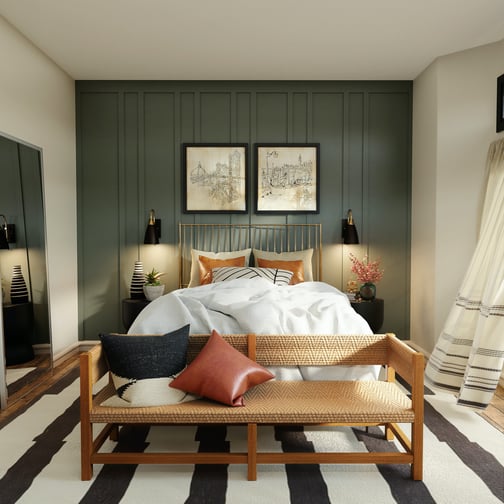 7. Green
The color of life and earth, green is a modern and unexpected paint color choice for bedrooms. Dark forest green creates a warm, cozy vibe that acts as a neutral shade. Other accent colors in the bedroom such as black and white really stand out against a deep hunter green paint color. Try Backwoods by Benjamin Moore for a sophisticated shade perfect for any bedroom size.

8. Terra Cotta
A unique yet striking way to wake up your walls, terracotta is a very warm shade that's not as common as other shades of brown but still a perfect way to play with color in your bedroom. Terra cotta is mostly known as the color of ceramics, tile, and roofs, but it's also a completely gorgeous paint color. Shades of blue throughout your bedroom will make terracotta walls pop. We love Firenze by Benjamin Moore on bedroom walls.
At Brush & Roll Painting, we know that home painting is a serious investment. We also believe that any paint job is only as good as the prep. If you want a quality paint job that will stand the test of time, give us a call at (402) 932-9764 or schedule an estimate online.