Best Blue Exterior Paint Colors in Omaha, NE
October 25, 2021 11:50 AM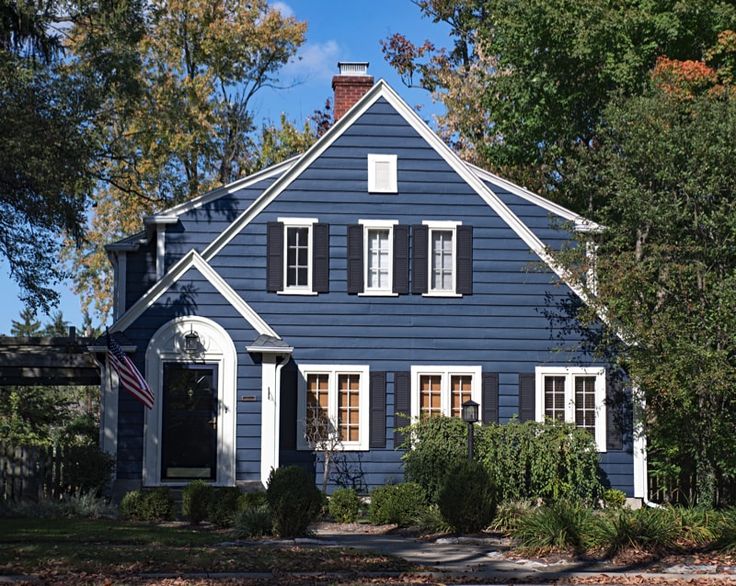 Many homeowners prefer neutrals when painting their homes, whether it's the exterior or an interior room. But we're here to show that some colors are just as versatile as grays or beiges and bring your home's exterior to life! Shades of blue are classic and give a confident yet cool vibe. But which shade is the right shade of blue for your home?
Our color experts at Brush & Roll Painting want to make the color selection process a little bit easier for you, so we've narrowed down some of our favorite blue paint shades to help! Blue is a beloved primary color with tradition and ease of complementing other paint colors. Keep reading for pointers from our professionals on how to pick the perfect blue exterior paint color with confidence.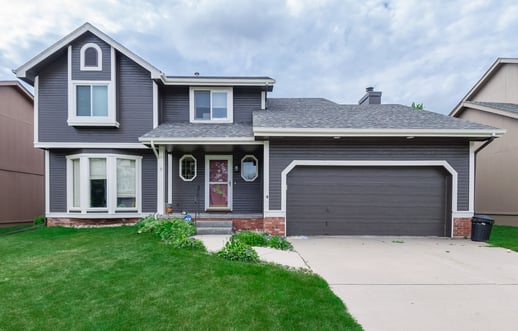 1. Hale Navy- Benjamin Moore

There's no questioning the timeless nature of navy blue. Navy is moody with the versatility of a neutral and looks great in any setting. Many shy away from darker colors when it comes to interiors, but it's confident and elegant. Hale Navy by Benjamin Moore is equally trendy and classic and sure to make your home the most eye-catching on the block. Designers and homeowners flock to this shade because of its flexibility and that sophisticated impact it makes on facades both as a main color and a trim.
2. Smoke- Benjamin Moore
A striking, unique blend of gray, green, and blue, Benjamin Moore's Smoke is relaxing and multitalented

as an exterior and interior paint color. This shade evokes zen vibes and is subtle enough for those who are more color-shy. Smoke can be modern and contemporary or complement more traditional farmhouse-style homes in the most comforting, stylish way.
3. Newburyport Blue- Benjamin Moore

Not as dark as Hale Navy but just as impactful, Newburyport Blue is a strong blue that anchors your home without overpowering it. This shade of blue works great with white and gray. Newburyport Blue by Benjamin Moore is considered medium-dark with slightly green undertones that make it stand out from other shades of navy or dark blue.
4. Stormy Sky- Benjamin Moore
The perfect compromise between gray and blue, Stormy Sky is muted and chic. This

Benjamin Moore gray-blue paint shade can be paired with white trim and virtually any color of front door. Stormy Sky is one of the most popular blue paint colors, and for good reason! Those wanting to dip their toes in a color that's rooted in gray will love this shade as an exterior color.
5. Ocean Floor- Benjamin Moore

Ocean Floor is described as a deep gray with a "wonderfully rich, water quality that invokes pirates and ocean adventures." As an exterior shade, this beautiful gray-blue pairs with white and even black trim. When it hits the light, the striking blue really comes forward. For blue-gray exterior paint colors, Ocean Floor hits all of the marks and lets the design elements of any home stand out.
6. Bella Blue- Benjamin Moore
A new favorite that works with traditional and modern homes, Bella Blue is a classic

paint color that leans green. This medium-blue shade lends itself perfectly to pairing with crisp white trim. It's become a favorite among the farmhouse design devotees as well.
7. Ocean air- Benjamin Moore

This shade is just a whisper of blue and works perfectly for homes that are shaded and get lots of natural light. Ocean Air is every bit as calming and refreshing as the name suggests and adds major curb apeal to your home. It's a great solution for those wanting a light aqua blue that isn't too saturated or bold.
At Brush & Roll Painting, we know that home painting is a serious investment. We also believe that any paint job is only as good as the prep. If you want a quality paint job that will stand the test of time, give us a call at (402) 932-9764 or schedule an estimate online.