Best Blue Kitchen Cabinet Paint Colors in Omaha, NE
February 23, 2022 02:45 PM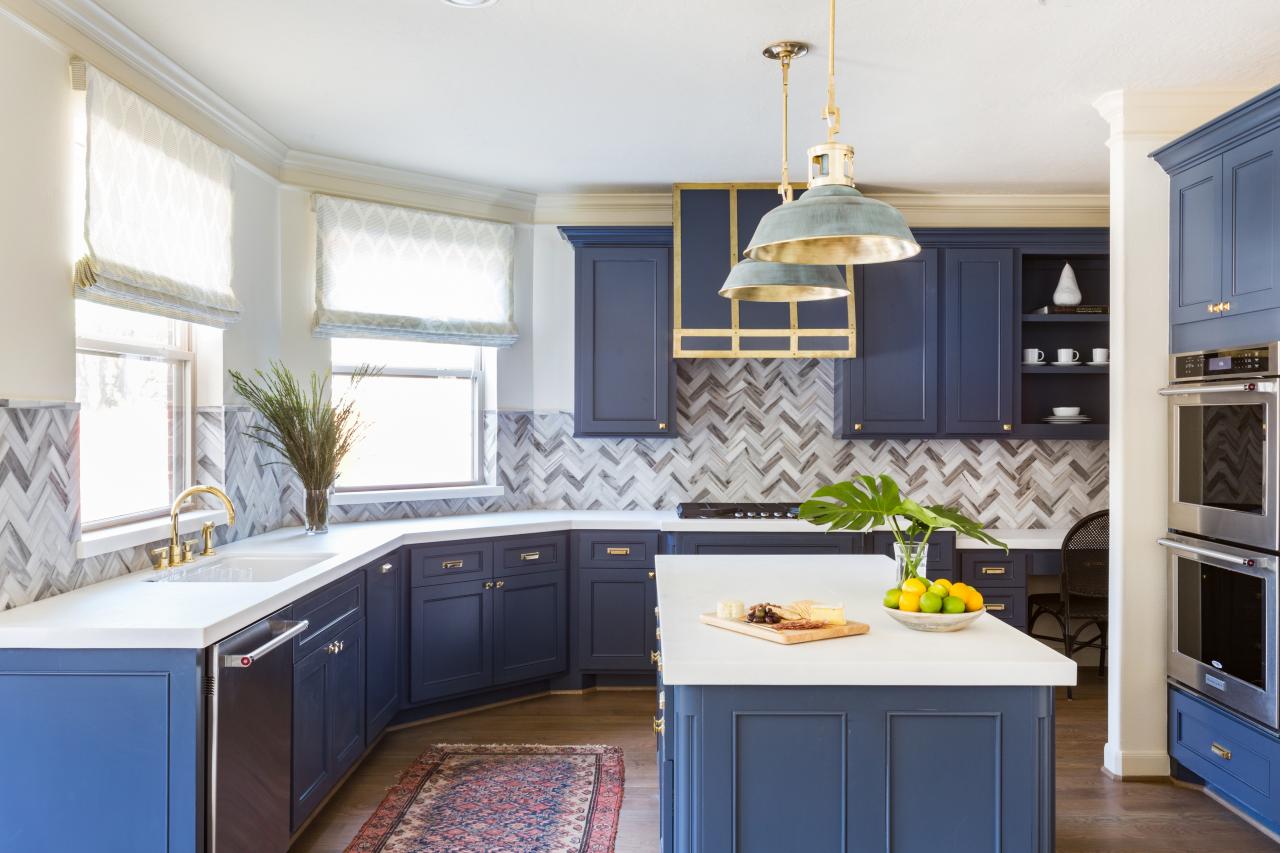 Looking to satisfy your color craving? There's colorful decor and furniture, but if you want more without going too overboard, blue is a great shade to try. And not surprisingly, blue is a trending shade for wall colors, home exteriors, and kitchen cabinets.
The right shade of blue can make all the difference, so do your research when it comes to different paint colors. Do you want to go with a light blue, medium blue, or dark blue for your kitchen cabinets? Always consider your wall colors, the natural light in your kitchen, and what your personal style is, of course. We've rounded up some of our top blue paint colors that suit any style of kitchen cabinets. Read on to see more!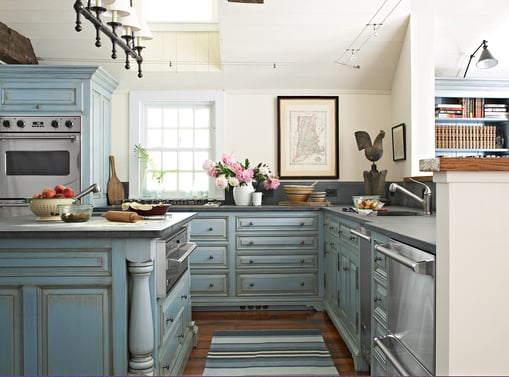 1. Smoke- Benjamin Moore
A striking, unique blend of gray, green, and blue, Benjamin Moore's Smoke is relaxing and multitalented

as an exterior and interior paint color. This shade evokes zen vibes and is subtle enough for those who are more color-shy. Smoke can be modern and contemporary or complement more traditional farmhouse-style homes in the most comforting, stylish way.
2. Smoky Green- Benjamin Moore

Don't be completely fooled by the name. This shade is a mix of blue and green and includes some gray to make the color a more muted choice. It's neutral enough to go anywhere and has enough color to make an impact in your kitchen. Smoky Green by Benjamin Moore is tranquil and trendy but will always remain a classic shade for kitchen cabinets.
3. Aegean Teal- Benjamin Moore
Benjamin Moore's Aegean Teal is a soothing balance of cool and warm as

a blue-green hybrid. The gray undertones give it warmth to balance out its cool tones. This shade plays well with green or even a peachy shade, beige, or off-white. We love the versatility of the mid-tone shade and how it stands out against warm wood and brass hardware details.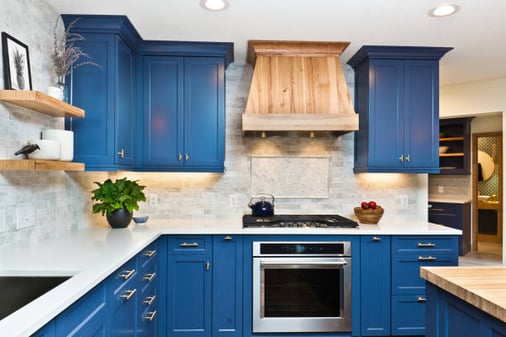 4. Patriot Blue- Benjamin Moore

Bold and beautiful, Patriot Blue by Benjamin Moore is true blue and vibrant. We love it in a crisp white kitchen for a classic Americana style juxtaposed with modern finishes.
5. Blue Note- Benjamin Moore

A saturated, rich shade like Blue Note by Benjamin Moore grounds a kitchen with white walls. This is a statement shade but still looks classic and on-trend. It's a true sapphire blue with a hint of nautical undertone, perfect for any style of kitchen cabinets.
6. In The Tropics- Benjamin Moore
With this shade in your kitchen, it's always an island getaway. Experience

soothing vacation vibes with In the Tropics by Benjamin Moore. This exciting shade is a blue-green paint color that pairs beautifully with gold hardware, oak wood, and crisp white walls.
7. Bella Blue- Benjamin Moore
A new favorite that works with traditional and modern kitchens, Bella Blue is a classic

paint color that leans green. This medium-blue shade lends itself perfectly to pairing with crisp white trim. It's become a favorite among the farmhouse design devotees as well.
8. Ocean air- Benjamin Moore

This shade is just a whisper of blue and works perfectly for homes that are shaded and get lots of natural light. Ocean Air is every bit as calming and refreshing as the name suggests. It's a great solution for those wanting a light aqua blue that isn't too saturated or bold.
At Brush & Roll Painting, we know that home painting is a serious investment. We also believe that any paint job is only as good as the prep. If you want a quality paint job that will stand the test of time, give us a call at (402) 932-9764 or schedule an estimate online.