Best Home Exterior Paint Color Ideas
June 06, 2022 09:36 AM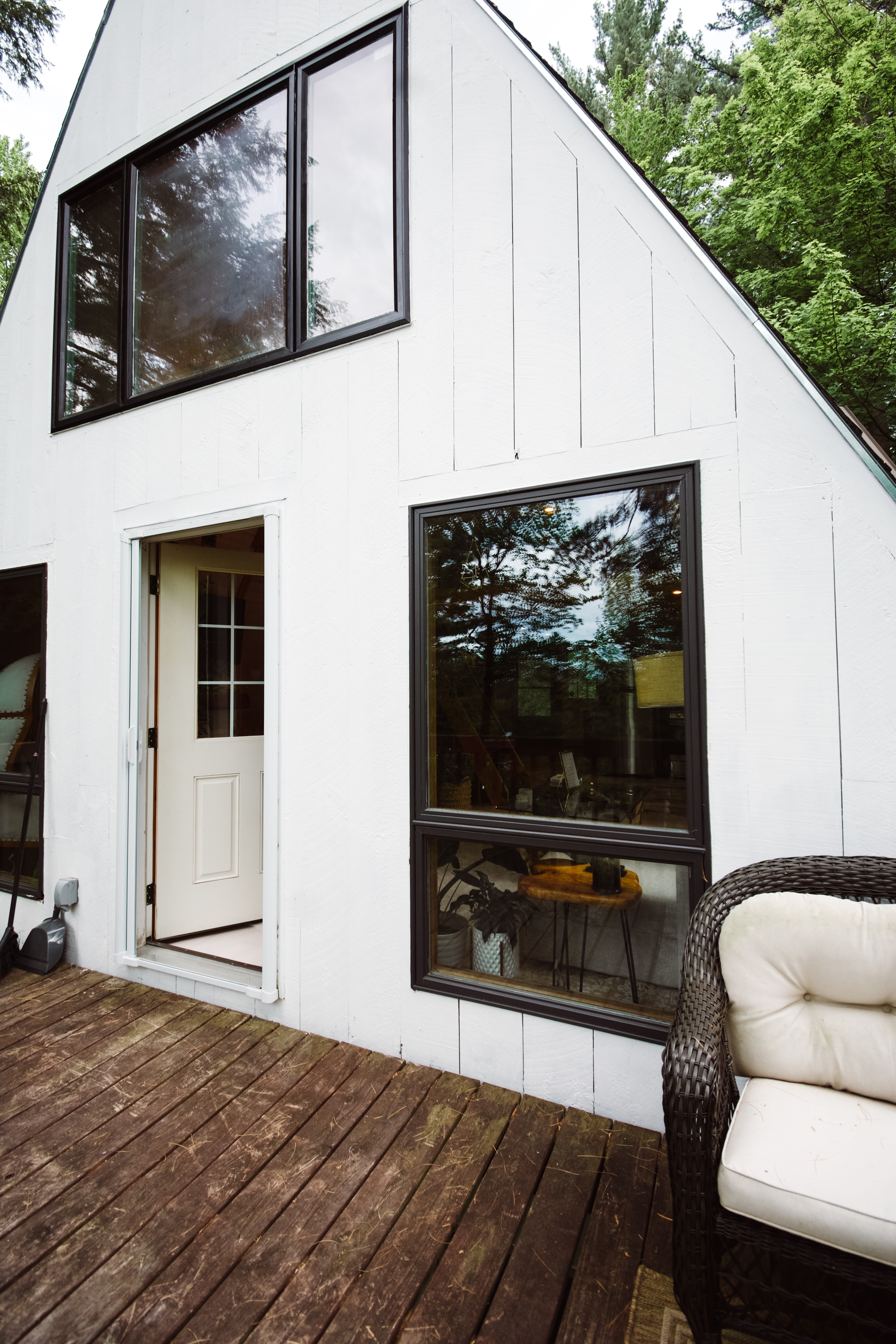 One of the biggest decisions you make for your home can be what color you choose to paint its exterior. Your home is seen every time someone walks or drives by, and the paint color can affect your home's look and feel. We recommend all kinds of different tips and tricks to help get homeowners started with choosing colors, but one of the best ways to get going is with inspiration.
When you're choosing a paint color scheme for your home, consider the main color, an accent color, and the trim color. You can always drive around different neighborhoods to get ideas, but browsing the internet is a certain way to get ideas brewing. Read on to get inspired to enhance your home's own curb appeal!

Medium Gray + Cream + Navy
This timeless colonial home looks amazing with an equally timeless color palette. You can never go wrong with gray, and the soft off-white cream brings out the depth of the mid-tone gray. With navy shutters, it highlights the home's unique features, and it's all topped off with an inviting red door.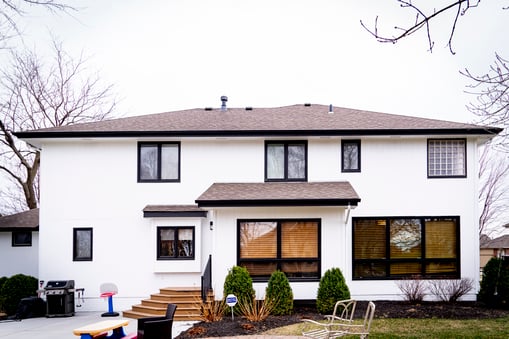 Black + White
The beauty in this home lies in the modern contrast. These homeowners considered the color of their roof, which is very important. Paired with warm oak wood and a minimalist landscape, these two shades create a bold yet classic look that never goes out of style.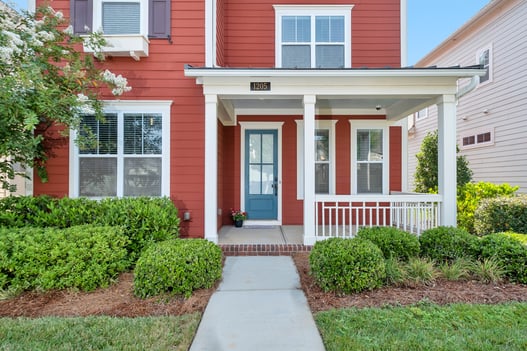 Red + White + Navy
This home makes an updated take on Americana and red, white, and blue. It's a historic home, and this color pairing is striking without being too overpowering.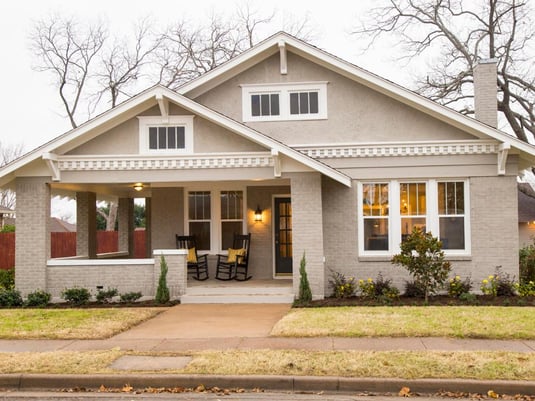 Beige + White
Another way to consider the right paint shade for your home is to consider the brick if you have it. This is a great example of choosing a color scheme that pairs perfectly with the sand-colored brick exterior. The white trim beautifully highlights the home's design and makes the beige stand out.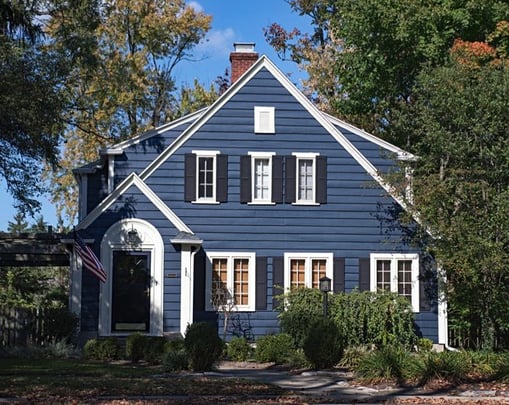 Blue + NAvy + White
Another historic home is brought alive by a serene mid-toned blue and accented with navy blue shutters. Classic white was the best way to highlight the curved front entrance.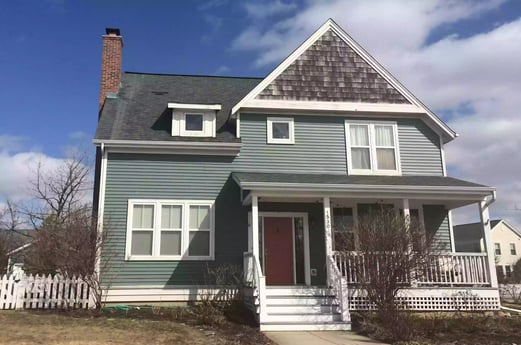 Green + WHite
A simple spruce up with lively green and crisp white trim was all this classically charming home needed. The mulberry front door was the perfect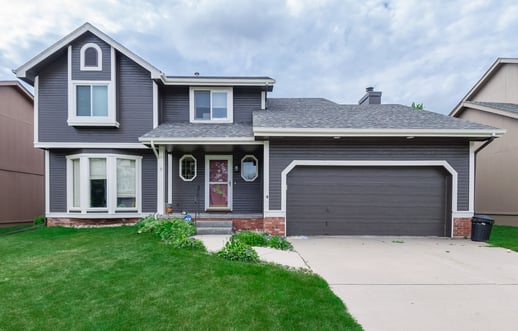 Navy + White
Navy is the perfect shade if you want that dark but not too dark look for your home's exterior. Timeless white trim makes it stand out even more. Contrast, even if it's subtle, always attracts a lot of curb appeal.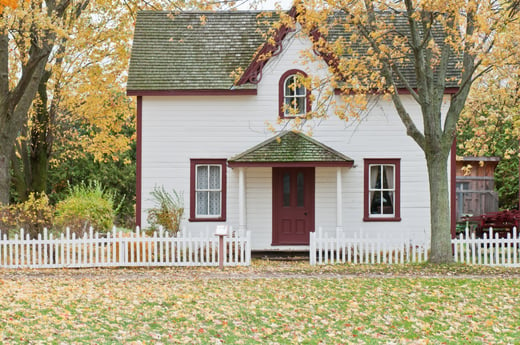 Berry + Cream
Another compromise if you want a darker color is simply using it as trim. Here, the cream color is the main paint shade, and the dark berry highlights the shape of the home and the charming windows.
At Brush & Roll Painting, we know that home painting is a serious investment. We also believe that any paint job is only as good as the prep. If you want a quality paint job that will stand the test of time, give us a call at (402) 932-9764 or schedule an estimate online.