All About Two-Tone Kitchen Cabinets in Omaha, NE
April 22, 2021 05:27 PM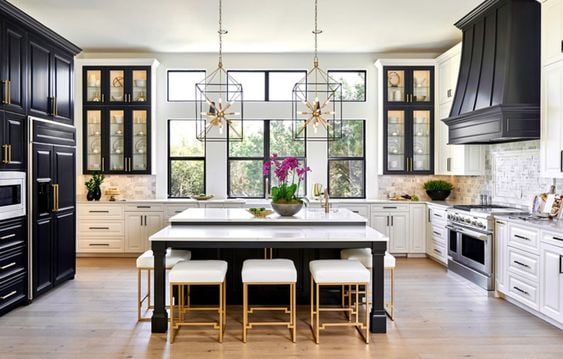 Gone are the days when kitchen cabinets all had to be the same color. Two-tone cabinets are on-trend, and the design look doesn't seem to be going anywhere any time soon. Two-tone kitchen cabinets combine two different colors of cabinetry. They create visual intrigue, make a kitchen appear larger, and let you get creative in the kitchen with more than just food.
At Brush & Roll Painting, we have invested countless hours of research and training in perfecting a process that will give kitchen cabinets a durable finish that is sure to stand the test of time. Two-tone cabinets may sound like a fun DIY project, but it's best to leave this to the professionals. Read on to see how two-tone kitchen cabinets can transform your space without a huge overhaul.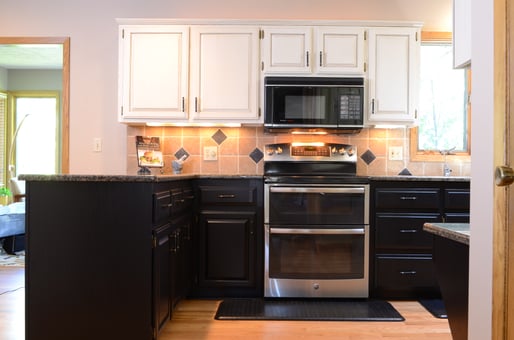 What are two-tone kitchen cabinets?
Two-tone kitchen cabinets are any kitchen area that mixes two different colors of kitchen cabinetry, and it's one of the most popular kitchen cabinet design ideas today. Traditional kitchens have stuck to one color, typically, but interior designers and homeowners alike have loved the two-tone kitchen cabinet trend. It can also refer to the kitchen island being a different color than the cabinets.
Many times, homeowners choose the look of finished wood cabinets and painted cabinets. Other times, it's two complementary colors that draw the eye and create contrast, such as black and white, navy and white, or white and gray.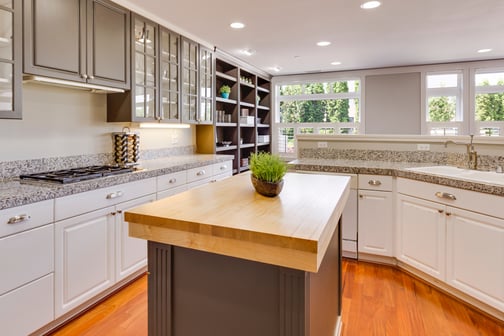 What are the benefits of two-tone kitchen cabinetS?
Updating your kitchen cabinets in any form is always a good idea. It's the quickest, easiest, and most budget-friendly way to refresh your kitchen without a complete renovation. The most obvious benefit of having two-tone kitchen cabinets is the overall aesthetic. It's hard to look away from striking kitchen cabinets, especially when they have a stark contrast. They make your kitchen more elegant and trend-forward without being too over the top.
Because everyone wants the two-tone kitchen cabinet look, having it in your kitchen could increase the resale value of your home. In addition, design-savvy buyers will love this look and have the time saved from not doing it themselves.
If your kitchen space is on the smaller side, a two-tone cabinet look is a great choice. It creates the illusion of space, especially if you put a darker color on the bottom. The lighter color on top draws the eye up and can make your kitchen brighter and reflect the natural light available.
two-tone kitchen cabinet examples
Last year we completed a kitchen refinish project for a couple who had a rich, mahogany stain on their maple cabinets. The space felt dark and closed in, and they wanted to try more creative kitchen cabinet ideas.
Refinishing the upper cabinets in Sherwin-Williams Snowbound (SW7004) and the lower cabinets in Gauntlet Gray (SW7019) gave the whole kitchen a more open and modern feel.
As we come up on a year since the completion of this project, we will take some time in the coming weeks to look it over and make any necessary touch-ups that will help keep it looking beautiful. Just another reason why going with Brush & Roll Painting is the best choice when hiring a painting or cabinet refinishing contractor in Omaha, NE.
At Brush & Roll Painting, we know that home painting is a serious investment. We also believe that any paint job is only as good as the prep. If you want a quality paint job that will stand the test of time, give us a call at (402) 932-9764 or schedule an estimate online.