How to Extend the Life of Your Wooden Deck
May 04, 2023 09:15 AM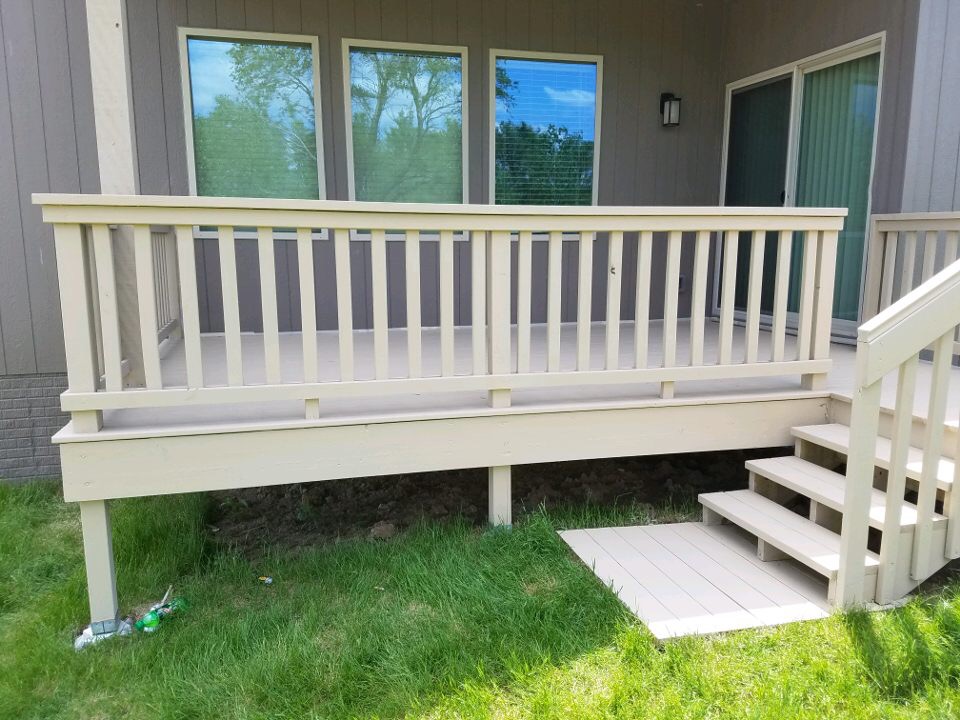 How to Extend the Life of Your Deck
Decks can take a lot of beating. They have environmental factors that impact them like snow, heavy rains, hail, and strong winds. It is important to know how to take care of a wooden deck to extend the stain's life as much as possible. The only thing between wooden decks and outside forces is a stain.
At Brush & Roll Painting we have transformed wooden decks in Omaha, NE since 1996. We take pride in our thorough prep work process and use of high-quality stains to give wood decks a refresh.
This article will tell you how to take care of your new deck stain. By reading this, you will know how to extend the life of your deck, to get your money's worth of staining it.
Prevent Weather Damage
Snow
It is important during cold winter days to shovel snow off of the deck as soon as possible. When the snow sits on the deck for a long period of time, water will melt into the wood, causing water damage. You will want to use a plastic shovel or a stiff broom to ensure not to gauge the deck boards and always move with the grain of the deck.
As the winter months approach, remove any planters or clutter on the deck. This is so that moisture is not trapped between the object and the deck. This could cause damage, mold, or mildew.
Heavy Rain
Excessive amounts of rain can cause sagging and dampening, along with mildew and mold growth. This will happen in areas that are already blistered, cracked, peeled, or chipped.
Sun
It would be a good idea to try and add as much shade to the space as possible to prevent the sun from beating down on the stain and causing it to fade. Excessive sun or UV light exposure causes it to become dry and weathered.
How To Clean your Wood Deck
Cleaning off all dirt will prolong its life. This is important so it does not embed itself into the stain and discolor it.
First, remove everything above the surface like leaves or branches. You could use a boom or a leaf blower to get it done quickly. Next, remove the dirt, mildew, or mold, with a power washer or hose in a gentle setting. After removing dirt, use buckets of warm water with slight vinegar and a mild detergent cleaner to get rid of any residue left over.
Incorporate this process every week, to maintain a cared-for wooden deck. To have a clean slate, gentle power washing may be necessary before and after seasons start.
Be Cautious
When moving furniture make sure not to drag it along the wood. Once the deck stain is damaged, water seeps into the wood, damaging it even further.
Dragging furniture could also cause nicks and scratches. Lifting the furniture and setting it down carefully will avoid any problem areas.
Outdoor area rugs might also be a good idea to have any furniture sit softly on top of them but they will cause discoloration over time, so only have them out when you have furniture out.
If you have a dog, be careful to watch them for any scratching or marring of the wood as well.
Re-stain Every Few Years
A fresh deck stain will bring it back to life after 3-5 years of natural wear and tear. While re-staining, cracked or rotting boards can be fixed as well. The number of repairs will reduce by re-staining as they will resist cracking, chips, scratches, or peeling.
Avoid Deterioration
Wooden decks can be fragile and are under tough weather conditions and natural wear and tear causes. Maintaining a weekly cleaning routine and taking these precautions in mind will prolong the life of your deck.
At Brush & Roll Painting, we have a thorough deck scrub and stain process. We use high-quality stains that resist cracking, peeling, and blistering and are long-lasting, providing up to 2-3 years of protection.
Next, learn about the 3 benefits of consistent deck staining. Having your deck restrained is an investment to keep it looking beautiful year after year.