Guide to Exterior Painting for Homeowners
September 15, 2023 02:19 PM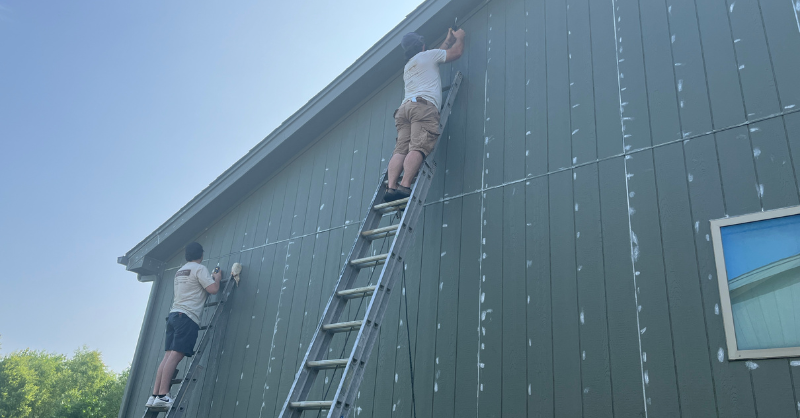 Are you considering having the exterior of your home painted? Even if this isn't your first time hiring a painting company, you may be feeling overwhelmed and unsure of what to expect.
This guide is to help eliminate your concerns. By reading this article, you will be able to have an idea of the cost of exterior painting and crucial information on the prep work and the paint that ensures lasting results.
In Omaha, NE, Brush & Roll Painting has been exterior painting since 1996. Our work is guaranteed to boost your curb appeal with extensive prep work, high-quality products, and our 9-year warranty.
Cost of Exterior Painting
Let's get your biggest question out of the way, how much will exterior paint cost for you? Exterior painting is an investment into your home and there are many factors that contribute to the price.
This greatly varies by the contractor, but if you are looking for lasting results, the price is more than just a few gallons of paint and some labor.
We'll drive into two of the major factors, prep work and the quality of paint, in detail soon. For now, click the button below to learn more about the factors of the cost of exterior paint. This article will help you prepare for estimates with contractors and know roughly what you can expect.
Lead Paint Removal
If your home is older than 1980, lead paint may be a significant piece of the cost of your exterior painting project. Over time we have learned that lead paint can have significant health damage, so it needs to be taken care of properly by a professional and licensed company.
Depending on the state of your paint, the cost will rise for handling lead paint. If the lead paint is peeling, then there is an extensive amount of scraping that needs to be done. This is crucial to the state of your exterior paint but will drive up the cost.
If you believe you could have lead-based exterior paint, read the article below to learn what you can expect regarding cost, dangers, and removal.
Fading Exterior paint
Fading is one of the top concerns for many homeowners regarding exterior paint and rightfully so! Exterior paint is handed many environmental factors that can impact the state of the paint. Here in Nebraska, this includes harmful UV rays, moisture, humidity, and heavy snow and rain.
When should you paint the exterior of your home?
In Omaha, Nebraska, painting the exterior of your home is only possible during spring, summer, and fall with no rainfall, snow, or extreme low or high temperatures.
After the winter season, many people are ready to paint their homes in the spring. When it comes to the fall time, some homeowners decide to wait through the next winter season before deciding to go through with the project.
However, there are a few advantages to having the exterior of your home painted in the fall that these homeowners are missing out on. Additionally, a harsh winter season can mean a few hundred to a few thousand dollars in repairs to the condition of your home.
Cheap vs. Expensive Paint
Low quality vs high-quality paint can mean the difference between fading, chipping paint, and durability, and color retention.
The paint might not be a major factor to you and that's OK. However, it is essential to note that all kinds of paint have different ingredients, providing different effects.
To learn about the range of exterior paint available, click the button below.
Comparing Exterior Paints
In addition to knowing what ingredients and factors are involved in low-quality and high-quality paint, you can find which specific paint is the best for you.
Each paint brand roughly carries a range of products from low-quality to high-quality products. Each brand may carry certain technologies that other companies do not have, some pay also offers more color options than others. Sherwin Williams and Benjamin Moore are two of the most popular paint brands in the US.
To find the best specific product for you and to learn the differences between these two brands, compare them through the button below.
At Brush & Roll Painting, we love to use Benjamin Moore exterior paint products. To learn about these paints and compare them, click the button below.
Crucial Prep Work for Exterior Painting
In addition to the paint, the prep work is a major factor in exterior painting and its cost.
This factor varies from contractor to contractor, but in general exterior painting requires a smooth and durable surface for paint to properly adhere to and provide lasting results. This typically involves cleaning, sanding, caulking, and priming.
For professional painting contractors, this step can be roughly 60-70% of the total work. While for others, it can be 5-10%.
Choosing Exterior paint colors
This is the fun part! Whether you are working with a color consultant or interior designer, or just on your own, you can really make the color of your home adhere to your style.
There are over 3,000+ shades available to choose from, so the options feel like they're endless. But, you can use samples and inspirational images to narrow down your options to the shade for you.
Get ahead of the game by keeping in mind what to consider before choosing your exterior paint colors.
Let's get into some specific shade options.
Light colors are the go-to options for exterior paint. Whether it's the body of your home or accents on trim and doors, light colors can help your home look fresh and clean, and allow other shades to stand out.
How To Maintain Your Exterior Paint
Once you have invested in your home and the results look flawless, it is time to begin a maintenance routine to prolong the life of the paint.
Exterior paint should be cleaned about 1-2 times per year. This can be done with a power washer in a light setting.
If this task is out of your comfort zone, you can hire a professional to get the job done.
Not only does cleaning the exterior of your home help ensure it looks flawless, but it also rids the surfaces of dirt or grime that has been building up over time. This protects the paint from being permanently discolored.
Now that you're up to speed on what to expect for exterior painting and you have a good idea of what you are looking for, let's tackle hiring a contractor.
This process can also be daunting, but there is surely a contractor out there for you. View our Ultimate Guide to Hiring a Painter to help prepare you for the process before getting estimates for your exterior painting project.
When you're ready to schedule an estimate with one of Omaha's most valued painting companies, schedule an estimate with us below. Our extensive prep work process, use of high-quality Benjamin Moore Paint, 25+ years of knowledge and experience, and 9-year warranty, are destined to provide durable, exterior paint.