Guide to Interior Painting
October 04, 2023 09:22 AM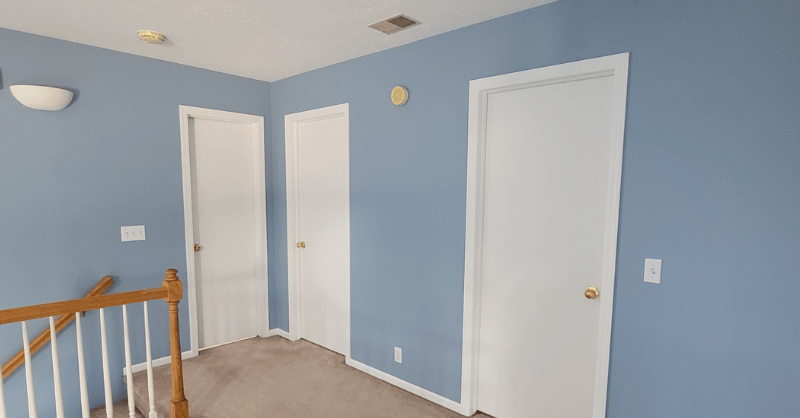 Sometimes, a fresh coat of paint is all you need to help transform a space. Interior Painting does wonders for setting the style in your home. Oftentimes, Interior Painting is not as easy a task as it may seem. If you are considering hiring a painter for a potential project, this guide is for you.
This article will discuss everything you need to know before taking the next steps on your Interior Painting project. Whether you have found the best painter for you or the project is still in the back of your mind, there are tips here to help you know what you are looking for.
Brush & Roll Painting is a professional Interior Painting company in Omaha. Our proven process, use of high-quality products, and 9-year warranty allow us to provide a durable and valuable service. Over our 25+ years of experience, we have learned a ton about the painting industry. We hope this guide is helpful for you while beginning your interior paint project.
Low vs. HIGH-COST Painting Job
Before looking at prices, determine the difference between low-cost painting projects vs. high-cost ones.
Low-cost painting projects are generally done by a single contractor or small painting company that uses cheaper paint and has minimal prep work. These painters are quickly in and out of homes, going from one job to the next. This type of painter is for those who might be selling their homes or want a quick and cheap fix for their project.
A professional painting company typically does a higher-cost painting project. These companies have thorough prep work processes and use professional-grade, high-quality products and materials. These painters pay more attention to detail and will likely be in your home longer than a low-cost painter. Homeowners looking for durable work and a stress-free experience will likely choose a higher-cost painting company.
Click the link below to further differentiate between these two painting contractor types. This will help you understand what you think is best for your project.
Costly Shortcuts of Low-Cost Painters
While a low-cost painter sounds great for your budget, they will likely make shortcuts that can cost you the entire project. These shortcuts risk the durability and longevity of the painting project.
After hiring a lower-cost painter, homeowners often choose to redo the entire project with a higher-cost painter. While their project eventually gets completed to their standards, they would have saved money by hiring a professional painter originally.
Prep Work for Interior Painting
One of the most common mistakes people make when taking shortcuts in painting is skipping the necessary steps of cleaning, sanding, and priming the walls.
These shortcuts may seem like a time-saver initially, but they can lead to poor paint adhesion, uneven finishes, and even peeling or cracking over time.
The article below further discusses the crucial prep work steps before interior painting.
How to Find the Best Paint for You
Comparing Paint Qualities
You may have heard the phrase "paint is paint" surrounding the topic of paint prices. While low-priced paint may appeal to your wallet, it greatly differs from high-quality and more expensive paint and will affect your paint's longevity.
In the article below, you can compare the similarities and differences between cheap and expensive paint to discover which is best for your next project. We will discuss the details of the paint ingredients and what you can expect from each type.
Comparing Sherwin Williams
Sherwin-Williams is one of the top paint brands in the country. Their interior paint selection features a range of low-priced to higher-priced products.
As you might have discovered in the previous article, low-cost paint products tend to be made with weaker materials. These paints do not have the power to be durable, easy to clean, and retain color.
Use the article below to compare two of their high-quality paints, Duration and Emerald.
Comparing Benjamin Moore
Benjamin Moore is another one of the top paint brands in the country. Like Sherwin Williams, Benjamin Moore also carries a range of products, with Aura being their most durable but expensive paint.
Aura by Benjamin Moore was made to provide extreme durability with new innovative paint technology. One of their innovative technologies for Aura is Color Lock. Color Lock allows for the darkest of shades to hold their color and have a pay-off like any other shade.
In the article below, discover three benefits of using Aura by Benjamin Moore for your next Interior Painting project.
Comparing Sherwin Williams vs. Benjamin Moore
Since we have compared Sherwin Williams and Benjamin Moore's top paints individually, next, we can compare the two brands to each other. Doing so lets you further differentiate the two paint makers to determine which is best for your next project.
Overall, Sherwin-Williams has a wider product line than Benjamin Moore. They have had their fair share of products that can certainly reach what anyone is looking for. On the other hand, Benjamin Moore has a more defined selection, which leans towards a stronger durability level than Sherwin.
Click the button below to compare Sherwin Williams to Benjamin Moore product by product.
Cleaning Interior Surfaces
Cleaning interior walls and ceilings may seem unnecessary to some, but it is an essential task that should not be overlooked. While a fresh coat of paint can transform a space, properly cleaning and maintaining these surfaces are equally important.
Cleaning your interior walls and ceilings regularly helps to remove dust, dirt, and grime that can accumulate over time, improving the overall health of your home. By taking the time to clean and maintain these surfaces, you ensure a longer-lasting and more durable paint job, creating a beautiful and inviting space for years to come.
Next steps
Now that you've learned about interior painting from start to finish, you are ready to start or continue the search for the best painter for your project.
At Brush & Roll Painting, as much as we love to provide a great service to anyone, we know we are not the best choice for everyone. But we have created this Ultimate Guide below to help you hire the best painter for your project.
When you're ready to gather estimates for your project and think Brush & Roll Painting might be a great fit, schedule an estimate with us, below.