2022 Living Room Color Trends in Omaha, NE
October 28, 2021 10:03 AM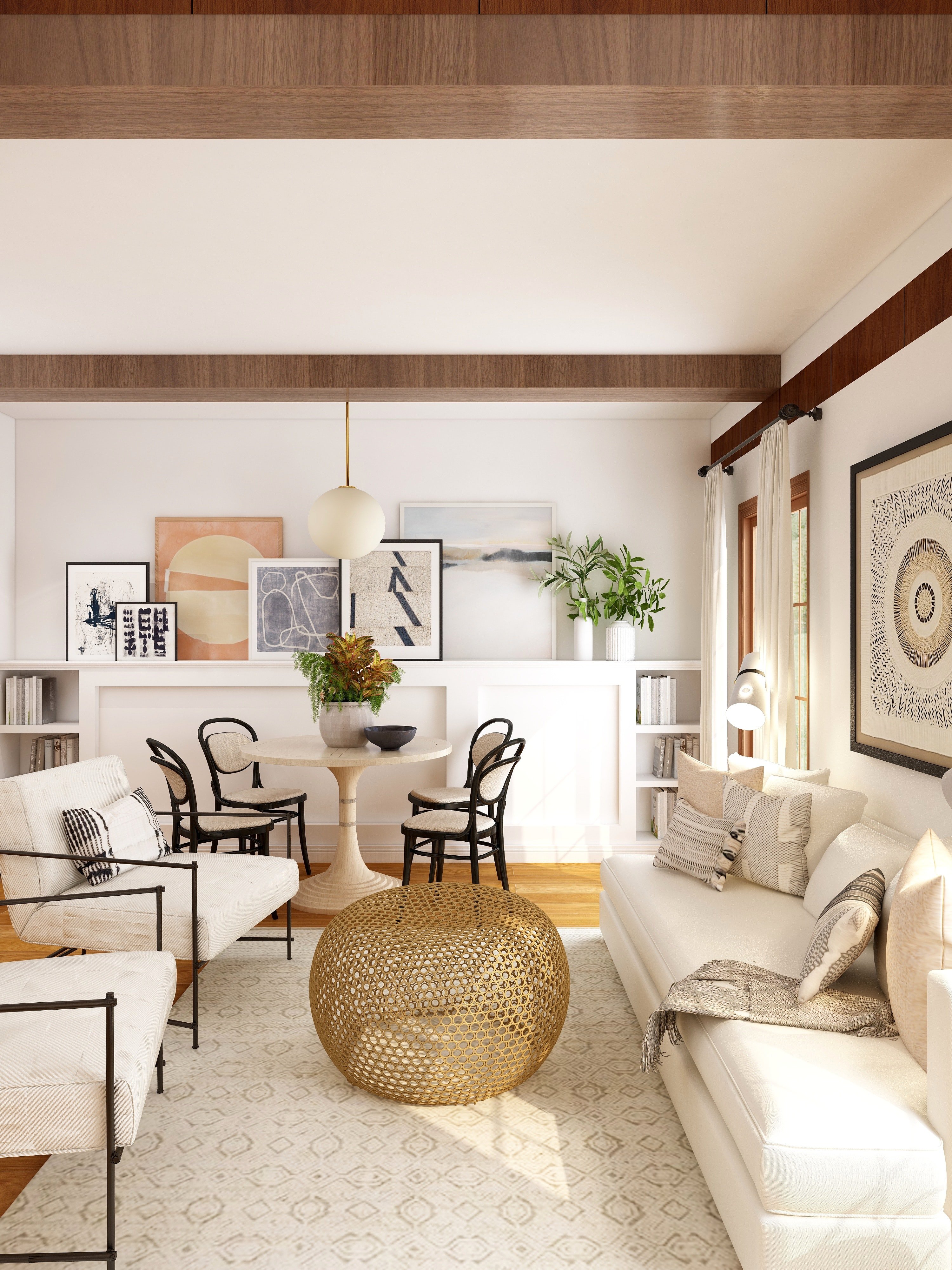 The living room is where we go to unwind at the end of a long day. It's where we gather with family and friends, share stories of our days, and bond over our favorite shows and movies. So the surroundings and colors we choose for the living room are very important and have an impact.
Knowing where to start when choosing a color can be overwhelming, but it's checking in with trends is a great place to begin! Our color experts at Brush & Roll Painting and interior designers agree that 2022 is going to be a time to start fresh, and repainting your living room can help rejuvenate your life. Here are some of our top trending shades and tones that will be seen everywhere in 2022!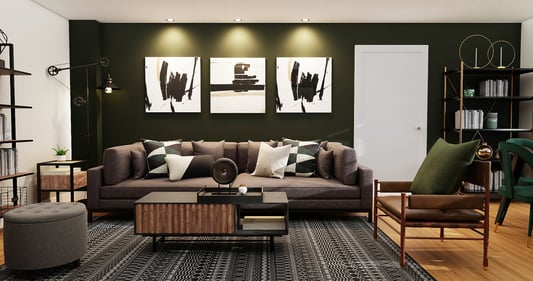 1. Dark Green
Because the living room is where we go to unwind and relax, it makes sense that a versatile, tranquil shade like dark green would go in the living room. Dark green or forest green or olive green makes an excellent accent wall because it makes a statement but it's still neutral enough to go with just about any interior design style. It's a great way to add color without going too bold. Get the look with Hunter Green by Benjamin Moore.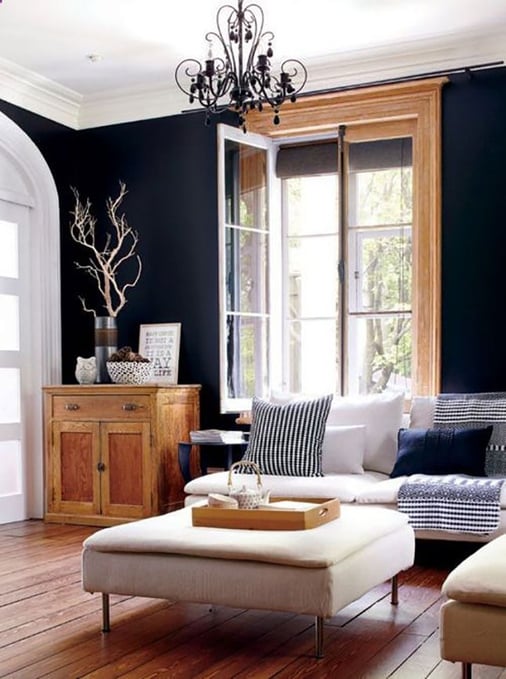 2. Black
We always emphasize that dark colors don't have to be scary. Black can seem intimidating for exteriors and interiors, but it's one of the most stylish and sophisticated paint statements you can make. When paired with honey oak trim or white, it contrasts beautifully for an eye-catching look that can complement traditional, transitional, modern, and farmhouse styles. Try Benjamin Moore's Soot for this moody-chic look.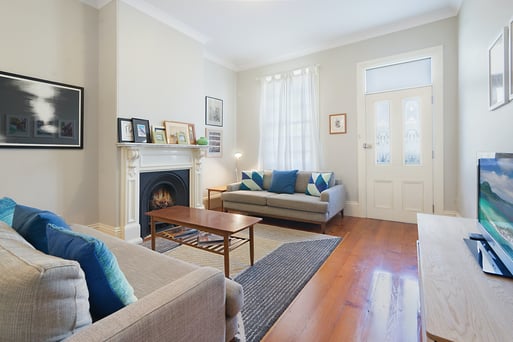 3. Creamy Beige
Nothing says "soothing" quite like the look of soft beige. Cultivate the ultimate serene vibe with this soft shade. There's no interior design style that beige won't go with, so it's a foolproof paint color. There are so many shades of beige out there, so be sure to do your research and consider things like natural light and paint undertones. We love Classic Gray by Benjamin Moore.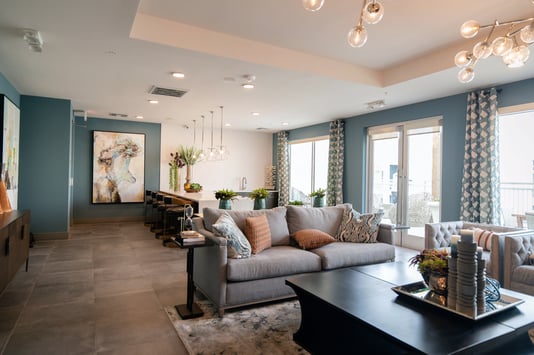 4. Gray-Blue
Blue is one of the most popular colors for interior design, whether it's decor, furniture, or wall colors. But if you're worried about making too much of a statement with a bold blue, you're in luck! Gray-blue is an increasingly popular paint shade that leans neutral and brings the best of both worlds to your space. We love it in farmhouse spaces as well as modern or transitional looks. Aegean Teal by Benjamin Moore is the perfect shade to get this look.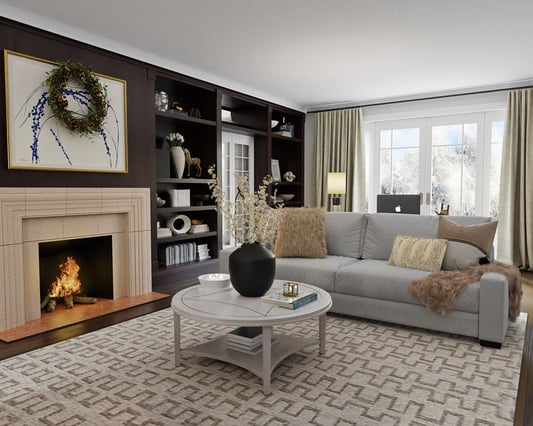 5. Charcoal gray
For those wanting the look of black or dark walls without going all the way, try beautiful charcoal gray on your walls. We all know gray is one of the most versatile neutrals out there, and charcoal gray gives your space a little more of an oomph. It creates an instantly cozy vibe, perfect for sitting by the fire or resting on the sofa after a long day. Benjamin Moore's Gray will help create this elegant look.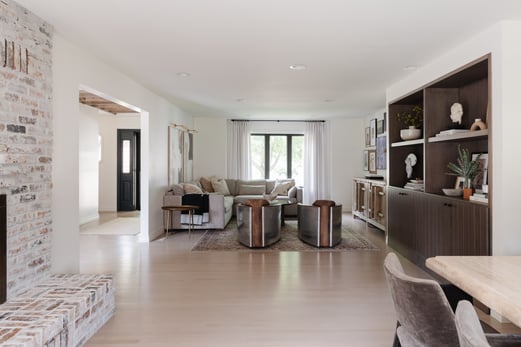 6. Off-White
Choosing off-white for your living room walls is a perfect choice for smaller spaces. White or any light color reflects light and can give the illusion of more space and higher ceilings. Off-white is a great shade because it's not as stark as pure white; off-white is a little softer and provides that extra bit of warmth. Try White Dove by Benjamin Moore for a soft, off-white look.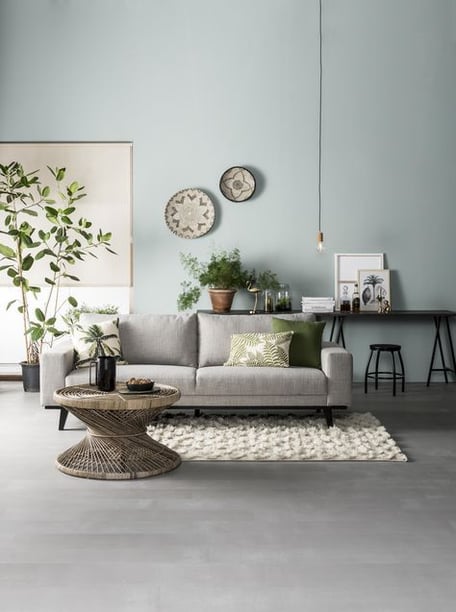 7. Light Blue
We can't think of anything better than decompressing after a hard day or week in a living room with serene light blue walls. Light blue is synonymous with "relaxing" and gives off spa vibes (which is why we also love it on bathroom walls). The light blue we've been seeing in farmhouse, Scandinavian, and transitional-inspired spaces have gray undertones for a barely-there look that's neutral in color, like Smoke by Benjamin Moore.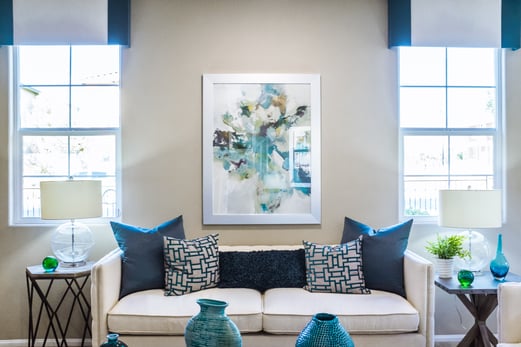 8. Light Gray
You could argue that light gray isn't a trend so much as a permanent favorite for interior wall shades. Gray isn't going anywhere, but it's definitely more prevalent which is why it's one of our trending colors for 2022 and beyond. Light gray in particular is an interesting choice because, depending on the shade, it can lean cool or warm with different undertones. One of our favorite shades that shows no signs of slowing down is Edgecomb Gray by Benjamin Moore.
At Brush & Roll Painting, we know that home painting is a serious investment. We also believe that any paint job is only as good as the prep. If you want a quality paint job that will stand the test of time, give us a call at (402) 932-9764 or schedule an estimate online.