Painting Over Wallpaper: Pros and Cons
August 25, 2023 03:48 PM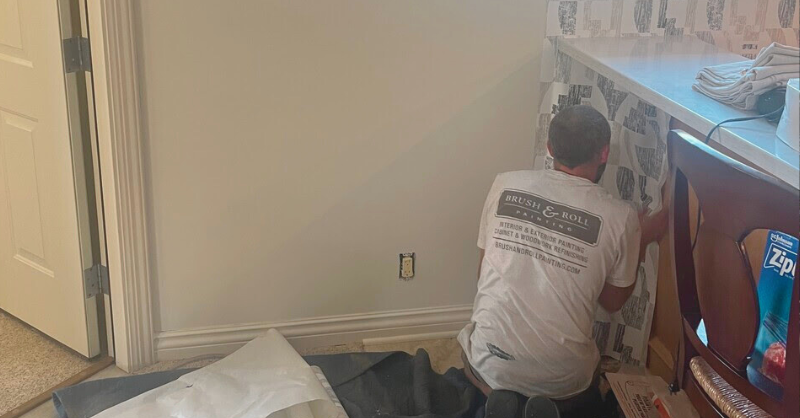 Are you at a crossroads, trying to decide whether to bid farewell to your outdated wallpaper or embrace its charm and history? No need to worry, we've got you covered with an exploration of the pros and cons of both options.
As your trusted painting experts in Omaha, NE, at Brush & Roll Painting, we understand that every wall tells a story, and sometimes, keeping that vintage wallpaper can infuse your space with character and nostalgia. On the other hand, a fresh start with a new coat of paint could bring the modern trendy aspects that you are looking for.
By reading this article, you might have a better idea if you think you should remove or paint the wallpaper in your home.
Pros of painting over wallpaper
Saves time
Sometimes peeling off wallpaper could take a while, depending on the type. Some wallpaper has been known to come off in tiny, quarter-sized pieces. This can take many hours to completely remove from walls, which can get expensive if you are hiring for it.
However, these days, peel-and-stick wallpaper has made it much easier to apply and remove from walls, making it a much quicker task in some cases.
Versatility in Paint Color
There are an endless number of options for color choices and trends for interior painting. Whether you remove the wallpaper or paint over it, painting a new shade is one of the quickest ways to transform your space into what you are looking for.
Keeps the texture
Many kinds of wallpaper have unique textures that you can't get by painting a wall.
Whether you love the feeling of the texture of your wallpaper or its visual appearance but you want a new color, painting over the wallpaper could be your route.
However, it is important to keep in mind that painting over the wallpaper could help keep that texture, but will not be exactly like having the original wallpaper.
Cons of painting over wallpaper
It is still an extra step
To prevent the wallpaper and the paint on top from peeling, there needs to be an oil-based primer applied to the wall. This locks in the wallpaper, creating a durable layer between the wallpaper's glue and the paint.
If you decide to go the route of removing the wallpaper, it will take longer, but is still a step in the process, like priming, before painting.
Visible patterns or seams
Depending on the quality of the paint, the color, or the pattern of the wallpaper, it could show through the paint. Darker colors in particular will be challenging to cover up.
Any seams between the wallpaper sheets that are visible will also be visible with paint on top. Depending on the wallpaper, this could be covered up with mud. But if the wallpaper has lots of texture, the seams will have to show through no matter the scenario.
Makes it difficult to remove it later
Whether you want the paint to be a temporary or permanent solution, painting over wallpaper will make the wallpaper more difficult to remove later down the line.
Finding the old seams and getting the paper to come off smoothly will take more time and effort than just removing the wallpaper in its current state.
Covers up old damage
Painting over the current state of your wallpaper could cover up permanent damage that is underneath the wallpaper. This damage could include mold, mildew, or physical damage like chips or scratches in the drywall.
If you are already seeing the damage that is underneath the wallpaper, it might be best to remove it and get it repaired as soon as possible.
Things to keep in mind
The Cost
Having your wallpaper painted over is generally going to cost less than having it removed. However, you are still looking at paying more than basic amount for a regular interior painting job, due to the price of needing a primer over the wallpaper.
With having a professional company remove the wallpaper, you may be looking to spend more than an average job due to the labor to remove all of the wallpaper. This added work may be the route you want to take if you do not align with any of the pros of painting over the wallpaper.
Pr
ep work needs to be done no matter what
Any job is as good as the prep work. Whether the wallpaper gets removed or not, prep work must be done on the surface to help ensure lasting paint.
If you leave the wallpaper on the walls, the prep work will be less because the original surface is covered, but there are still necessary steps that shouldn't be skipped. One of these steps is masking. Masking trim and baseboards off with tape is essential for crisp and clean lines.
Choose what is best for you
In summary, painting over wallpaper can be a practical and time-saving option, but it's essential to carefully consider the condition and type of wallpaper before making a decision. If the wallpaper is in good condition and well-suited for painting, it can be an effective way to update your space without the hassle and cost of removal.
However, if the wallpaper is damaged, has a problematic texture, or if you're planning for a long-term solution, removing it entirely might be the better choice.
As a painting company in Omaha, NE, Brush & Roll Painting no matter your choice to keep or remove wallpaper, we can brush and roll a high-quality product that is guaranteed to last, with a proven process that makes the paint look flawless. It is important to get a good idea of how much an average interior paint job could cost before scheduling an estimate.