When is a Good Time to Paint My Cabinets?
December 03, 2021 11:55 AM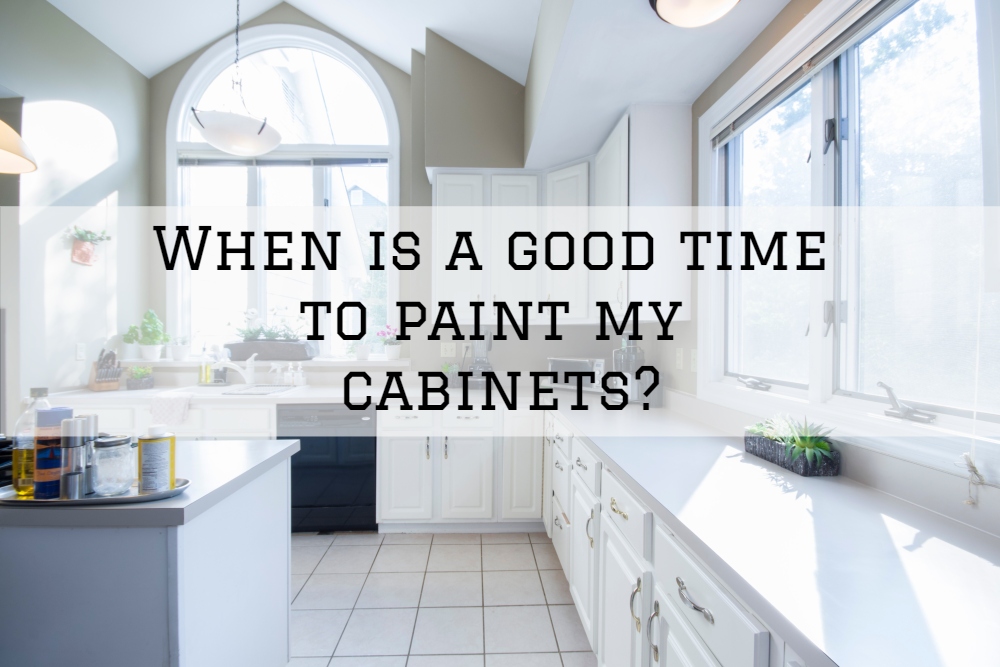 Refinishing your kitchen cabinets is the best way to transform the heart of your home. If your cabinets are still in good physical condition, you don't have to spend a fortune replacing or even refacing them – a fresh coat of paint is all you need to make them look as good as new. Just need to make sure that you do the proper prep work and use the proper KCMA rated paint.
That being said, you might be wondering when the best time to repaint your cabinets is. Well, repainting kitchen cabinets is a relatively small (compare to a full kitchen remodel) project that can be done within two to three weeks. While pretty much any of the four seasons can accommodate a cabinet repainting project, winter seems to be the best for several reasons.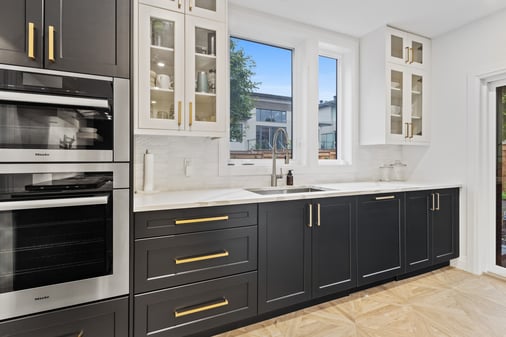 First, you get the best results when your cabinets are in their naturally contracted states. Since the heat is on in the winter and everything is contracted, this is naturally the best time to repaint.
Second, if you're hiring a professional cabinet painter for your project, you're more likely to get the best deal in winter. This is because most pro painters at this time put exterior painting on hold and focus on all things interior, including interior wall painting and cabinet painting.
While you should not focus on finding the cheapest painting service at the expense of quality, you can still find experienced and skilled painters at a reasonable rate during winter—just make sure to do your research, and don't hire a painter that only does cabinet painting in the winter (painting cabinets is a very detailed process and will be disastrous if done improperly).
Tips for repainting your kitchen cabinets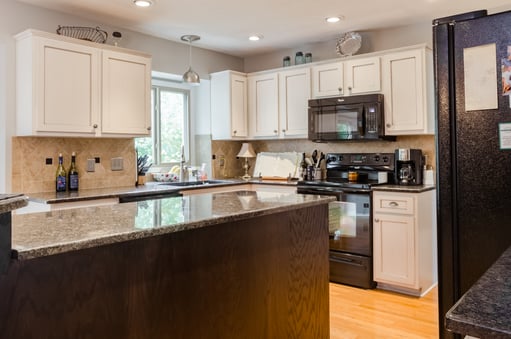 1. Preparation is key.
The bulk of any cabinet painting project goes to preparation. Without proper prep, your paint job won't look as appealing or last as long. Start by emptying all the cabinets and taking down the cabinet doors, drawers, knobs, and handles. Give all surfaces a thorough cleaning until all the dirt and grease are removed.
Sand the cabinets using a rotary sander on flat surfaces and 220 sandpaper on the edges and grooved surfaces. If your cabinets were previously painted and have a lot of paint that is peeling, you will want to strip them.
2. Don't skip the primer!
Priming is the reason paint jobs look spectacular—and last longer! A primer blocks the stains and traces of previous paint and prevents them from bleeding through the new paint. Additionally, it creates a good surface for the paint to properly adhere to. We recommend XIM Uma primer or BIN Shellac primer.
If you're going from a dark cabinet to light, consider tinting the primer to match the final color. Doing this will help you use fewer coats of both the primer and paint, saving you time and money. You can request the paint store to do the tinting for you.
3. Choose the right paint.
Choosing the paint is another extremely important step. You will get better coverage and results using quality KCMA rated paint. The most popular and quality brands out there include General Finishes, Benjamin Moore, Sherwin Williams, and Pantone, but that doesn't mean you should limit yourself to these options. Just don't go for the cheaper, low-quality options and make sure the paint passes the KCMA standard testing.
Two coats of paint are essential for cabinets. Whichever paint you use, be sure to ventilate the room and direct a fan out of the window. Additionally, wear the masks they sell in paint stores.
4. Apply the paint.
After the primer has completely dried, you can go ahead and apply the paint using a paintbrush or a roller. Professional painting contractors have an option to use a sprayer which requires advanced skills and setup. You can start painting from the frames using a brush designed for small areas and a roller for larger, flat surfaces.
Use even strokes with the brush and finish the stroke back into the wet paint and feather out the edges. When painting cabinet doors, paint the backs, allow them to dry, then paint the fronts. Follow the recommended wait time on the paint can. Two coats are usually sufficient. Once the paint completely dries, put the cabinet doors, drawers, and hardware back in place.
Bottom line
While cabinets can be painted in pretty much any season, winter is the best time for most interior repaint and renovation projects. Painting your kitchen cabinet however requires skills, some level of experience, and the right tools to produce remarkable results. For long-lasting and pristine results, we highly recommend that you enlist the services of a professional painting contractor.
At Brush & Roll Painting, we know that home painting is a serious investment. We also believe that any paint job is only as good as the prep. If you want a quality paint job that will stand the test of time, give us a call at (402) 932-9764 or schedule an estimate online.