2024 Color Of The Year: Palette & Trends
November 20, 2023 01:03 PM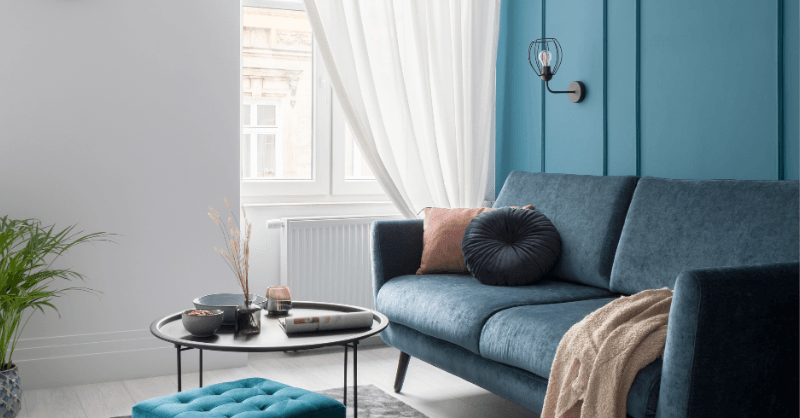 As 2024 draws closer, we are feeling relaxed and renewed... or is that just the color of the new year?
To prepare for the year ahead, let's dive into the shades that reputable paint companies have picked for the year. In this article, we will discuss 2024 color palettes and inspiration.
At Brush & Roll Painting in Omaha, NE, we love painting colors of the year on interior walls, cabinets, and exteriors.
Although these colors represent a certain year, they are typically timeless shades that always look stunning. For example, sage green (shades like Evergreen Fog by Sherwin Williams or October Mist by Benjamin Moore) was a top color of the year choice for 2022, and it is still getting painted across homes on walls and cabinets consistently.
2024 Colors of the Year
Benjamin Moore describes this rich shade by saying, "This alluring mid-tone features an enchanting duality, capturing the spotlight with endlessly classic appeal."
This shade isn't your typical dark blue or navy. It has more intricacy that allows it to be both modern and traditional.
We can already picture Blue Nova on a lower set of kitchen cabinets with a white-neutral shade on the upper cabinets.
Blue Nova Color Palette
These color options are endless and can be used in various ways. Whether you are looking for a neutral focal point with a pop of color or a colorful base and a great accent shade, choosing from this color palette will be simple.
Upward is the definition of a cool, breezy blue. This color feels light and airy.
This shade will make any room look stunning on interior walls with white trim and doors. Upward would be great for small spaces like bathrooms.
On exteriors, this color would be flawless with light to neutral accents or as the accent color on a front door.
In addition to describing upward as breezy and blissful, Sherwin Williams said, "This color is found when we slow down, take a breath, and allow the mind to clear."
Upward Color Palette
"A nourishing, green-influenced blue that creates a sense of peace wherever you place it," is how Valspar describes their color of the year, Renew Blue.
Renew Blue is by far the most bright shade of the 2024 color of the year shades. This shade is the most similar to Upward, with more of a warmer undertone. While Upward represents a breezy mountain vibe, Renew Blue brings a more beachy, ocean feel.
This color was destined to be an accent wall or the focal point of a room.
Renew Blue Color Palette
Whether it's decor inspiration or other walls in a space, the two colors in this palette pair flawlessly with Renew Blue. These warm colors were chosen to draw the attention to the color of the year rather than the other color palettes from Benjamin Moore, and Sherwin Williams was focused on allowing more than one shade to stand out.
Conclusion
Whether you're looking for a shade for your next painting project or you are just interested in the 2024 color of the year, we hope you have felt some color inspiration.
When you're ready to get one of these shades into your home, schedule an estimate with Brush & Roll Painting. Our work not only provides long-lasting color retention, but we also offer free color consultations to help you find the best shade for your space.
Next, go back in time and check out the 2023 color of the year. Comparing to what's expected for 2024, the color for 2023 is bold.