Benjamin Moore's Best Exterior Paints: Which One Should You Choose?
May 22, 2023 08:47 AM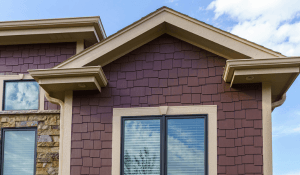 A home's exterior paint color can have a significant impact on its overall appearance, making it important to choose the right paint for the job. When it comes to quality exterior paints, Benjamin Moore is a brand that homeowners and professionals alike have trusted for years. With so many options to choose from, it can be difficult to know which paint is the best fit for your home.
At Brush & Roll Painting in the Omaha metro, we have spent years searching for the best exterior paint products on the market. To find them, we learned a lot about low-quality paint, high-quality paint, and everything in between.
In this article, we will compare and contrast some of the top Benjamin Moore exterior paints to help you make an informed decision and ensure that your home's exterior looks its best for years to come.
The following information about Benjamin Moore exterior paints is based on our experience using these paints and research found on Benjamin Moore's website and technical data sheets (TDS).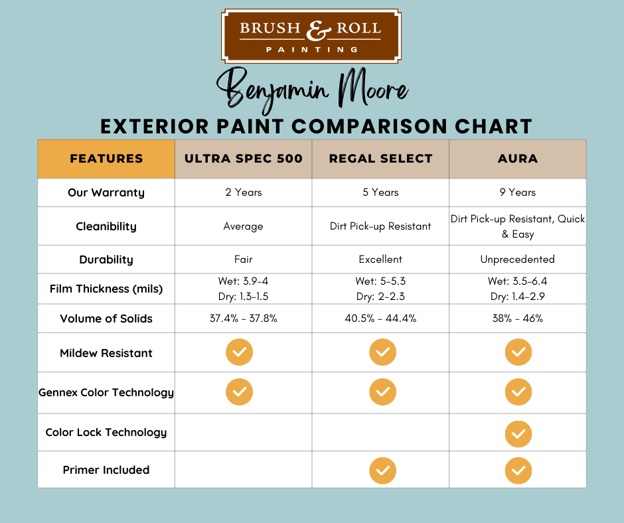 The key Features of exterior paint
Durability
Durable paint will prove itself over time by maintaining its color and resisting damage. This is one of the best qualities you can get in any product, especially paint products. It proves that you are getting your money's worth as the product is lasting as long as possible.
Clean-ability
The paint must be easy to clean. Nobody wants stains that won't budge or color the rubs off with the grime. High-quality durable paint will be easy to clean which provides you with ease while doing a deep cleaning or a quick spot clean.
Film Thickness (mils)
One of the most important features of exterior paint is that it has a good film thickness, which is measured in mils. When the paint film is thicker, the paint is more durable to hold against tough weather conditions and natural wear and tear.
The film thickness gets applied the heaviest and dries down to a smaller thickness. Each exterior paint must get applied at the right thickness to ensure it holds up over time. Without a good film thickness, the paint is easily damaged or fades.
Volume of Solids
Solids are one of the main components of paint. After the paint is applied and begins to dry, the solvent evaporates and leaves behind the pigment and resin, which becomes the solids. You want to look for a range of 35-50% in the number of solids in your paint.
The higher that number, the more durable the paint will be, the thicker it applies, and the more coverage it gives. The lower percentage of these solids in paint does the opposite, it is thin, has poor hiding, and leaves you with low durability.
Mildew Resistance
Mildew resistance is an additive in paint that is especially important outdoors. High humidity can cause mildew or mold on paint. With this additive, paints can fight against bacteria growth and protect you from a messy situation. Around windows, gutters, and vents are just a few places that need protection from moisture.
All of these three Benjamin Moore paints have the innovative Gennex Color technology. This allows for the darkest of colors to have extreme pigment while keeping the paint strong. Without this groundbreaking technology, dark colors have been known to weaken the paint, as the pigment is fighting with the coverage and durability.
Aura has a special Color Lock technology. With this technology, pigments are bonded to the dry paint and lock in color permanently to the paint film. This allows colors to be completely fade-resistant. This helps with clean-ability, as the color can remain locked to the surface rather than coming off with the stain or cloth while cleaning it.
Primer Included
A primer included in the paint tells you that the paint can adhere well to surfaces. The number one job of a primer is to adhere to a rough surface had been repaired. Great adhesion can help with resisting cracks and peeling.
Primer also helps sure the best color pays off as well as an extra layer of durability.
Our Thoughts on the top 3 benjamin moore exterior paints
Ultra Spec 500
Ultra Spec 500 is a medium-grade paint. We have found it to be better than low-quality paints from the hardware store or contractor paints, but it still has room for improvement in response to coverage and durability.
Regal Select
Regal Select is our go-to paint product. It checks all the marks in durability, has great hiding, and is easy to clean.
Regal Select and Aura both have a primer included, this means that they will better adhere to surfaces on any coat of paint.
Aura
Our painters love to paint with Aura, we know there is not a better paint product on the market than this. Aura provides top-tier coverage. One of the most important factors when it comes to exterior paint is how many mils thick the paint can be applied in.
Aura goes on at 4-6 mils and dries from 2-3 mils, which is more than any other paint. A thick paint film, that holds up much longer over time, is fade-resistant and easy to clean.
Aura covers a more excellent square footage per gallon. This means less paint will be needed to complete the project.
Aura's clean-ability features can withstand repeated washing with no color rub-off. There are no fading or leftover marks from where it was cleaned.
Besides its extreme hide, Aura covers surface imperfections by filling in minor cracks and crevices.
Choose what is best for you and your home
In conclusion, choosing the right exterior paint for your home is a decision that requires careful consideration. By comparing some of the top Benjamin Moore exterior paints, you can ensure that you are making an informed choice that will deliver the results you want.
Each of the paints we have discussed in this article has its benefits, whether you're looking for maximum durability or a particular finish or color. By comparing and contrasting these options, you can find the perfect Benjamin Moore paint for your home's exterior and create a beautiful, long-lasting finish that will stand up to the elements for years to come.
When you are ready to have your exterior painted by a professional in the Omaha area, schedule an estimate with Brush & Roll Painting, we have been providing top-notch painting services since 1996.
To maintain fresh paint's durability for a long time, learn how to take care of it. Maintaining a semi-annual cleaning routine for exterior paint will prolong its life.