Best Colors to Paint Your Entryway in Omaha, NE
October 13, 2021 10:41 AM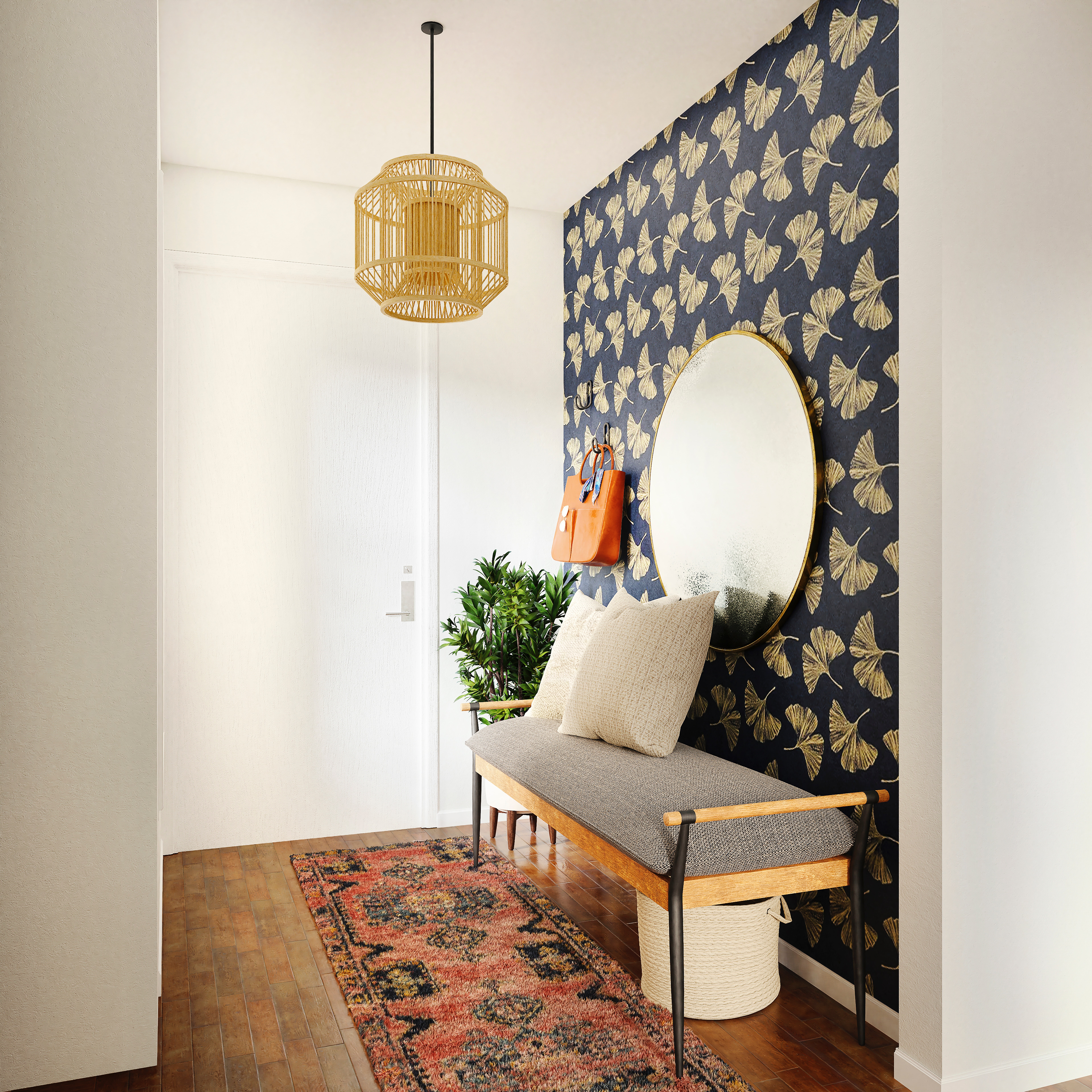 Your entryway is the first and last impression of your home, so make it count! Whether you have an entryway, a mudroom, or your front door opens up right into your living room, you can make a statement by carving out a designated welcome space that introduces the style themes of the rest of your home (or it can be completely different!).
If you're expecting company or your entryway is simply needing a change, a fresh coat of paint can make a big difference. Our color experts at Brush & Roll Painting gathered up entryway paint colors that are both trending and timeless as inspiration for your next home project. Read on to see some of our favorite entryway paint colors that suit all styles and spaces.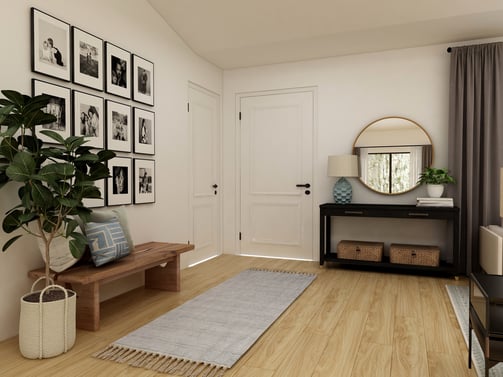 1. Creamy beige

Soft and inviting, shades of beige will cultivate the warm vibe you're wanting when you open your home to the rest of the world. A neutral shade like beige will allow you to accessorize with wall art and play with different wood stains. If you paint your molding and trim the same beige shade as your walls, it will also open up your space and make it appear larger. We recommend the beautiful Swiss Coffee by Benjamin Moore.
2. Muted Green
A soft shade of green that pulls in gray undertones will set a soft, earthy

vibe for the rest of your home. A farmhouse or transitional space will pull this off easily! We love light or muted green as a way to play with color while staying on neutral ground. Try Nantucket Gray by Benjamin Moore to get the look.
3. Light Blue

If you're color shy, light blue is another great option to bring in a fun shade that isn't too bold, especially if you stick to the gray undertones. Light blue is synonymous with calm and serene vibes, so you'll give a soothing first impression to guests and set exactly the right tone with a shade like Quiet Moments by Benjamin Moore on your entryway walls.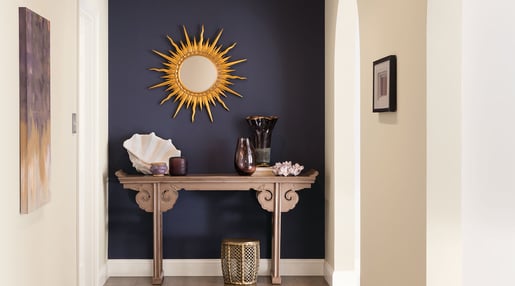 4. Navy Blue
Rich and regal navy blue is sophisticated, stylish, and timeless. This

classic shade works on all walls or as an accent wall, pairing with any neutral shade. We love it with all shades of wood and metal, and it transcends nautical and classic to modern and glam. It's truly a chameleon shade and makes a chic statement in any entryway. A forever favorite is Benjamin Moore's Newburyport Blue.
5. Gray

Go-with-anything gray is one of our favorite can't-fail paint colors. You can do light gray or dark gray walls for a modern, effortless vibe. There are countless shades of gray that work for interiors, exteriors, kitchen cabinets, and more. You'll want to consider the amount of natural light you have to determine if you want a light or dark gray and the undertones in each shade (all shades of gray have undertones that pull warm or cool). Edgecomb Gray by Benjamin Moore is a popular choice among homeowners and interior designers.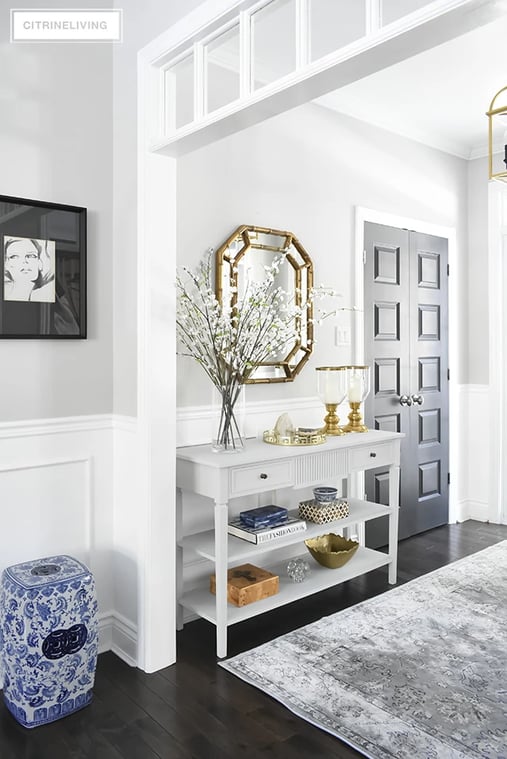 Image courtesy of Citrineliving
6. Greige
A blend of gray and beige, greige is the perfect serene shade to make a first

impression on guests. It's also a great solution if you can't decide between a warm or cool neutral paint color for your home. Greige is an ideal balance between the two temperatures and looks lovely in a modern farmhouse setting. You can get creative and play with other pops of bold colors with greige as a background and have fun with different decor on an entryway table. A favorite shade is Revere Pewter by Benjamin Moore.
7. White

Make a clean, crisp, and minimal first impression with beautiful white walls. We love how white walls allow for all kinds of creativity and different interior design styles to shine through. With white walls in the entryway or foyer, you can do a painted or wallpapered accent wall for added flair. There's no interior style that white won't go with, and if you have natural light, white paint will make your space appear larger (a bonus if you don't really have an entryway). Try Benjamin Moore's Chantilly Lace to get the look.
At Brush & Roll Painting, we know that home painting is a serious investment. We also believe that any paint job is only as good as the prep. If you want a quality paint job that will stand the test of time, give us a call at (402) 932-9764 or schedule an estimate online.