Deck Staining Before & Afters in Omaha, NE
September 07, 2021 09:51 AM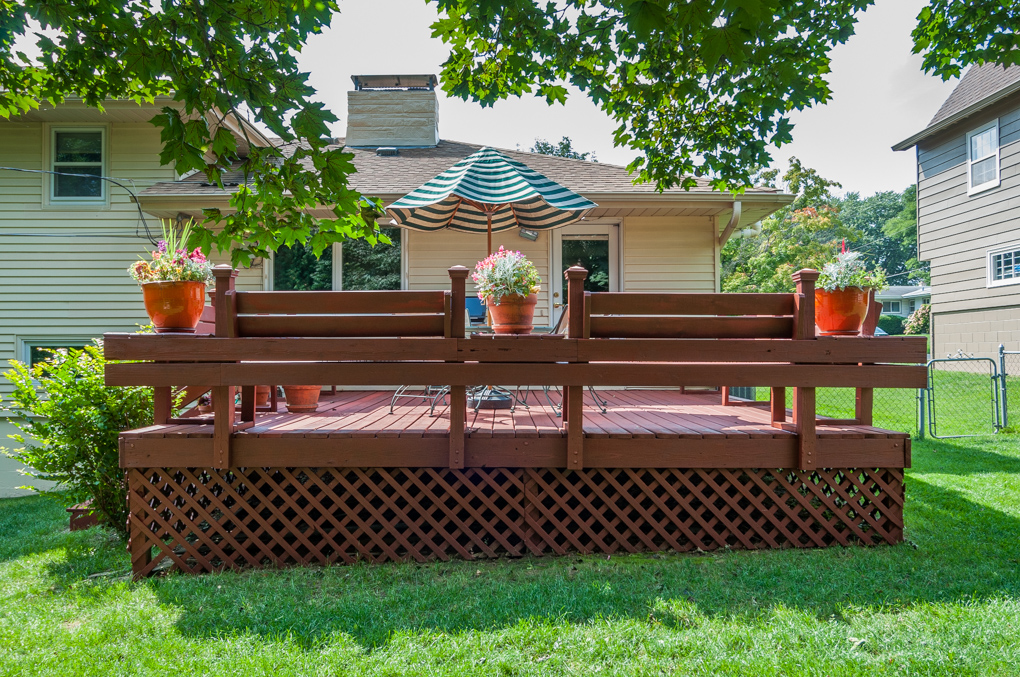 Welcome to Extreme Deck Makeover! Okay, maybe not extreme—staining your deck is actually relatively simple and a great way to make a big difference to your backyard. Whether you have a new deck or one that hasn't had any TLC in a long while, a fresh stain will breathe new life into your deck.
Get your deck ready for outdoor entertaining and hangouts with the perfect stain. Our experts at Brush & Roll Painting have helped out with many deck transformations, and we want to share how much of a difference it really makes! Read on to see some major deck revamps.
before: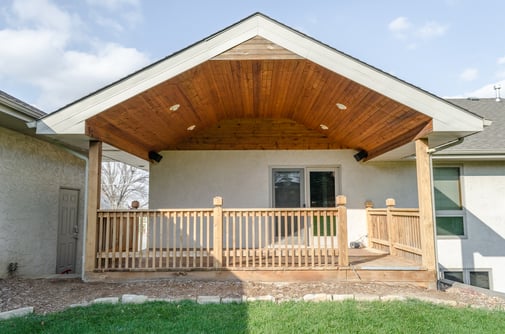 We love how unique this deck is, but it didn't have the standout treatment it deserved. The color was very bland and showing some signs of wear. Most decks get faded from the sun and age quickly from the weather.
After: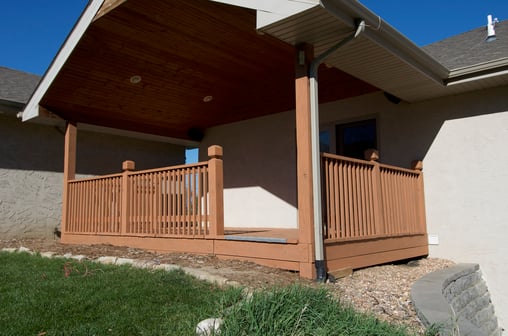 A rich stain matched the deck's ceiling and really stood out against the landscaping. This solid stain, along with the two other stains offered resist cracking, peeling, and blistering. All stains are long-lasting and provide up to two to three years of protection. Get the look with Benjamin Moore's Leather Saddle Brown.
Before: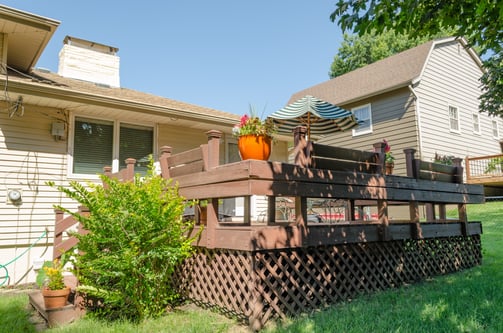 Another deck that has major potential but just needed the right stain to highlight the unique details. Plus, it got lost amidst the decor and furniture.
After: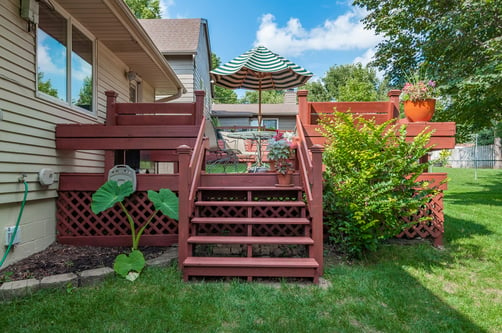 How gorgeous is this mahogany stain? It pops against the greenery and makes the deck and whole backyard so inviting and fun. This is a solid stain that covers wood grain like paint but still lets the wood breathe. To get this look, try New Pilgrim Red by Benjamin Moore.
Before: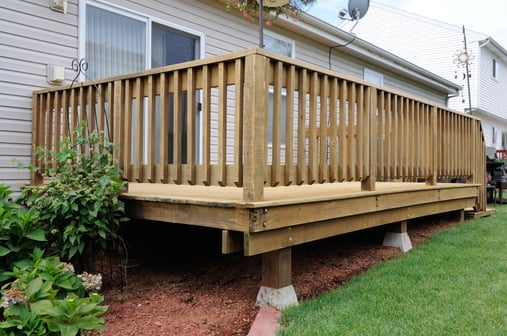 This deck is in pretty good shape, but the color doesn't do it any favors. It also needed a scrub to get the dirt, algae, and mildew stains removed.
After: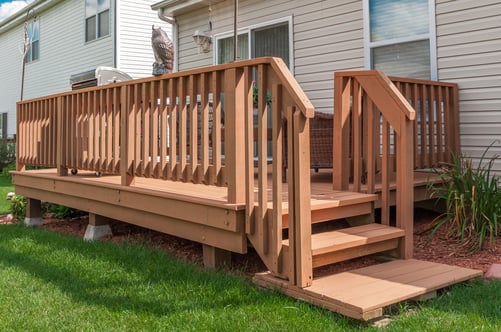 Crisp, warm, and looks brand new! Now, this deck is ready to host some guests and grill-outs. In addition to a semi-solid stain, the cracks, popped nails, and screws were repaired. Fresh Brew by Benjamin Moore will give you this medium warm brown hue.
Before: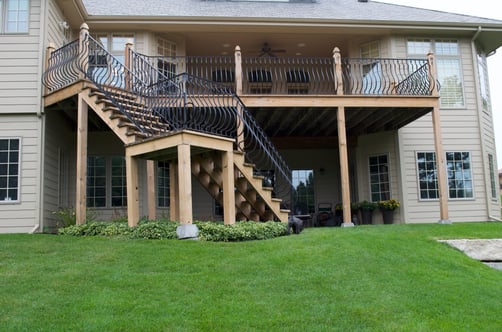 A deck this grand deserves an equally beautiful treatment. Before, the color is very bland and showing some signs of wear. The design is so special with the black railing, but it doesn't stand out against the soft color of the house.
After: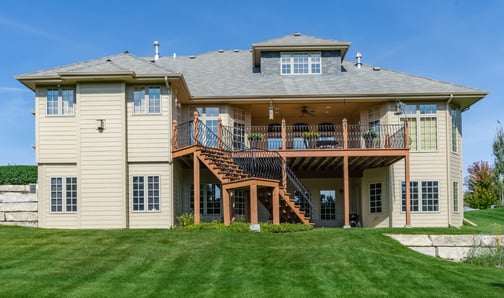 The unique deck layout now stands out and looks better with the black railing. The darker shade juxtaposes nicely with the soft cream shade of the house. Sometimes it really is all about contrast when it comes to staining and updating your deck. Give Abbey Brown by Benjamin Moore a try to get this warm brown look.
Before:


The color of the deck before is too similar to the exterior home color. It blends in and doesn't stand out the way it should.
After: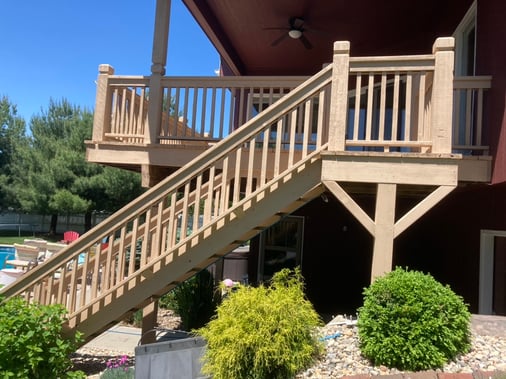 Much better contrast! The lighter stain on the deck makes the design stand out against the exterior. Now it's ready to host some family and friends for outdoor gatherings! To get this look, try Benjamin Moore's Silver Mist.
Updating your deck isn't always about the aesthetic (although it does make them look beautiful!). Staining and power washing your deck will help protect it from sun and weather. It's important to get this done every three years or so to keep it looking good as new.
At Brush & Roll Painting, we know that home painting is a serious investment. We also believe any paint job is only as good as the prep. If you want a quality paint job that will stand the test of time, give us a call at (402) 932-9764 or schedule an estimate online.