Best Accent Wall Ideas and Paint Colors in Omaha, NE
October 06, 2021 12:24 PM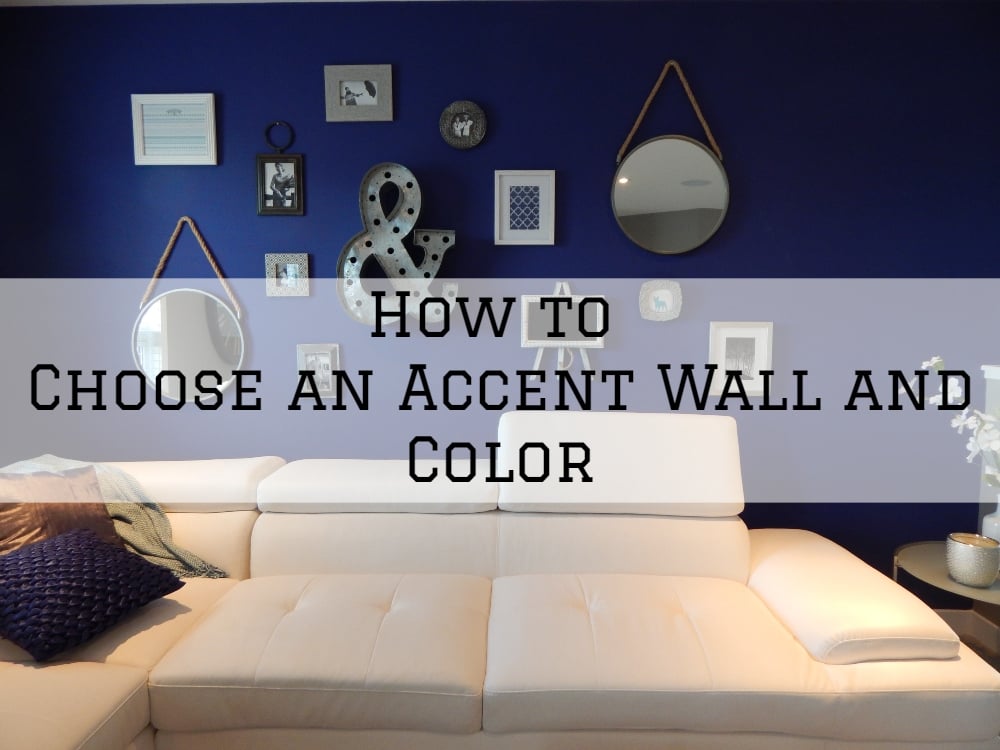 What is an accent wall? It's an interior wall whose color or design is different from the other walls in the space. An accent wall adds importance, excitement, and a little drama in a space, like an exclamation mark at the end of a sentence. You can use an accent wall to introduce a theme in your home or set a color scheme. It's an interior painting trend that's been around for a while now, and we don't see it going anywhere anytime soon.
There are no wrong colors to choose for accent walls. The color and location of accent walls are completely up to you. Accent walls are meant to be special and unique for your space, and they can be used in any room. They can tie your color scheme together, add depth to your space, and create a dramatic or subtle look. Read on to learn more about where to start with choosing the location and color of your new accent wall.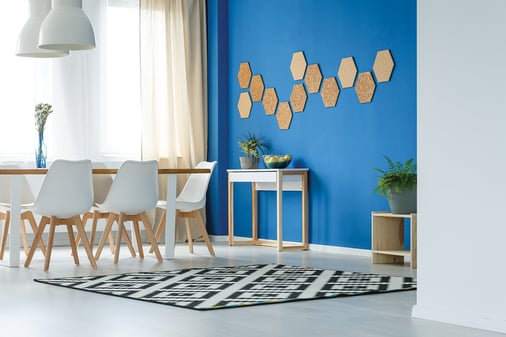 How to Choose an accent Wall
An accent wall is an excellent way to bring in new colors or bring out existing design elements of any space. We love that it's a budget-friendly way to refresh any room, too. If you have a focal point in your bedroom, living room, or dining room, you can choose this to be your accent wall. A focal point can be behind your headboard, the wall behind a fireplace, behind a console table, or simply where your eye is naturally drawn when you enter the room. It can also be a blank wall that stands on its own.
Where you place your accent wall is completely up to you, but if the wall is too bare and dominant, it could make the rest of the space unbalanced. Simply placing an accent chair in front of an accent wall could make all the difference to add some visual interest. You can also add some wall art or pieces you'd like to highlight on the accent wall.
An accent wall in a small space without natural light might not make as much of a statement as it would in a larger, well-lit space. Your ideal space might have a nook or a small, contoured area with tall ceilings. Any room you want to feel broken up or differentiated by an accent wall (for instance, a shared kitchen or dining room space or living room-home office space) is a great choice as well.
how to choose an accent wall color
We don't believe in the "right" or "wrong" color for a space—only what's best for you and your personal style. Our experts agree that painting a bold color in a small space or area (a front door, for instance) makes a big impact. The same holds true for an accent wall. It's not the big commitment that painting an entire room would be, so have fun! Consider the existing decor, furniture, and the overall unity of your home. But if you have an all-neutral space, and you're vying for a pop of red or yellow, go for it! A bright accent wall will really stand out.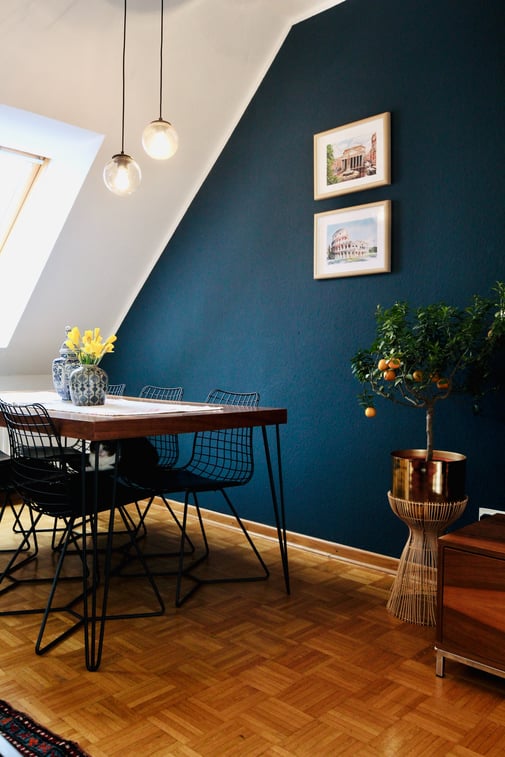 If you have more conservative sensibilities with your interior design, you can still have an accent wall. For example, a greige or even white room can have an accent wall that's just two to three shades darker—it's subtle and interesting at the same time. You can also stay in the same neutral family and add a navy, forest green, or dark gray accent wall to add some contrast without going too far out of your comfort zone. Darker colors make for a strong accent wall color which makes a stylish statement.
accent wall ideas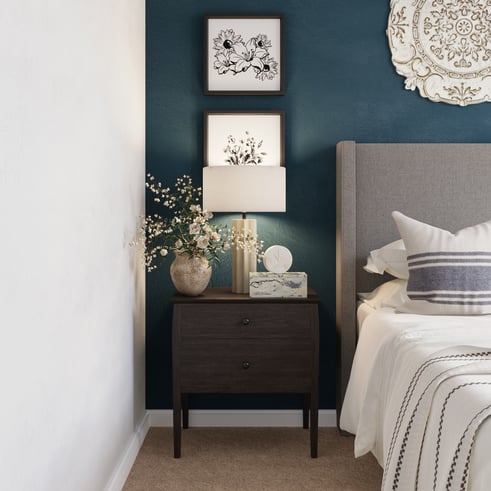 Placing an accent wall behind your bed will draw the eye and create a focal point. In this all-white bedroom, navy blue serves as the accent color.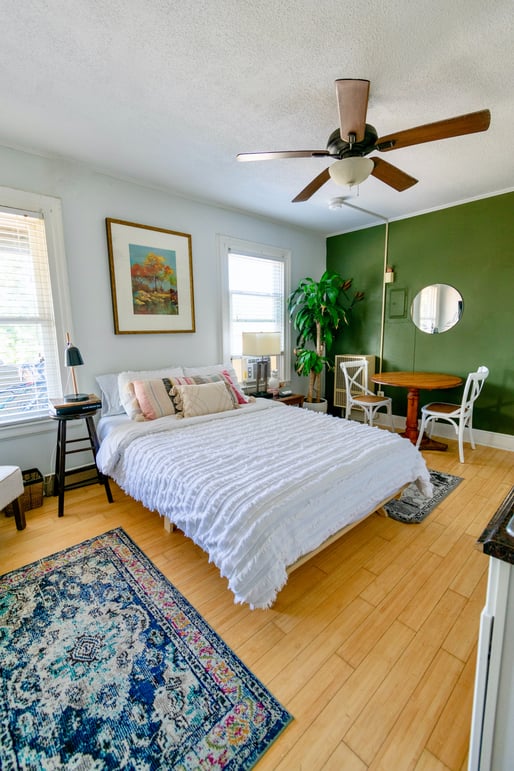 In a shared space where there's an office or sitting space, for instance, you can use an accent wall to create a differentiation between the multiple areas. This bedroom has a table with two chairs as a sitting area, and a gorgeous green accent wall to separate the sleeping area from the sitting space.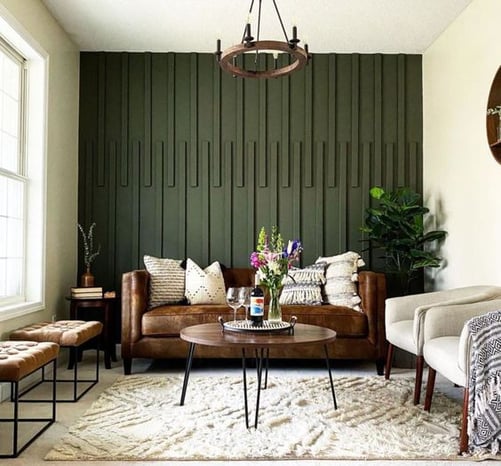 An accent wall doesn't have to just be color. Texture and shiplap can be added to an accent wall. This is another instance where a focal point is created in the living room. The hunter green accent wall with texturing is behind the sofa and end table.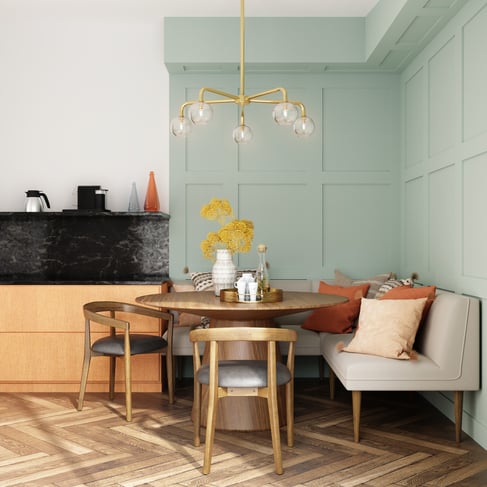 If you are wanting to paint a corner in your home office, dining room, or bedroom, you can turn that area into your accent wall. This is an example of a dining or breakfast nook with a painted corner. The light blue accent wall indicates the sitting area and has a textured element for visual intrigue and depth.
At Brush & Roll Painting, we know that home painting is a serious investment. We also believe any paint job is only as good as the prep. If you want a quality paint job that will stand the test of time, give us a call at (402) 932-9764 or schedule an estimate online.