2021 Kitchen Cabinet Color Trends in Omaha, NE
February 17, 2021 03:54 PM
The process of updating your kitchen can be quite intense, and there are many considerations -- the layout of the kitchen, the appliances you want to replace, and of course, all things related to the kitchen cabinets.

Some people might want to tell you that you should replace your kitchen cabinets, but if you find that you want to update your cabinets' look, the question then comes as to what color you are going to use for them.

Every year, some colors are more popular than others, and in this article, we will discuss some of the 2021 kitchen color trends.
Here are some 2021 kitchen cabinet color trends in Omaha, NE.
1. Greige
When you are looking for a color that absolutely will be a hit in 2021, you likely won't do too much better than greige.

Though it sounds like a peculiar name, the name makes sense if you know what two colors play into it -- gray and beige.

Greige is the kind of color that will make your kitchen cabinets look lovely, getting some of the benefits of gray while being pepped up with the strengths of the beige.

Over the last few months, its explosion in popularity fuel why many people are going for greige when they are thinking about painting their kitchen cabinets.
Here are some popular greige colors:
2. Mint
Though people might think of mint as strictly a flavor of gum or ice cream, it also happens to be a superb color in terms of painting your kitchen cabinets.

A good mint paint will have a nice light green look to it, but not as green as your typical green paint (which we will cover later.)

The mint colors' mildness will do well in a room where you don't have too much light going on, as you don't want to overwhelm the mint with the lights' strength.
Here are some popular mint colors:
3. Lavender
Lavender is another glorious color that will be one of the better colors you can choose for kitchen cabinets.

Lavender paint is said to have a calming effect on a person, or rather the color lavender does -- and you can imagine how pleasant it would be to go into your kitchen to have a good cup of coffee while admiring said cabinets.

Lavender can be described as a pinkish-purple, making fans of pink and purple quite happy, one would imagine -- a bit of the best of both colors combined into two.
Here are some popular lavender colors:
4. Coffee Stains
Speaking of coffee, have you seen kitchen cabinets that have a coffee stain look to them?

Though the name doesn't sound like a color, and rather sounds like you've spilled your coffee on your shirt, the actual color is rather pleasant and looks excellent in your kitchen, specifically on your kitchen cabinets.

Perhaps you can make time to have some coffee in your kitchen with your coffee stain-colored kitchen cabinets. That is, as long as you make sure to find an excellent professional painting company such as Brush & Roll Painting to help you achieve your kitchen cabinet painting needs.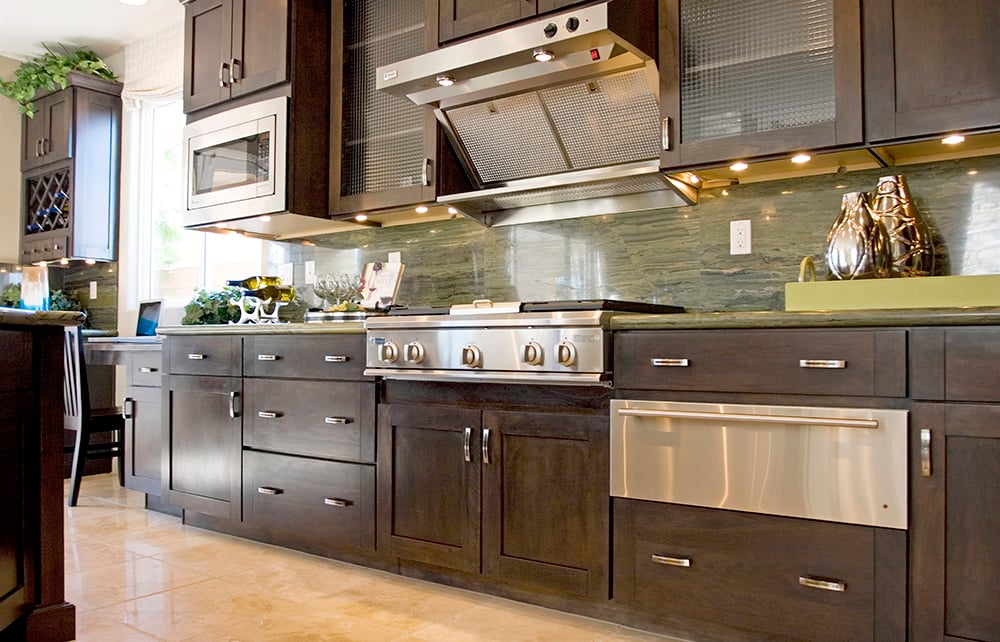 Photo from ML Campbell
5. Green
Green is going to be having another fantastic year in 2021, as it remains one of the better colors that you're going to be able to choose for your kitchen cabinets,

It is excellent in that it is reminiscent of nature, and at the same time, can have a good energy feel for you -- an overall positive sensation from having the cabinets painted this color.

You might look at the cabinets and think of things like the color of grass and perhaps even a lovely evergreen tree -- but be careful not to go too bright with your green, or you might start having a kitchen that looks entirely artificial.

Of course, for some, that is precisely the look they want. So if that's the color you want, it's out there!
Here are some popular green colors:
6. Pink
Pink had a bit of a resurgence a few years back, but some people still think of it as being related to the dream house of a popular doll... Believe it or not, there's much more to pink than just that.
For one, pink comes in a lot more shades than you may be aware -- and a lot of them would look just right at home on your kitchen cabinets.
These can be colors like coral or light pink that give your kitchen a nice bright and energetic look. For our favorites below, we chose more toned down pink colors, though
Here are some popular pink colors:
7. Gray
Lastly, think about using the color gray for your kitchen cabinets -- it has all the good aspects of a good muted color but still has the feeling of providing more color to a room than black.
Speaking of black, black is one of the colors that pairs well with gray as far as painting your kitchen cabinets.
Consider choosing from among the various shades of gray out there (more than fifty to be sure) and pairing it with a good black.
Here are some popular mint colors: