2023 Kitchen Cabinet Color & Style Trends
May 31, 2023 09:02 AM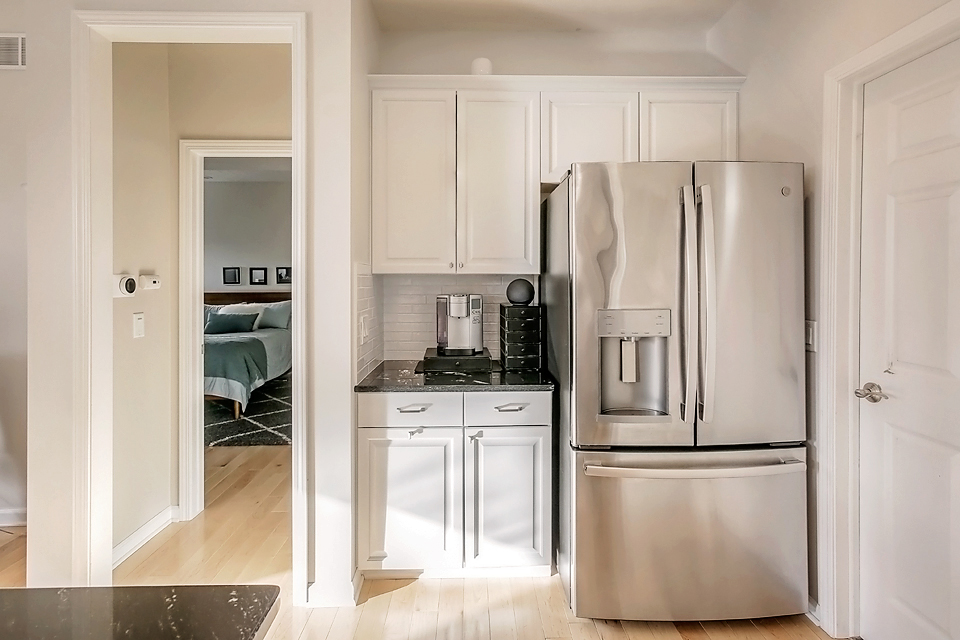 Are you ready for refinished cabinets that are up to date? Is the golden oak becoming too overwhelming? Besides the many benefits, refinishing cabinets is very appealing for any home.
At Brush & Roll Painting in Omaha, NE, we have been refinishing cabinets since 1996. We take pride in our thorough prep work process and use of high-quality materials to ensure a durable finish.
In this article, you will discover current cabinet trends. By reading this article, you may find a trend that you love and are one step closer to beautifully refinished cabinets.
2023 Kitchen Cabinet style trends
Two-toned Cabinets
Two-toned cabinets have made waves so far in 2023 and are timeless. This trend can be adaptable for any size of kitchen and cabinet space.
This could be done with lighter color upper cabinets with a pop of color for the bottom ones. A lighter color on top can help make the room feel larger.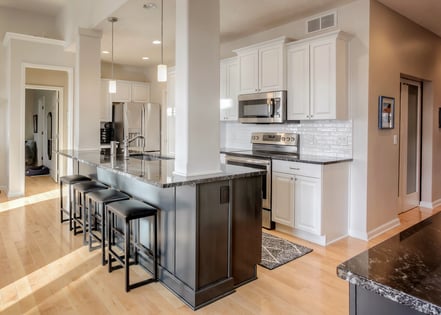 If you have an island in your kitchen, you can highlight it with a different color. Usually, this is done with a darker color than the rest of the cabinets. This adds major contrast to the space which makes it stand out completely.
White is the most common color to see in combination with a darker color, but the possibilities are endless!
2023 kitchen Color trends
Neutral-painted kitchen cabinets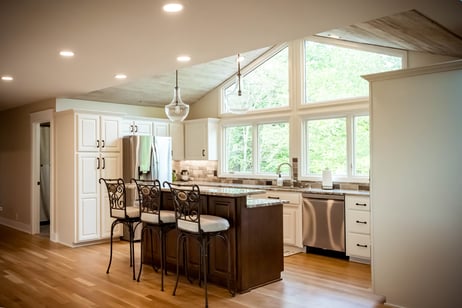 Neutral shades like beige, cream, grey, greige, and of course white are all in style and are timeless. These classic colors can be adapted to fit any design preference. They can also be dressed up with decor on countertops, glass doors, intriguing light fixtures, etc.
These shades help kitchens feel lighter and more open. It can be great for kitchens that are small or that don't get a lot of natural light.
Dark colors on kitchen cabinets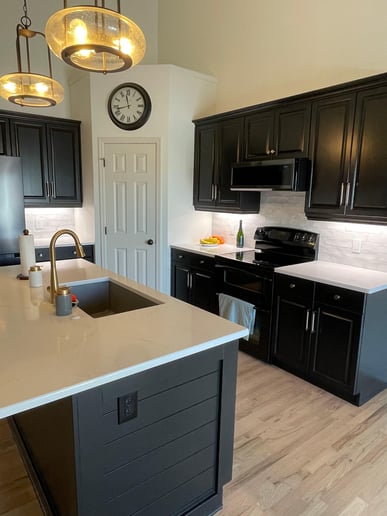 Darker shades like black and dark blue/navy are in right now! These colors can be used to accent lighter colors on countertops or backsplash, like the picture shown to the left, or a completely dark kitchen makes a bold statement.
Darker cabinets look stunning with gold or bronze hardware. Plus, imperfections or dust and dirt won't show as easily on darker wood.
Sage green on kitchen cabinets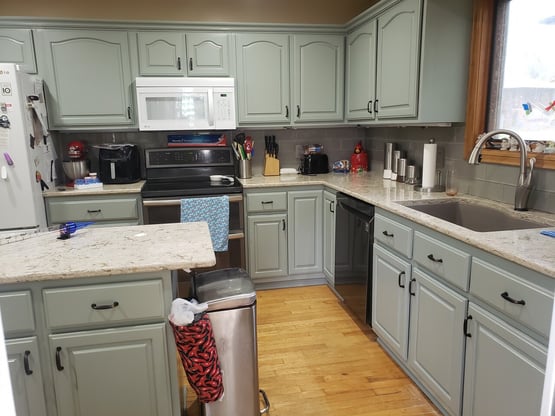 The 2022 color of the year is sticking around. Shades like October Mist by Benjamin Moore and Evergreen Fog by Sherwin Williams are the holy grail sage green shade for kitchen cabinets.
This color is eye-catching and can be adapted to fit any style. It also looks great with any color hardware.
Key Point
Refinishing kitchen cabinets is an investment. While hiring a contractor, ensure that they will provide value and a lasting finish. Durable cabinets will look great while being protected for many years.
To have your kitchen cabinets refinished with one of these 2023 trends, call Brush & Roll Painting at 402-932-9764 or schedule an estimate with us.


Next, learn about 2k poly finishes on cabinets. This protectant coat ensures layers on cabinets will be durable unlike any other product possible.