2K Polyurethane Finishes on Kitchen Cabinets
March 27, 2023 08:42 AM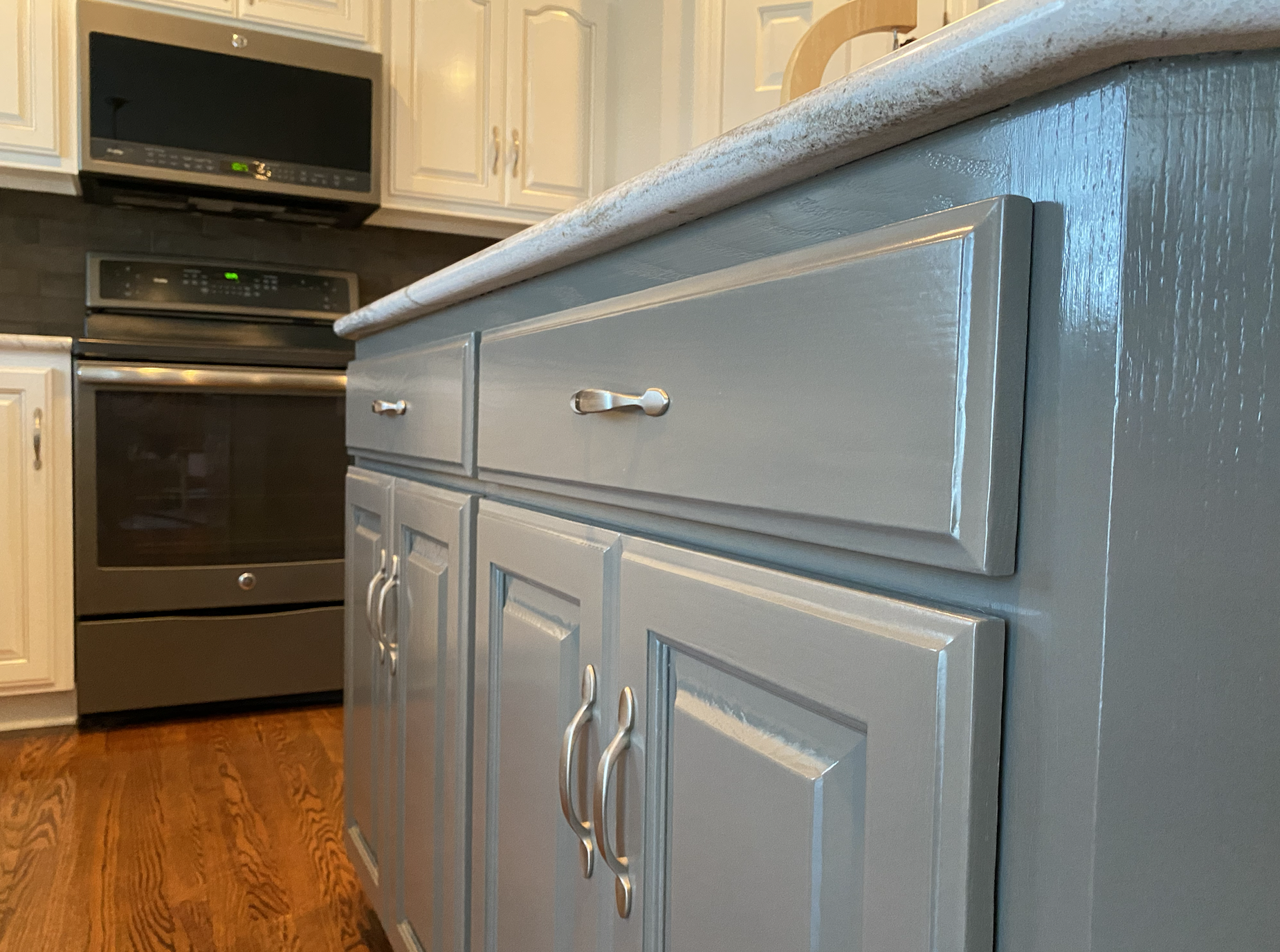 Two-component (2K) water-based polyurethanes (polys) have become a game-changing product for the wood coatings industry. 2K polys can be used as a clear or a pigmented finish protectant coat on cabinets that makes them durable and last longer than any other cabinet refinishing product.
At Brush & Roll Painting, we have spent years searching for the best products to use while refinishing cabinets. We have been across Omaha, NE in thousands of homes to fix cabinets caused by other contractors using low-quality products.
In this article, we will give you all the information about 2K polys. By reading this article, you can learn about what benefits a 2K poly might bring to your cabinets.
About 2K polyurethanes
2K water-based polys were first discovered by the automotive and wood flooring industries to make their work durable and resistant to chemicals, color fading, and abrasion. The kitchen cabinet industry professionals later found out that 2K polys did the same thing for them as well.
2K polyurethanes are used for jobs requiring a durable clear protectant like cars, hardwood flooring, electronics, furniture, and cabinets. It can be used on materials such as glass, plastic, porcelain, concrete, metal, and of course, wood.
2K polys are paints that require mixing a hardener, or catalyst, with them. When this happens, the chemicals are bonded together, forming a durable thickness on any surface. This process must be done right before it gets applied as it begins curing right away.
This also means that the product now has a pot life. Pot life is the point from mixing the two chemicals to a point where it is no longer usable. Tools like sprayers must be cleaned out before the pot lifetime runs out, so the sprayer isn't ruined forever. Usually, this is only a few hours, so finishers have to be careful with their time.
Benefits of 2K polyurethanes on Cabinets
Chemical-resistant products can be cleaned easily. All that is needed is soap and water, but their technology allows them to withstand any chemical that is used to clean it or that may have spilled on the cabinets.
It is essential to understand that wood moves. Fluctuations in temperature and humidity levels cause expansion and contraction. When wood expands and contracts, it causes imperfections in the paint. When a 2K product is applied, the imperfections moisture typically causes are not as apparent.
Some paint has been known to fade over time due to UV lights or the sun. A 2K poly makes this difficult because of its strong layer in between the product on the wood and harmful lighting.
A durable 2K poly is what stands between you and solid wood. Cabinets are not indestructible, but a 2K poly will make them much less prone to scratches, nicks, or chips that would otherwise appear within the first few months of having the cabinets refinished.
A clear protectant gives cabinets a gloss that remains for years with a silky smooth touch.
Maintains color retention
A 2K poly keeps any shade pigmented and in its truest form permanently.
1K Coating vs 2K Coating
1K coating, or a single component, is one paint or coating on its own. 1K paints are best for interior areas with low traffic. 1K coatings dry fast and are still excellent to use in certain scenarios. These coatings can dry simply from the air.
A 2K is a paint or a coating that requires a hardener to be mixed with it to cure and dry, hence the two components. The mixture creates a more durable coating for higher-traffic areas like cabinets and harsh conditions like exteriors.
Since 2K coatings are more complex than regular paint, they should only be applied by professionals.
Milesi 2K Poly
At Brush & Roll Painting, we use and stand by Milesi for our cabinet refinishing process.
Milesi was Founded in 1947 by Guglielmo Milesi. The company worked closely with the European furniture craftsman to produce products that would protect and enhance the wood. Through innovative research and a commitment to quality, they have established themselves as a leader in the wood coatings industry.
Milesi uses the same 2K water-based technology that the automotive and wood flooring finish industries have known for years to offer the most durable finish while still being forgiving enough to reduce cracking. Milesi finishes are also moisture, abrasion, and chemical resistant.
Milesi takes about 2 hours to touch dry and 4 hours to dry completely.
For a painted, solid color look, pigment can be added into Milesi in a multi-layer process. This process doesn't require a final clear coat on top, as Milesi is already applied with the pigment.
After Brush & Roll Painting transitioned to Milesi for our cabinet refinishing services, we were amazed at how the product outperformed in consistency, flow-out/leveling, vertical hang, film build, and color coverage. What truly confirmed that owner Bill Carlson had found what he was looking for, was seeing that Milesi had the perfect balance of durability and flexibility needed for cabinet refinishing.
Brush & Roll Painting is proud to use Milesi products and we remain confident in the quality of finish we can offer our customers. To learn more about Milesi's history, mission, and commitment to the environment, visit their website at https://www.milesi.com/en/.
The Ultimate Guide to Cabinet Refinishing.
Have a 2K Poly Applied to your Cabinets
2K polys have been game-changing for the cabinet refinishing industry. They make cabinets durable with their chemical, abrasion, and moisture resistance.
To have a 2K poly applied on your cabinets in Omaha, NE, schedule an estimate with Brush & Roll Painting. We have refinished cabinets since 1996 with a thorough process and high-quality products.
Next, read about the different types of cabinet finishes. A 2K poly will make any one of them durable while fitting your style.