Benjamin Moore's Color of 2022
November 14, 2021 04:53 PM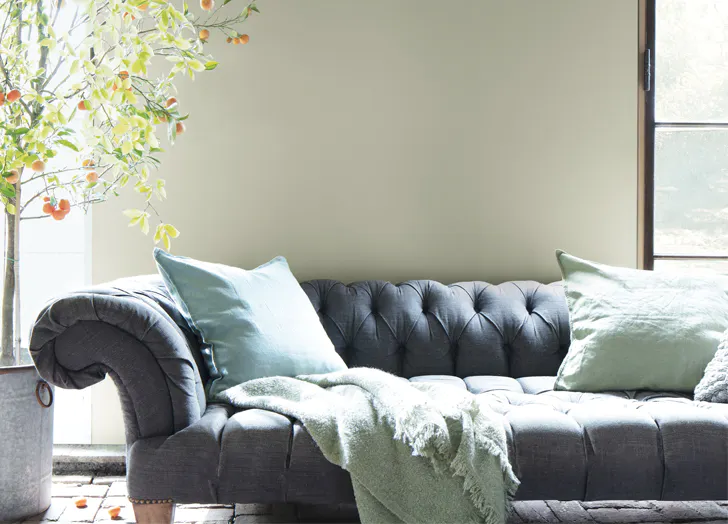 A new year is just around the corner, and that means a blank slate! New trends, new resolutions, new experiences, and new colors! We're looking forward to 2022!
We've got out favorite trends mapped out for the new year, and top-tier paint company Benjamin Moore has officially declared their color of 2022. Read on to learn more about Benjamin Moore's October Mist!
About October mist

A silvery-green hue, October Mist was chosen for 2022 because it represents creativity, imagination, and calm. It's a gentle sage, similar to what we've chosen as a modern farmhouse paint palette, that manages to pull color while staying neutral enough to go in any space.
What goes with October Mist?
Any neutral shade is going to look great with the paint color October Mist. A beautiful creamy white like Benjamin Moore's Steam will really stand out as a trim color. For something still in the green family but darker and neutral, try Gloucester Sage by Benjamin Moore.
Where Can I Use October Mist?
Because October Mist is neutral and soft in saturation, it will look good just about anywhere! Consider how you want a room or space to feel when you're choosing a color. If you have a child's room or a home office that needs a gentle dose of color, October Mist is a perfect choice. It also works as a bathroom color because of the serene vibes the shade gives off. And because October Mist represents harmony and growth, we can see it as an accent color or on all four walls in a dining room or living room. We love unique colors in the kitchen, so October Mist would also be an excellent kitchen cabinet color or a kitchen island shade. The possibilities truly are endless!
Want to try October Mist in your space? Talk to one of our color experts at Brush and Roll Painting and see how it can bring your home to life!
At Brush & Roll Painting, we know that home painting is a serious investment. We also believe any paint job is only as good as the prep. If you want a quality paint job that will stand the test of time, give us a call at (402) 932-9764 or schedule an estimate online.