Best Paint Colors That Go With Oak Wood Trim in Omaha, NE
September 30, 2021 11:15 AM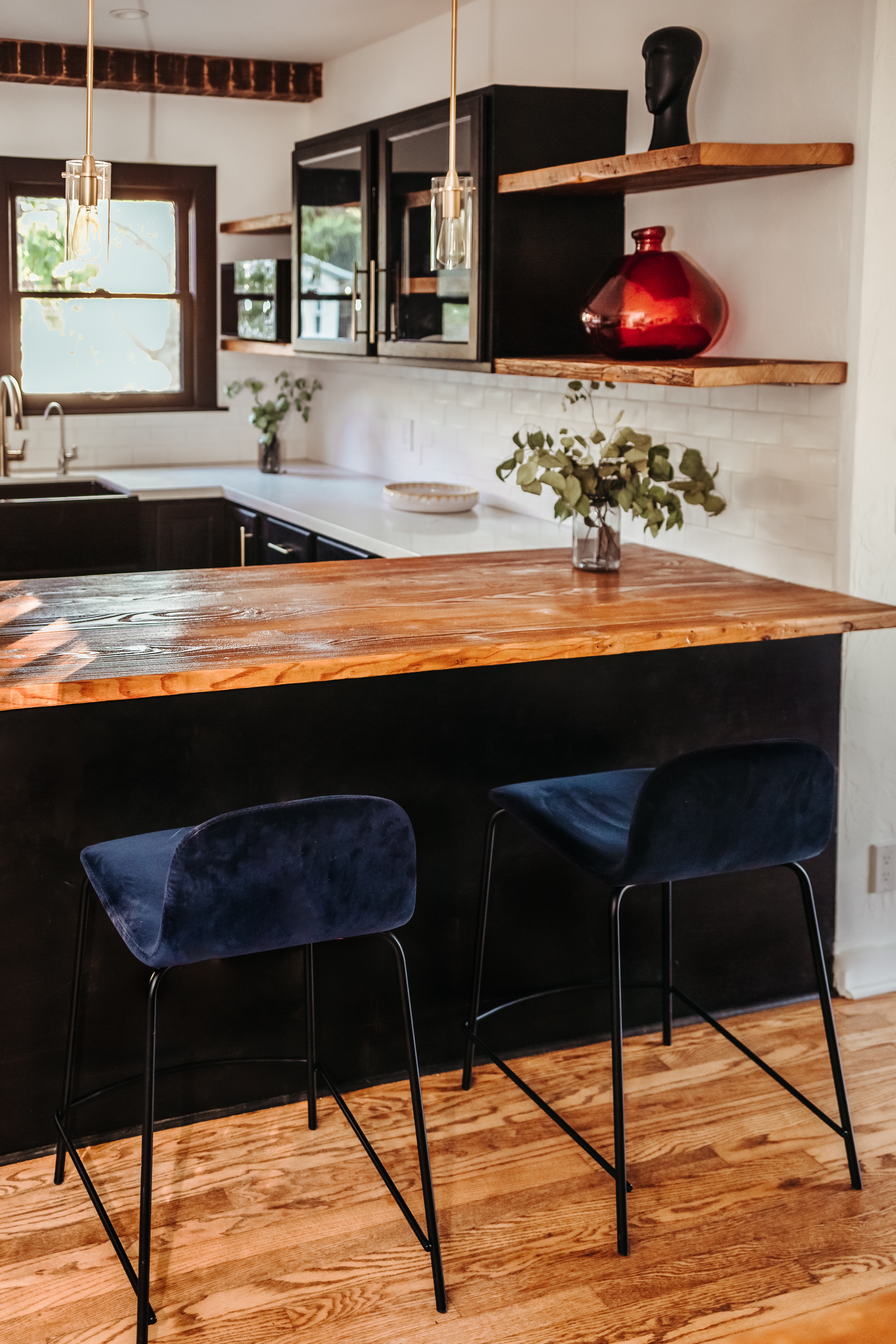 Before you consider painting your oak trim white or any other color, hear us out: With the right wall color, you might just want to keep that oak trim as it is! Oak trim can actually enhance your look and fit perfectly with the right home and interior design style. Oak trim can actually highlight the unique design and architecture of a space, so there are reasons to keep it. Keeping original oak trim in your house can actually help hold the value of your home, especially if it's a historic home.
Our color experts at Brush & Roll Painting rounded up their favorite paint colors that give outdated oak trim a whole new look that's of the moment and stylish. Read on to see which colors we chose that bring out oak trim and might make you want to keep it.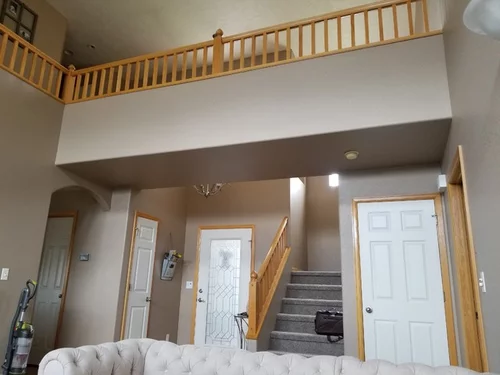 1. Greige
Honey oak trim left unpainted can pair with just about any neutral shade. The oak shade itself is a neutral color and serves as an accent. Greige is a shade seen in many modern homes and transitional spaces that likely have oak trim. The undertones you'll see in greige are warm, so it makes sense that it complements the warmth of the oak wood. Try Edgecomb Gray by Benjamin Moore to bring out your oak trim.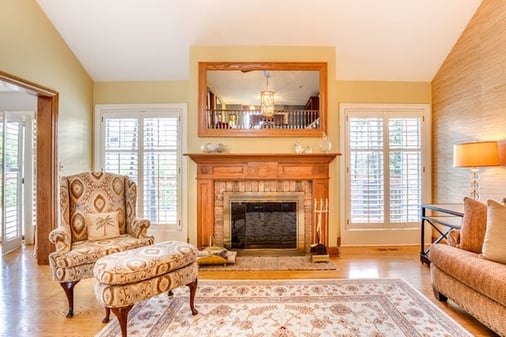 Image courtesy of Laurel Bern Interiors
2. Yellow
This is an unlikely duo, but it works surprisingly well! But remember that oak wood is orange, tan, or yellow on its own, so pairing it with yellow isn't that far off. Together, they create a bright, welcoming room. Yellow can help modernize a space with oak trim and coordinate the look at the same time. Opt for a soft shade of yellow paint for your walls such as Benjamin Moore's Windham Cream.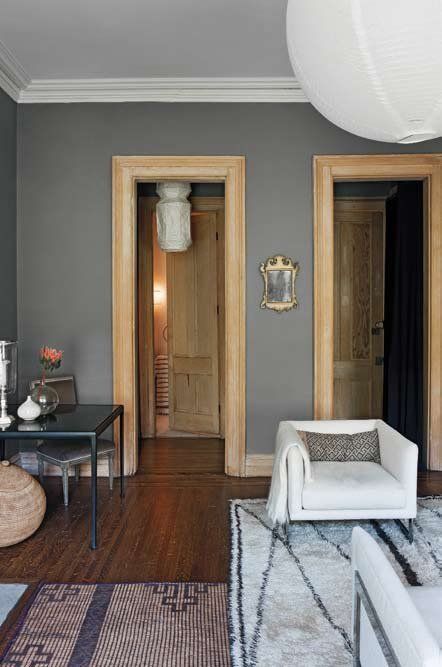 Image courtesy of Tom Delvan
3. Gray
You can choose a warm gray or a cool gray for this look—it's entirely up to you. Go for a light gray paint or dark gray paint, but no matter what, you'll have a cozy, modern look that makes oak trim look intentional and on-trend. There's a subtle contrast between oak trim and gray which draws the eye and creates a look that highlights the unique architecture in your home. There are so many grays we love, but give the medium gray Chelsea Gray by Benjamin Moore a try as a starting point. Go as light or as dark as you want.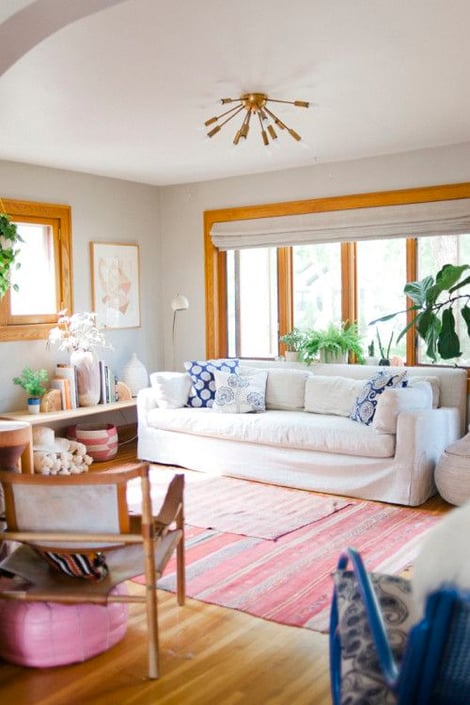 Image courtesy of Simpli Chique
4. White
There's no interior design look that white paint can't take on. For a completely classic, timeless look, look no further than white walls and oak white trim. This is an example of letting your walls be the background of a look. Similar to the look above, a simple white and oak look allows furniture and decor to take center stage without worrying about wall colors competing with other colorful pieces. A simple, chic white like Chantilly Lace by Benjamin Moore is a go-to shade.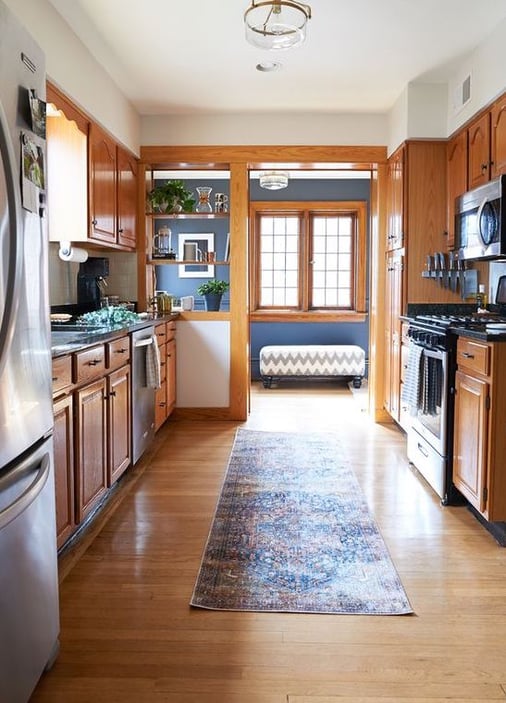 Image courtesy of The Sweet Beast
5. Navy Blue
We're so drawn to oak wood with navy blue, and the reason isn't only because it's lovely. It's because blue and orange are opposites on the color wheel, so they juxtapose and look great together. The honey oak wood pulls orange and contrasts with the navy blue paint. Navy blue is one of the easiest, best ways to pull color into a space, especially if you're sensibilities are on the color-shy side. Our favorite navy blue paint shade is Benjamin Moore's Hale Navy. For something more subtle, try Evening Dove.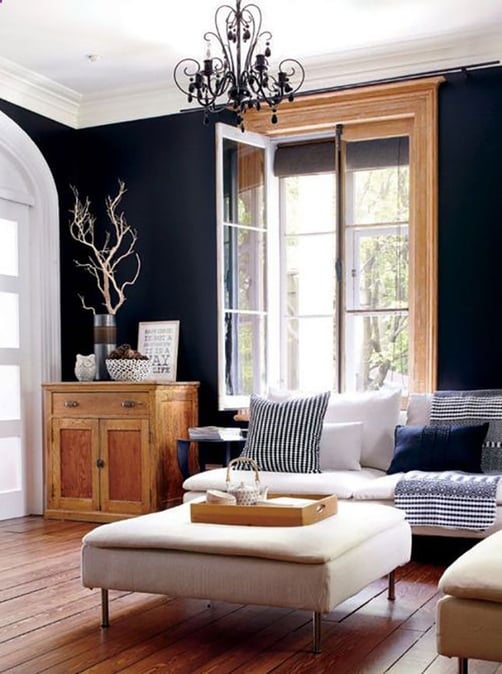 Image courtesy of Brit.co
6. Black
The contrast between black walls and honey oak trim is just too good. It creates a modern meets rustic look, and we love it. Black walls or even a black accent wall can take your look to the next level and make you fall in love with oak trim all over again. The honey oak will actually keep the black walls from looking too stark or dramatic. For a versatile, can't-go-wrong black, try Black by Benjamin Moore.
At Brush & Roll Painting, we know that home painting is a serious investment. We also believe any paint job is only as good as the prep. If you want a quality paint job that will stand the test of time, give us a call at (402) 932-9764 or schedule an estimate online.