How Messy Is Cabinet Refinishing?
October 18, 2023 03:12 PM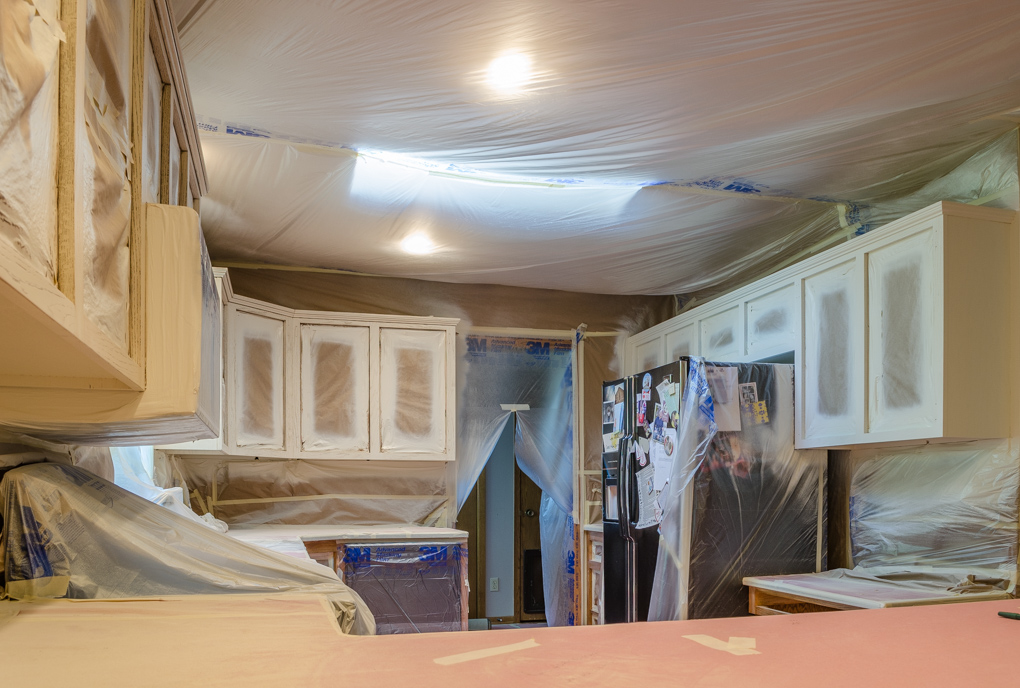 Are you ready for an upgrade on your kitchen cabinets? Is the color just not suiting your style anymore? Are they chipping, peeling, or getting damaged around the handles?
Cabinet refinishing is sure to be the right choice for your cabinets. You may be thinking, that will be a messy disaster, right? No, but let us explain!
In this article, we will discuss the process of cabinet refinishing from a valuable professional painting company in terms of messy situations. By reading this, you will have a good idea of what to expect when you choose to have your cabinets refinished.
Brush & Roll Painting is a cabinet painting company serving Omaha, NE, and the surrounding areas. Our expertise and knowledge date back to 1996. Our priority will always be providing high-quality work with outstanding customer service.
The process of cabinet refinishing
Protecting your space
One of the most essential parts of cabinet refinishing is the prep work. At Brush & Roll Painting, this extensive process begins with protecting your space.
For this, we lay heavy-duty protective paper on floors and countertops and mask off all areas around the cabinets. Doing this helps catch any dust or splatters that may fall.
This is an important step that some painting companies may not take the time to do. Though this step is essential for protecting your space, some companies strive to get the job done quickly while trusting their carefulness not to spill or cause any drips.
For most homeowners who wish for durable work, if a painting contractor does not protect your space, this is a red flag.
If your cabinets get sprayed, more paper, plastic, and tape are used to close the kitchen off and protect everything in the area (like shown in the photo above). This phase will take longer, but the product application time will be much less.
Learn more about the differences between spraying and brushing kitchen cabinets here.
Removing doors
The next step is to remove all doors and drawer fronts. These are carefully packaged up and taken to our shop. This eliminates time, fumes, and mess in your space.
In addition to cleaning, sanding, and priming, our process includes sanding between each product layer. Drawers and doors occasionally need lots of sanding, so doing this process in a contained environment like our shop is ideal for eliminating dust in your home.
In return, you also get a better finish. Our shop is climate-controlled and we have dust extraction equipment. These tools create a cleaner environment that will leave your cabinets with a smooth, furniture-like finish every time.
Like protecting other surfaces, this step isn't done by all painting professionals. Many companies might paint the doors right on the cabinets. Some might ask to use another space on your property to apply the paint.
It is essential to ask the companies you are considering what their exact process looks like to determine which one you think is the best painting company for you.
Cleaning
Cleaning is a crucial step that allows us to get rid of dirt and grime on the surface of the wood to start fresh. Cleaning the cabinet boxes and doors will expose problem areas that need to be sanded in the next step.
We always choose to clean before we sand. If we sand first, the grime would be pushed into the surface and embedded into the wood grain, causing the surface bad adhesion to the products.
Sanding
Sanding sounds like a messy nightmare that you'll be finding for months. But, at Brush & Roll Painting, we do wet sanding, so no mess is left behind. This process uses water with denatured alcohol and a high-grit sand block to smooth surfaces.
For more of a clean environment, we use sanders that have a vacuum attached to them that catches the majority of the dust. Whatever is left over will be cleaned by a broom or separate vacuum cleaner.
Priming
The purpose of priming cabinets is to allow for the best possible adhesion. Applying the product won't cause much of a mess. If spills occur, the drop cloths or paper already laid out will do their job and protect your space.
Painting
Painting cabinets leaves little to no mess. If there is any mess, it is caught by the paper that was laid on the floors and counters.
Painters should also use caution when setting their materials around and only use a covered area to place the paint cans.
How to ensure your painting company does not make a mess
All in all, refinishing cabinets don't come with an enormous mess that you have to clean up unless the painting contractor is unprofessional. If a painting contractor leaves a big mess in your kitchen every day or after the job is completed, it is clear that they do not respect your home as they should.
To ensure high-quality, clean work, schedule an estimate with Brush & Roll Painting. We strive to give homeowners a great experience, which begins with being respectful of your space.
Next, learn about how to compare painting quotes. These articles will help you determine how to choose between painting companies to find the best one for you. These tips help you eliminate contractors who make a mess in your home.