Best Paint Colors for Small Bathrooms in Omaha, NE
December 16, 2021 01:16 PM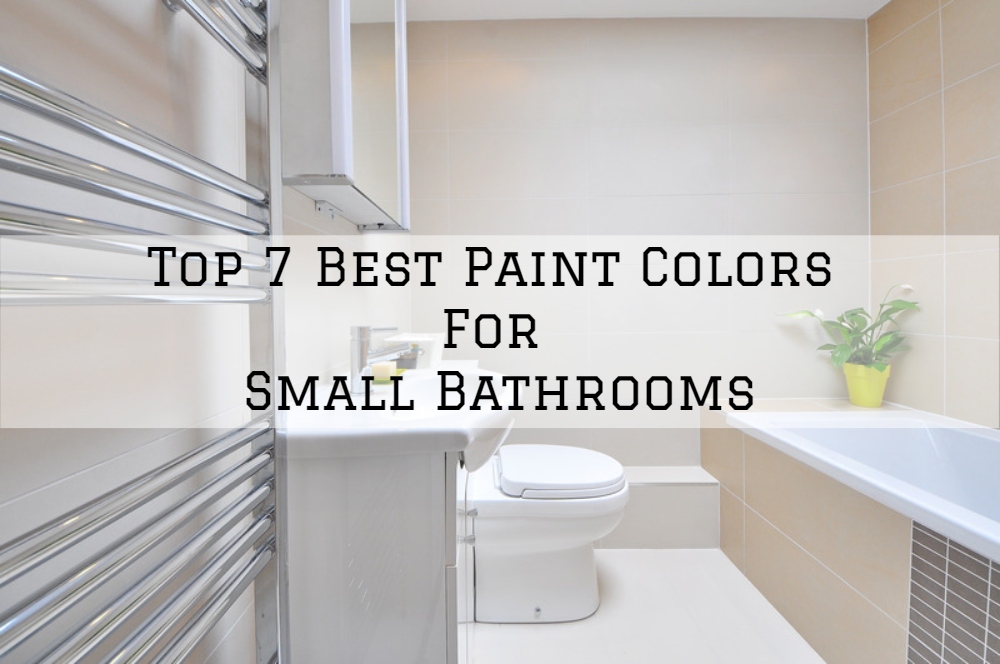 If your dream home comes with a small bathroom, don't despair! It might be a challenge sometimes to get ready in the morning (especially if it's a shared space), but consider it a design challenge that's easily solved. The same goes for the paint colors. One of the great things about smaller spaces is that anything goes. You can make a bold color statement or a subdued one if that's more your style. Because the square footage is smaller, a bigger impact is made with the color choice so you can step out of your comfort zone and finally do that cool paint color you've been wanting to try.
If you're wanting to make your small bathroom appear larger and warmer, there's a color for that too. Our color experts at Brush & Roll Painting have gathered some of their top colors for making the most out of that petite bathroom. Read on to see some of our favorite shades, and get ideas for your own small bathroom.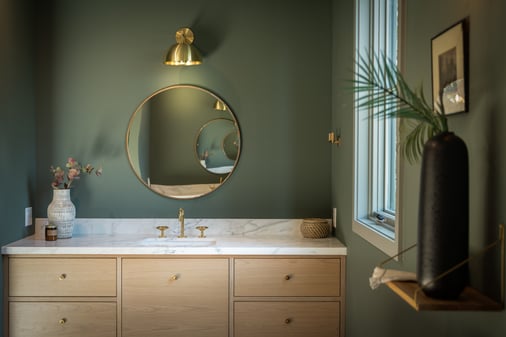 1. Dark Green
Lighter colors will indeed reflect light and make your space appear larger. However, a dark or bold color in a small space gives it the impact it deserves. Dark green is a great choice because it's dramatic and lively at the same time. You can pair it with white or lighter colored fixtures so it doesn't overtake the space as well. Dark green is earthy and neutral enough to pair with all personal styles and any existing decor. Salamander by Benjamin Moore will do the trick to get this look.
2. Light Pink
Pink is an awesome pick if you're looking to create a warm, flattering glow. If you want to make the place less feminine and more modern, go for soft rosy pinks and pair them with black or white. Using a slightly muted pink hue will create a more grown-up appeal for your walls. If you're looking for a sophisticated vibe, pair your soft pink with charcoal gray or deep brown. Try a shade like Pink Bliss by Benjamin Moore to get this look!
3. Aqua Blue
Nothing suits a small bathroom and creates a cool space quite like the spa-blue paint hues. The pale blue lights up the walls and works perfectly in both modern and traditional bathrooms by bouncing light around. Complete this look with shiny metal fixtures and accents, crisp white trim, and all-white towels. Consider painting the ceiling in a similar color, but 1-2 shades lighter to open up your small space even more. We love Benjamin Moore's Palladian Blue for an aqua blue look.

4. Gray
All hail gray! It's easily the most versatile paint shade, which is why it's universally loved. Everyone loves gray painted kitchen cabinets, and it makes an impact in small bathrooms too. Gray is soothing, calming, and elegant in spaces of all styles including modern, farmhouse, transitional, mid-century modern, and Scandinavian. Depending on the natural light available in a small bathroom space, gray walls can pull slightly green or blue. Benjamin Moore's Coventry Gray is an excellent gray to try as it has neutral undertones.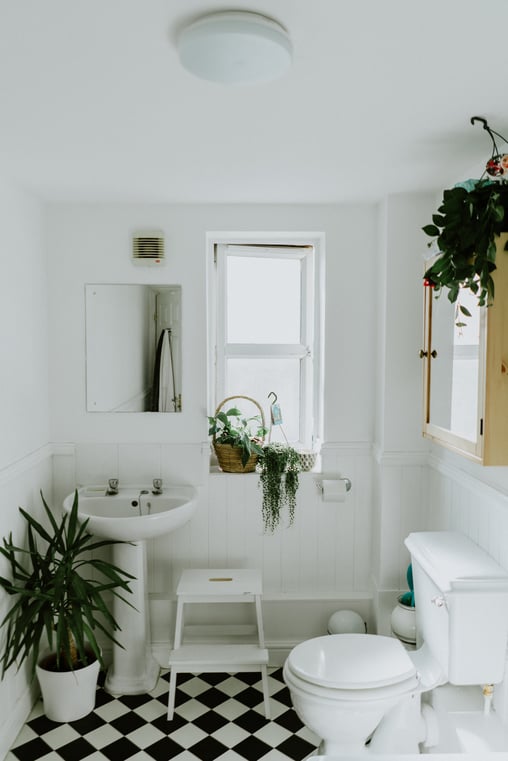 5. Beige
Beige is anything but boring and works in every space and with all styles. It's a no-brainer as far as a neutral color, but a beige with cool undertones is more unexpected and might have a hint of green-gray to it. Beige is chameleon-like in color and looks different in every space. We love it as a small bathroom color, including a small guest bathroom paint color. Try Muslin by Benjamin Moore for this look.
6. white
Still color-shy? Well, let's default to the traditional white. Classic shades of white create a crisp, clean look and reflect light, helping to make your small bathrooms feel just a little bit larger. White shines in small bathroom spaces as a neutral, understated shade that lets furniture and decor take center stage. A lovely go-to white we love is Chantilly Lace by Benjamin Moore.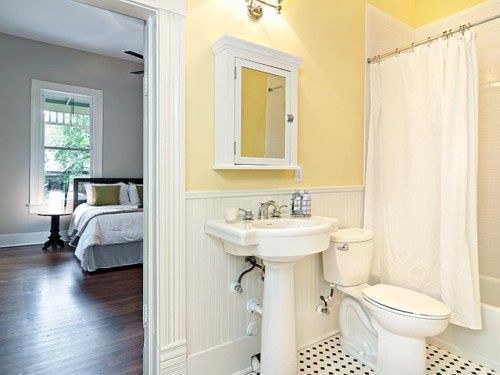 7. Yellow
The best place to try bolder colors is in a small space, front door, or accent wall. Yellow is bright, cheery, and inviting, and surprisingly, it pairs with more than you'd think. It can work with gold and silver hardware and everything in between. If you're lacking in natural light, let yellow brighten up your petite bathroom. A great shade to try is Hawthorne Yellow by Benjamin Moore.
At Brush & Roll Painting, we know that home painting is a serious investment. We also believe any paint job is only as good as the prep. If you want a quality paint job that will stand the test of time, give us a call at (402) 932-9764 or schedule an estimate online.