7 tips for preparing your exterior for winter - that will save you thousands
November 09, 2020 02:00 PM
Nebraska winters can be tough on a home, but there are several things you can do to help protect your investment. Take advantage of nice fall weather to walk around the exterior of your home and complete these seven crucial tasks to help keep your home safe from the elements and save you thousands of dollars in repairs down the road.
1. Disconnect hoses
Locate any hoses that are hooked up to your house and disconnect them.
Leaving hoses connected to the spigot allows the water inside to freeze and expand, leading to your pipes breaking.
2. Check sprinklers, blow out and turn off
Ensure that your sprinklers are blown out and turned off before wintertime.
Water left in the sprinkler lines can also expand, just like the hose line, and this damage can be costly. Disconnecting your hose/sprinklers could save you hundreds of dollars in damage and repairs.
3. Check around your home for cracked caulking
Go around and look for cracked caulking. Make sure to seal up any caulking that doesn't seem to be on your home well. Be sure to use clear caulking; that way, you don't need to repaint the area. Don't use siliconized caulking - it can be bad for the paint.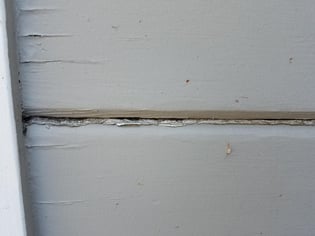 If you leave lousy caulking up over winter, it can very easily lead to water damage throughout your home. Water from snow can get in the cracks and start to rot the wood.
We recommend using Sher-max caulk, which comes in white & clear coloring.

4. Pressure wash your home
If possible, use a pressure washer to wash the exterior of your home 1-2 times per year. You can rent a power washer, or hire somebody to come out and do it for you, for a reasonable price.
Pressure washing your home can help extend the life of the paint you have on your home. It also helps show more damage that you have, like lousy caulking or peeling paint.
5. Check for peeling paint
Peeling paint seems like something you would want to leave alone, but that can damage your home. After the power wash, walk around and check for peeling paint. Use a putty knife or a 5-in-1 to scrape the peeling paint off. After the scraping, you'll want to prime it and then put another coat of paint over top of it.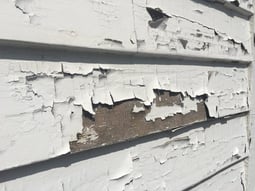 Peeling paint on your home allows water to penetrate behind the paint and rot the wood. Peeling away some of the paint and correcting those areas will stop the wood from rotting. Repairing rotted wood cost homeowners anywhere from $800-$1,200.
6. Take care of your lawn
Yard care is always essential, but before winter, it's vital! Now is the time to aerate your yard, rake away all leaves, Remove furniture from the lawn, etc.
If you don't spend time on your lawn before winter, the snow and temperature can harm your lawn come springtime. Leaving things on the grass can kill the grass, which is a pain to fix in the spring!
7. Cover or put away furniture
The best way to protect furniture is by putting it away in a garage or a shed. If you don't have free space to house your furniture, cover them with quality furniture covers.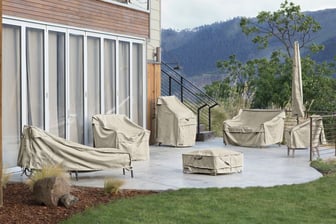 Even outdoor weather-resistant furniture has a hard time in Nebraska winters. Taking care of it will help it last longer and could save you up to thousands of dollars!