Best White Paint Colors for Kitchen Cabinets in Omaha, NE
July 30, 2021 12:11 PM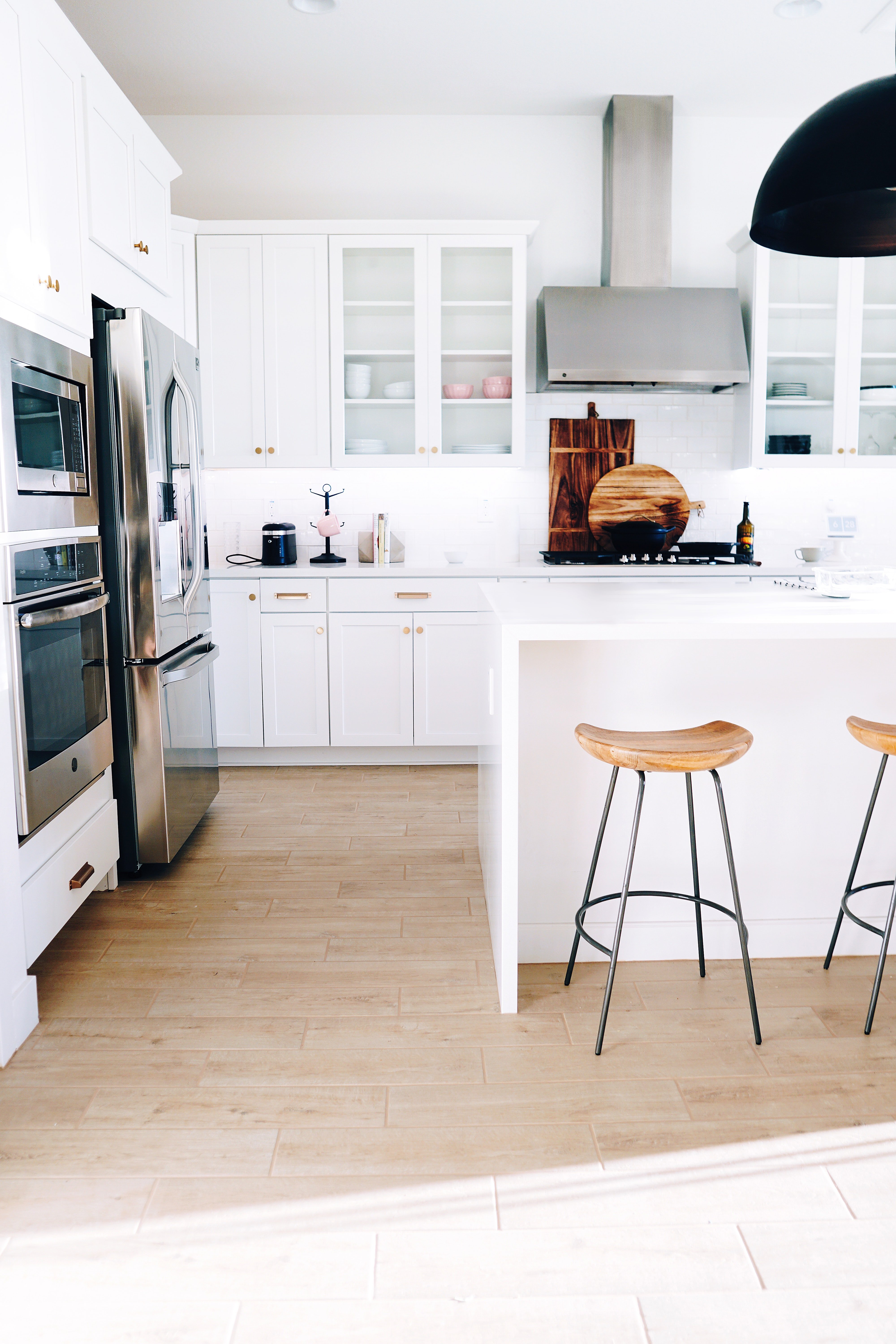 "It's only white paint ... how hard could it be to pick a shade?" Well, that depends if you want eggshell, off-white, stark white, cream, blue-whites, yellow-white, pink-white—you get it. There's way more than just one shade of white, and they all make a difference in your space. White is a timeless and popular kitchen cabinet color, and many homeowners choose to paint their oak cabinets white. Homeowners and interior designers take time just to find the perfect shade of white, even for kitchen cabinets.
Kitchen cabinets can make or break your kitchen. But good news! A simple coat of paint can give your entire kitchen a brand new look. Our color experts at Brush & Roll Painting know a thing or two about selecting the perfect shade. There are hundreds of white shades out there, but we've narrowed it down to some of the best shades of white and ideas for your kitchen cabinets. Read on to get inspired and see some white kitchen cabinet ideas.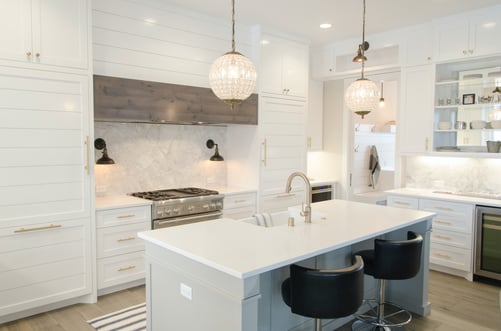 1. Sherwin-Williams- pure white SW7005

This shade of white is what most designers would call off-white or soft white, rather than a stark white. It lightens and brightens your space without it looking too sterile. This particular shade of white is elegant on kitchen cabinets. Pure White by Sherwin Williams is one of their most popular colors and works for walls, trim, cabinets, and exteriors in addition to kitchen cabinets. This white paint color has a drop of yellow so it has a hint of warmth to it.
2. Benjamin Moore- Simply white

Described as a "perennial favorite for trim, ceilings, and walls," Simply White is also perfect for kitchen cabinets. This multipurpose hue is adored by interior designers for a reason—it's not too white and not too off-white. A pure, bright, crisp white, Simply White is a foolproof shade that looks good in every kitchen regardless of the natural light available.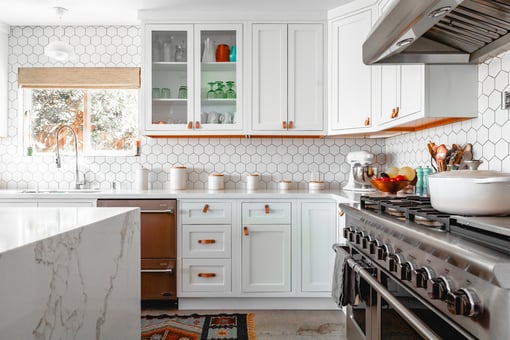 3. benjamin Moore- swiss coffee

Incredibly versatile and elegant, Benjamin Moore's Swiss Coffee is also used by professional designers. It doesn't have any yellow in it and works with any spaces and styles. This warm, beige white has an almost aged look to it for a vintage vibe that lends itself beautifully to kitchen cabinets. For farmhouse white kitchen cabinets, this color is an excellent choice.
4. Benjamin Moore- Chantilly Lace

Chantilly Lace is a shade of white that's perfect for a monotone kitchen (white walls and white kitchen cabinets). As the name suggests, it's reminiscent of delicate white lace that adds a soft touch to any space. Designers recommend Chantilly Lace for painting cabinets and trim, as it's a clean white that's not too stark and leans slightly warm.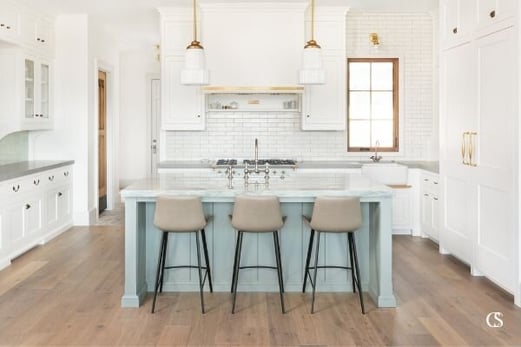 Image Credit: Christopher Scott
5. Sherwin-Williams- Snowbound

If you want a white kitchen with clean white kitchen cabinets, Snowbound is what you're looking for. It's a crisp white with slightly gray undertones that leans cool. Snowbound is used mostly for kitchen cabinets, shiplap, trim, and walls and creates a beautiful neutral look. This shade will reflect the light from a surface, so it'll make your kitchen appear larger.
6. Benjamin Moore- White Dove

Moldings, trim, and kitchen cabinets alike love a fresh coat of Benjamin Moore's White Dove. White Dove has a creamy yellow undertone, so it's a warm white with a slightly greige base to keep it looking too yellow or warm. A warm white like White Dove is a timeless color for kitchen cabinets. For antique white kitchen cabinets, White Dove or a similar shade for off-white kitchen cabinets is what you want.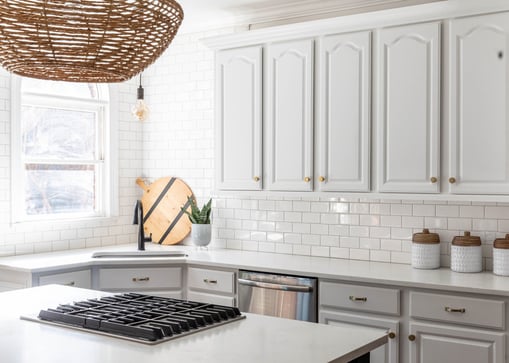 Image Credit: House of Nomad
7. Benjamin Moore- Decorator's white
As the name suggests, this shade is preferred by interior designers and

professional decorators alike. Decorator's White is a cool off-white with a little bit of gray (a softer version of Chantilly Lace). It's impossibly versatile and elegant with blue and purple undertones. Decorator's White is a tried and true shade beloved by homeowners for kitchen cabinets. You can choose this perennial favorite with confidence for your white kitchen.
The amount of white kitchen cabinet ideas is endless, and you really can't go wrong with white. When painting kitchen cabinets, always remember to try samples of different shades of white in your kitchen (or any space you're painting). Look at it in natural light at different times of day as well as artificial light, which will make a huge difference. Any style of kitchen cabinet, whether it's shaker, farmhouse, modern, or traditional will be well suited with white paint.
At Brush & Roll Painting, we know that home painting is a serious investment. We also believe that any paint job is only as good as the prep. If you want a quality paint job that will stand the test of time, give us a call at (402) 932-9764 or schedule an estimate online.