All About Painting Kitchen Cabinets in Omaha, NE
June 14, 2021 08:59 AM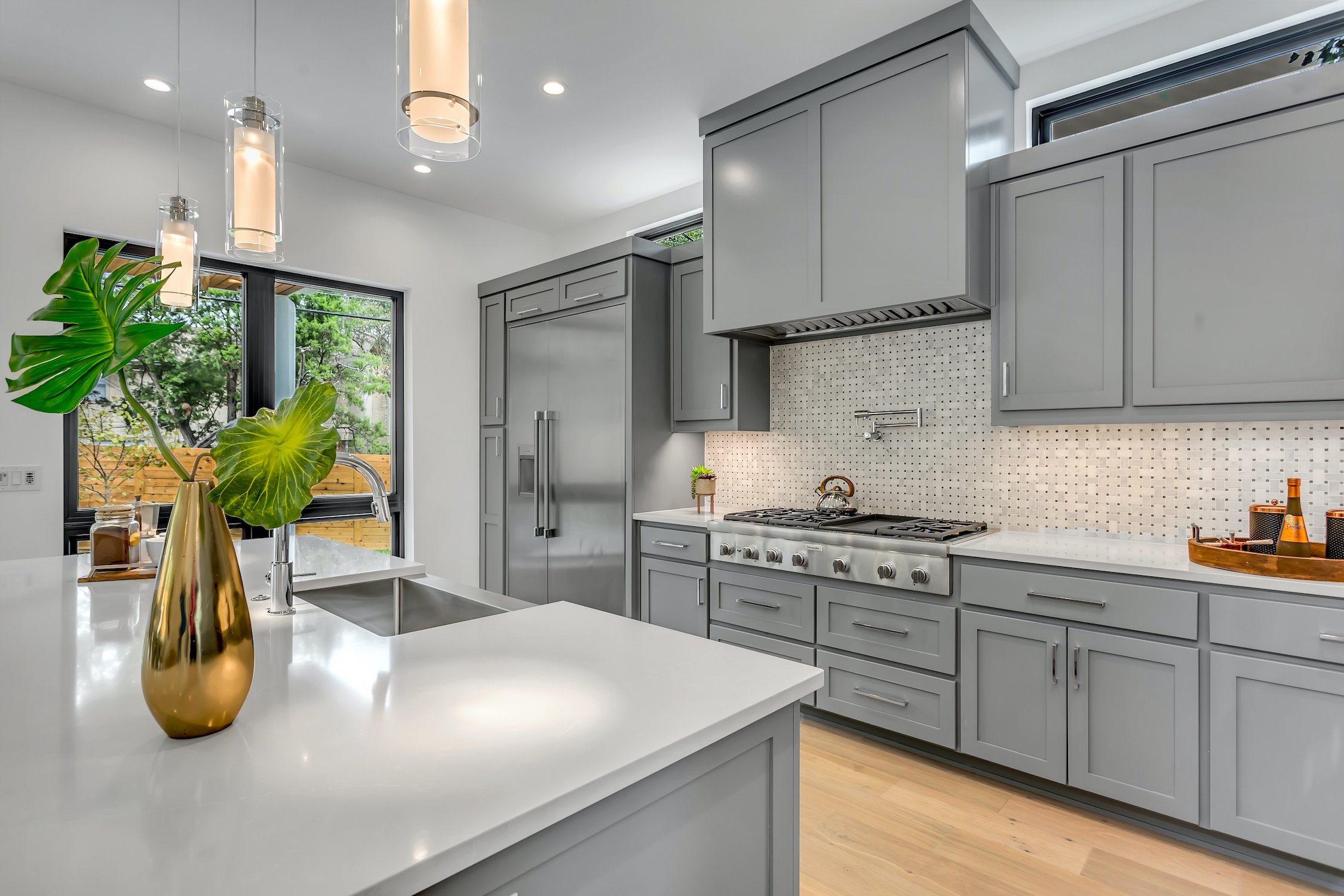 What if sprucing up your kitchen was as simple as painting your kitchen cabinets? Turns out, it is! So before you decide to do a complete renovation that's costly and time-consuming, consider showing your kitchen cabinets some love first instead of redoing the countertops, replacing appliances, and getting new flooring. Cabinet painting in Omaha, NE (and everywhere else) is trendy, but many wonder how long these paint jobs last and where they should start with choosing colors.
Because the kitchen is a high-traffic area and cabinets are opened and shut multiple times a day, cabinets can show wear quicker than anywhere else in the kitchen. However, if you choose the right way to get your cabinets painted and do your research, you'll get the best results. Read on to learn about getting your kitchen cabinets painted and when to get them repainted in Omaha, NE.
What color should you paint your kitchen cabinets?
Just like painting your front door or a spare room, anything goes! Browse online, and you'll find kitchen cabinet colors that run the gamut from neutral and minimalist to opulent and vibrant. As with anything in your home, it's all about personal style and preference. Not sure where to start? You can't go wrong with white cabinets! If your cabinets are oak, you can get them painted white for a more modern, polished look. White cabinets can make everything else in your kitchen pop and give a dramatic update. For those worried about the upkeep of white cabinets, try taupe or gray. It'll give the same neutral aesthetic as white, and it's more unexpected.
Another on-trend option that people are loving is two-tone kitchen cabinets. If you're torn between white and navy, for instance, you can get your top cabinets painted white and the bottom cabinets painted navy. This is eye-catching, unique, and becoming a popular choice for kitchen cabinets.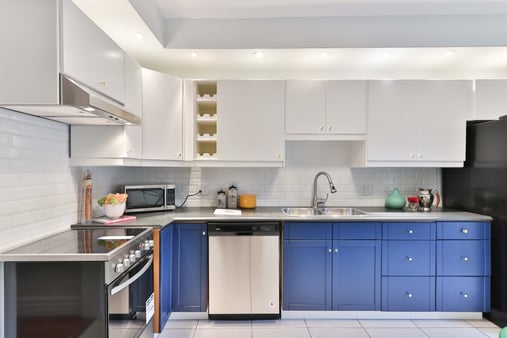 should you DIY or hire someone to paint your cabinets?
Sure, painting your kitchen cabinets seems simple enough. But there's much (MUCH) more that goes into it than Pinterest would have you believe. Ambitious homeowners don't realize how much can go wrong when you decide to go DIY with painting kitchen cabinets. Many think that painting your cabinets can be done over a weekend or on a Sunday afternoon, but in reality, it can take a week or so for a proper paint job. There's prep, products, tools, experience, and more to consider to ensure a quality job. Remember: you only get out of a job what you put into it.
While it seems enticing to save money by going the DIY route, it's best to leave this major job to the professionals. You'll be so happy you did when you see the huge impact your cabinets have on your kitchen.
Should I paint inside my kitchen cabinets?
It's completely up to you! Painting inside your kitchen cabinets as well as the outside can be a great way to refresh your kitchen. The wood is already protected and treated, so you don't lose or gain anything by painting your cabinets or not. By painting inside your kitchen cabinets, however, you create a cohesive look with the outside of your cabinets.
If you want to try something fun and trendy, you can paint the inside of your cabinets a different color from the outside to add contrast. Choose a complementary color or something entirely different. You can get as creative as you want with this look. For instance, if you have gray kitchen cabinets, you could paint the inside white, beige, a darker or lighter shade of gray, or even blue or yellow.
Are painted kitchen cabinets durable?
It depends on how the paint job is done. Stained kitchen cabinets are considered low-maintenance, and painted cabinets get a bad rap for being difficult to maintain. But when you get the job done right, you'll get the stylish, bespoke look you're wanting in your kitchen. The right company will use only the best materials and products to be certain the job lasts as long as possible. At Brush & Roll Painting, the secret is in the prep. Opting for DIY or using a budget provider means your painted cabinets may not hold up as well as you'd like them to.
How often should you repaint your cabinets?
Most kitchen cabinets can go several years without needing a fresh paint job, under normal circumstances. White kitchen cabinets or other lighter colors may start to show wear quicker than oak or darker finishes. Choosing a quality company to paint your cabinets will increase the longevity of a cabinet paint job, so look into a provider who specializes in interior painting. Companies like Brush & Roll Painting ensure that your painting investment lasts years by committing to a superior prep and paint process.
How much does it cost to get kitchen cabinets painted?
As with any project, this depends on the space and what all is involved! However, to get a general idea of how much painting your kitchen cabinets will cost, check out our Cabinet Pricing Page. Painting kitchen cabinets can be a lengthy process, but the end result pays off. Schedule your FREE estimate today to learn more!
At Brush & Roll Painting, we know that home painting is a serious investment. We also believe any paint job is only as good as the prep. If you want a quality paint job that will stand the test of time, give us a call at (402) 932-9764 or schedule an estimate online.