Causes for Faded Exterior Paint & 3 Ways To Avoid It
May 29, 2023 09:34 AM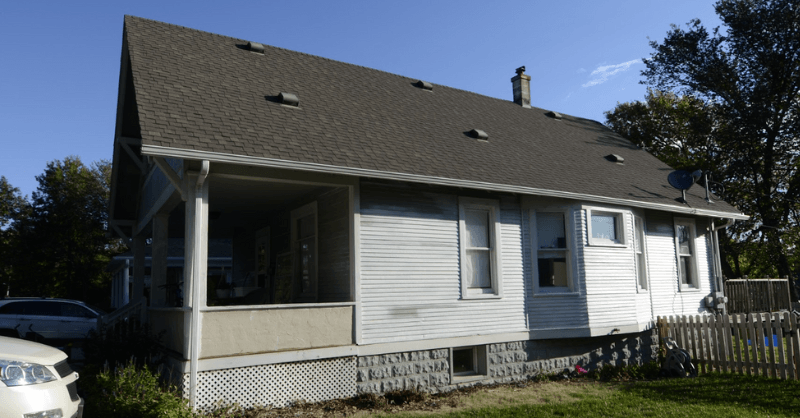 Fading paint is one of the top concerns for exterior paint. Thankfully, there are measures you can take to avoid this from happening.
Brush & Roll Painting has been painting the exterior of homes since 1996 in Omaha, NE. We take pride in our thorough prep work process and we love using high-quality products to obtain the best quality results every time.
In this article, we will discuss the three main reasons why exterior paint can fade. Then, we will discuss three ways to avoid paint from fading. By reading this, you might know why your exterior paint has faded and what you need to keep in mind for your next exterior painting project.
Exterior Paint Fading Causes
Low-quality paint
Low-quality paint is the number one cause of paint fading. Due to the paint ingredients like the number of solids and additives, the paint is not strong enough to retain color for long periods of time.
There are more factors outdoors that can cause damage to the paint. Low-quality paint does not have the power to fight any of these factors.
The price of the paint may seem like you're getting a bargain. However, the paint job will have to be redone in a few years.
The paint was not applied correctly
If the paint is not applied at the right mil thickness, it will fade.
Even if you use high-dollar paint, if it's not applied at the right mils, it is destined to fail. For example, if the manufacturer says it can be applied at 8 mils wet and the contractor put it on at 4 mils, the paint will end up fading.
Another big reason paint fails is some painting contractors try to save money on paint by mixing water in the paint to stretch out its coverage. This is very harmful to the paint, as it causes it to become thin and weak. It will not be able to hold its properties and will not only fade but also fail to provide your home the protection that paint is intended for.
Weather conditions
Direct UV rays are a large factor in paint fading. As paint sits over the course of a few years, direct sunlight causes it to naturally fade away.
As we said before, this is more common with low-quality paint. High-quality paint can carry color retention to hold your shade. Some high-quality paint can retain color for over a decade without needing to be repainted.
Extreme temperatures and harsh conditions will also affect the paint's color retention.
Ways to avoid exterior paint fading
Wash your home regularly
Power washing your home each year will free dirt build-up on your paint. Dirt can permanently discolor the paint if it's not taken care of.
Clean paint will hold color longer. Plus, it will look better than a thin film of dirt.
Hiring a professional to power wash your home is available if doing it yourself is not an option for you.
Choose high-quality paint
Investing in high-quality paint will save you money in the long run. By not having to repaint the entire exterior of your house every few years, you can go for long periods of time enjoying a beautiful exterior color.
You can trust that the quality paint will not fade or chip easily. You can feel confident that it has additional additives made to fight against UV rays and mold and mildew.
Opt for a lighter color
Lighter colors tend to not fade as easily as dark or bright colors do. Specifically, beiges, tans, and browns are great shades because they use organic pigments.
With that being said, a darker color can perform well with durable high-quality paint. High-quality exterior paints by Benjamin Moore are created with innovative technologies and fade-resistant properties to provide lasting color.
Invest in your paint
Fading is a common issue of exterior paint, but can be easily avoided by using high-quality paint, washing your home consistently, and choosing a lighter shade.
For a quality paint job with a proven prep work process, have Brush & Roll Painting in Omaha, NE repaint your home. We love using Aura by Benjamin Moore, a superior paint product that is built to retain color for 10 years.
Next, check out our Guide To Exterior Painting. Beginning this project, you may feel overwhelmed, so get ahead of the game and find out all you need to know and what to expect.