How To Make Golden Oak Cabinets Look Modern Without Refinishing
August 08, 2023 04:05 PM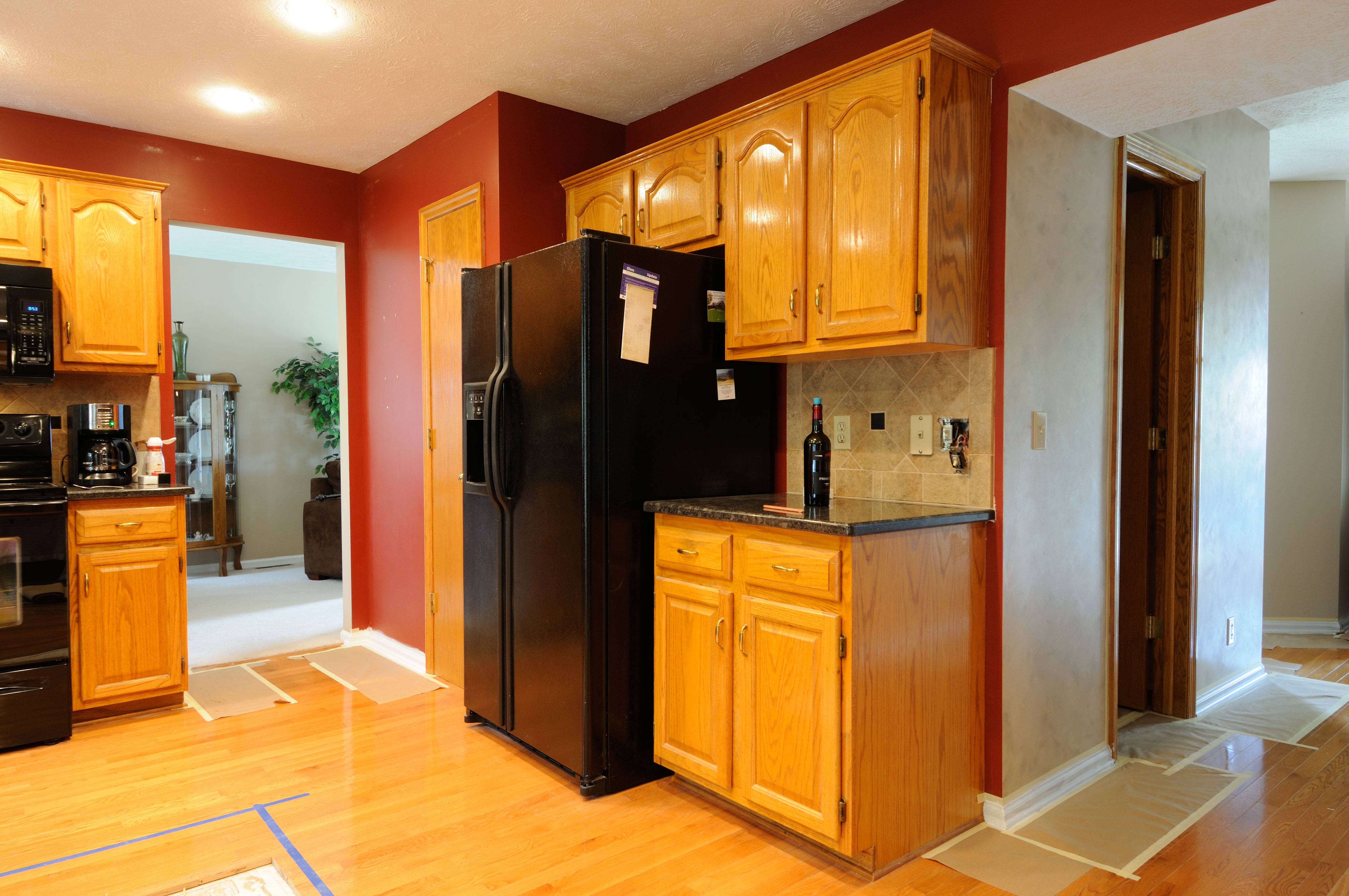 You either love or hate them, but golden oak cabinets are common in homes that were built in the 80s and 90s.
Cabinet refinishing is a great option for removing that finish from your kitchen completely. But, if that is currently out of your budget, there are some small changes to make your oak cabinets look more modern.
At Brush & Roll Painting, we have been transforming kitchens in the Omaha area since 1996. Our work provides durable and lasting results, whether it's significant or subtle changes.
In this article, we will give you 4 ideas for making your oak cabinets look more up-to-date. By reading this, you might have a better idea of how you want to transform your kitchen.
1. Change countertops or backsplash
Switching your countertops and backsplash for a more modern style will elevate your space. White is an excellent choice for this, it's classic and will lighten up the space.
To fit a smaller budget, you could use a peel-and-stick backsplash.
If you have a lighter oak, darker countertops, and backsplash will pair perfectly.
2. A durable protectant layer
There is nothing more modern than durable cabinets. Cabinets with scratches or nicks in the wood are unappealing and do not add value to your home.
If your cabinets are looking a little damaged or just need more protection, a clear coat will do just the trick. This will be a little more costly than some other options for making the most out of oak cabinets, but it will prolong the life of the wood. In addition, it will cost less than refinishing with any other finish or refacing the cabinets.
It is also resistant to chemicals, moisture, abrasion, fading, and scratches.
3. Switch out your hardware
Switching out your hardware can make a world of difference. Consider changing the tone and the style to a more modern finish. This little detail will make the oak cabinets look reinvented.
Hardware finishes that golden oak cabinets look modern with are matte black or dark bronze. When choosing hardware, straight handles, and simple knobs are more modern than handles with detail.
4. Paint the walls in your kitchen
Painting the walls in your kitchen a lighter neutral color will help your whole space come together with your golden oak cabinets. Not only are these shades modern, but they are timeless and will look great if you decide to refinish your cabinets with a different color later down the line.
Sage green or light blue shades also pair well with golden oak cabinets.
Conclusion
If you're not ready to rid your cabinets of golden oak just yet but want a modern style, consider one of those options to refresh your kitchen.
If you are ready to refinish your cabinets or add a durable layer of protection to your oak cabinets, schedule an estimate with Brush & Roll Painting in Omaha, NE.
Next, discover the 2023 kitchen cabinet trends. Incorporating one of those trends in your kitchen with golden oak cabinets will be sure to bring them up to date.