How Much does it Cost to Refinish & Paint Kitchen Cabinets?
July 18, 2023 08:39 AM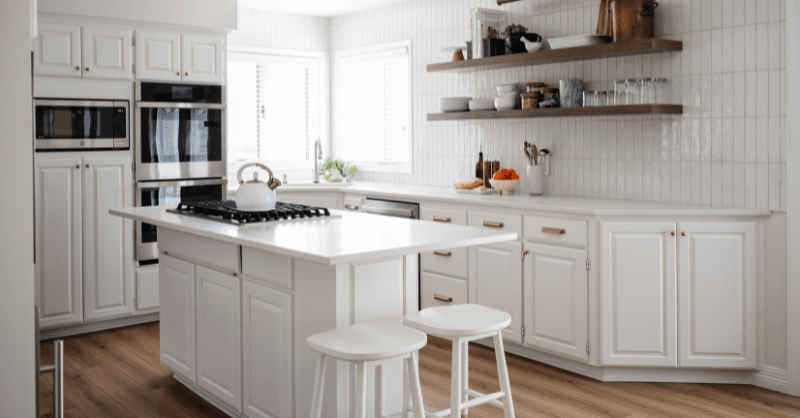 What is the one thing standing between you and your dream kitchen cabinets? Is it the cost?
The cost of refinishing kitchen cabinets can be an overwhelming number. It truly is an investment in your home. But what goes into the process that determines the cost? How can you make it more affordable for your budget? Let us help!
In this article, we will give you all of the factors that influence the cost of painting cabinets, along with an average price. This will help you know what to expect when you are ready to get your dream kitchen cabinets completed.
At Brush & Roll Painting, we have been refinishing cabinets since 1996 in the Omaha area. Our work is promised to be high quality, durable, and guaranteed to uphold past our 9-year warranty.
Factors influencing the cost of cabinet painting
Cabinet condition
The first step of cabinet refinishing is prep work. This is a crucial step that has to be done no matter the condition of your cabinets. This phase includes; cleaning, sanding, and priming.
However, damages to your cabinets (such as chipping, peeling, or scratches from previous paint or gouges in the wood itself) will require more prep work. The more extensive amount of work, the higher the price will be.
This detailed work should not be forgotten or overlooked. If your cabinets remain damaged, the state will only worsen.
Kitchen size and cabinet quantity
One of the main factors in the cost of cabinet refinishing is the number of cabinet doors you have and the size of your kitchen.
The bigger the kitchen and the number of doors, the more work needs to be done.
This factor is unavoidable unless you want a half-refinished kitchen. But, knowing the average price for refinishing cabinets in your general size kitchen, will allow you to set a budget and know what to expect.
Type of finish
The type of finish can also determine the price of your cabinet refinishing project.
Painted cabinets can already be customizable to your style with any color in the books. Refinishing the cabinets with protective layers as a solid shade will be the most inexpensive option.
However, on top of "painted" cabinets, you can leave them as they are, or choose glazing or distressing. These options will increase the price of the work, as they add a few steps to the process.
A glazed finish involves applying a transparent or semi-transparent glaze over a base paint or stain. This technique adds depth and dimension to the cabinets, emphasizing the details and contours of the wood. This is about a 40-45% increase in cost, compared to a painted look.
Distressing creates an aged or weathered appearance on the cabinets. It involves techniques such as sanding, denting, or applying crackle paint to give the impression of wear and tear, adding a rustic or vintage charm.
Painted cabinets are an average cost for refinishing cabinets. Other cost-effective finishes include a clear protectant coat on top of your current cabinets or stain.
Labor and materials
Labor and materials will vary from company to company. This may be a clear factor in the cost of cabinet refinishing, but truly shows the value of what you can expect.
Keep in mind that cabinet refinishing requires finishers with expertise, knowledge, and skill. The cost of their labor should be included in your cabinet refinishing quote.
Finishers need durable materials to get the job done right. Professional, high-quality products and materials are going to be a part of the estimate but will ensure lasting value.
To lower this cost, some companies use cabinet or hardware store paint. This product tends to get soft and break down easily. From a few months to a few short years, your cabinets will need to be refinished again.
At Brush & Roll Painting in Omaha, NE, our proven cabinet refinishing process using durable products involves Milesi. Milesi is a 2K polyurethane. 2K polys are groundbreaking products for the wood coatings industry that leaves cabinets to be moisture, chemical, and abrasion resistant.
This product, along with many other durable materials we use both in the shop and on the field is professional grade and will add to the cost. We believe in high-quality products that will promise a lasting finish for over 10 years.
Warranty
Your cabinet refinishing project should include a warranty. This price should not be billed to you yearly but included in the first quote.
A yearly warranty agreement will ensure your cabinets are looking as good as new.
Average cost estimates for cabinet painting
Smaller kitchens: from $3,600 to $5,400. A kitchen of this size ranges from 30 to 40 linear feet of base units and 15 to 25 doors and drawer fronts.
Mid-sized kitchens: from $5,400 to $8,200 A kitchen of this size ranges from 40 to 60 linear feet of base units and 25 to 40 doors and drawer fronts.
Larger kitchens: $8,200 and up. A kitchen of this size ranges from 60 or more linear feet of base units and 40 or more doors and drawer fronts.
Additional Costs
Additional costs for cabinet refinishing can involve any hardware you want to be upgraded. Handles, hinges, or soft-close features, will be an added cost, but something to consider to bring your finished cabinets to the next level.
If there is any additional work that was not spelled out in your customer agreement that you want to be done, there will be an extra charge for time and material. This is common, as changes do happen and homeowners change their minds.
The Ultimate Guide to Cabinet Refinishing.
Cabinet refinishing is an investment in your home.
The cost of cabinet painting varies depending on cabinet condition, kitchen size, the type of finish, and a company's labor, materials, and warranty.
For durable and high-quality results, the prep work and products have to be invested in. Schedule an estimate with Brush & Roll Painting in Omaha, NE for those results.
Next, learn about the crucial steps to cabinet refinishing in detail. This will help you become familiar with a great process to steer you toward the best refinishing company for you.