Cheap vs Expensive Exterior Paint: What is the Difference?
May 08, 2023 09:47 AM
Exterior home painting is a big investment, but it adds value and curb appeal to your home. Knowing the difference between cheap, low-quality paint and more expensive, high-quality paint is crucial, so your money does not get wasted. Low-quality paint will only last a few years, show imperfections quickly and clearly, and be difficult to touch up.
For over 25 years at Brush & Roll Painting in Omaha, NE, we have painted hundreds of homes' exteriors with high-quality durable paint. We have also fixed countless errors caused by other painters using inferior paint and not having a thorough prep work process.
In this article, we will discuss low-quality vs. high-quality exterior paint. By reading this, you will be able to understand which type of paint will be better for your next exterior painting project.
Qualities of Cheap vs. Expensive Exterior Paint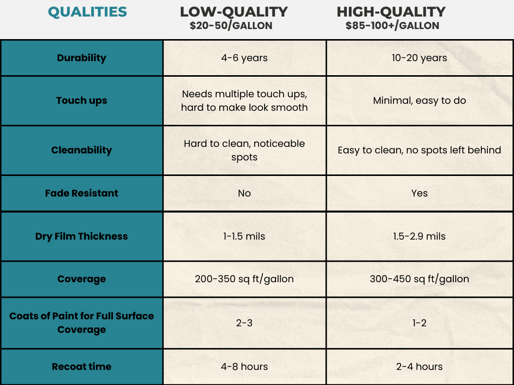 Qualities of Low-Quality Exterior Paint
The paint chips, sags, blisters, or peels off easily

Lasts a few years

Difficult to clean

Difficult to touch-up

Fades quickly

Not moisture resistant

Not mildew resistant
Qualities of High-Quality Exterior Paint
Durable

Lasts longest

Hair resistant

Mildew resistant

Applies thicker to protect gaps

Touch-ups seamlessly

Greater mil thickness
One of the most important elements of exterior paint is its film thickness. This determines how thick the paint applies and ultimately if it is durable.
Durable paint stands the test of time, is resistant to environmental effects like fading from the sun, and can withstand harsh rain or snow storms, some paints even can withstand hail.
Film thickness is measured in mils. The mils amount will be higher when the paint is first applied to the surface and as it dries, the mil thickness decreases. The number of solids in the paint is what creates the thickness of the film.
The hidden secret of high-quality paint is that it saves you money in the long run, for two main reasons. Firstly, you do not need a lot of product to get complete surface coverage. There will be fewer original coats needed compared to low-quality paint. It also needs little-to-no touch-ups over the years. When it does need touch-ups, they are seamless.
Reason number two, it is durable. High-quality paint is an investment, it will last about 15+ years, so you won't have to pay the price to have it repainted year after year.
Understanding what components are in the paint will help you determine if the paint is low or high-quality.
Ingredient information in paint is sometimes found on the back of the can, but often you may have to search for the ingredients on the paint company's technical data sheets (TDS). These are created for individual products. You can narrow down the ingredients for the exact paint you are looking for.
Components of Exterior Paint
Four types of ingredients make up all kinds of paint, cheap or expensive.
Pigments (color, finish, hide [coverage], and damage protection)

Resins (the binding property)

Solvents (a liquid carrier, water, or alkyd, that allows the paint to spread evenly)

Additives (ex: mildew resistance, formation, and flow and leveling control).
After the paint is applied and begins to dry, the solvent evaporates and leaves behind the pigment and resin, which becomes the solids. You want to look for a range of 35-50% in the number of solids in your exterior paint.
The higher that number, the more durable the paint will be, the thicker it applies, and the more coverage it gives. The lower percentage of these solids in paint does the opposite, it is thin, has poor hiding, and leaves you with low durability.
The quality of paint depends on how much, or how little, all these components are used. Low-quality paint is made with more solvents/liquids and larger pigment particles (such as clay, silica, and talc).
Higher-quality paint is made more durable by using a higher-grade resin and finer pigments. Smaller particles can grab hold of surfaces they are applied to easier than large particles can. More expensive paints are usually made of acrylic or latex.
Occasionally, the paint finish will affect the price, by a few dollars. This may depend on the number of solids per volume and how much coverage it provides.
Exterior Paint Color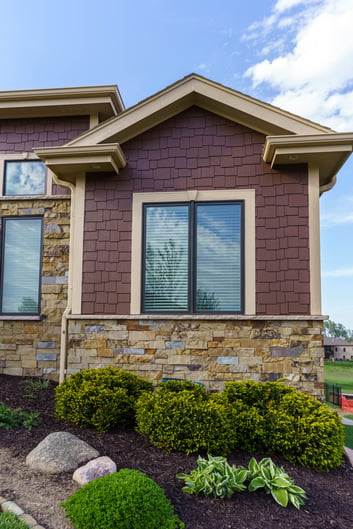 Mixing color, primarily darker shades, causes paint to weaken. Some shades of white are known to do this as well. Weak paint is thin and uneven while applying.
Weak paint on exteriors will fade quickly. But this can be avoided with high-quality paint. High-quality paint is made to be fade-resistant and retain its true color.
According to Benjamin Moore, "the most common paint colorants require the addition of certain chemicals so that they can mix easily into any number of paints." Aura, Regal Select, and Ultra Spec by Benjamin Moore have exclusive Gennex Technology. This technology removes the chemicals that weaken paint and creates waterborne colorants.
We believe Aura is one of the best exterior paints on the market because of its revolutionary color technology in addition to Gennex. The Color Lock technology allows the pigment to bond to the dry paint and locks in color permanently to the paint film.
This technology keeps the color pigment from fading over time. These colors can cover dark colors because of their extreme hide and they have an "accentuated response to different lighting conditions."
Low-quality paint is already at risk of fading due to sunlight. When a darker color is used in low-quality exterior paint, it is only destined to last a short amount of time.
Best types of Exterior Paint
At Brush & Roll Painting, we love to use Benjamin Moore paints. Since 1996 we have strived to use the best paint products on the market and have found Benjamin Moore exterior paints to be the most durable, high-quality, and color-retaining paints available.
All of their paints have great hide, and durability and are easy to clean.
We offer a 2-9 year warranty on the following Benjamin Moore exterior paints; Ultra Spec 500 (2 years), Regal Select (5 years), and Aura (9 years).
Choose What is Best for You
From this information and our experience working with many kinds of paint since 1996, we know that high-quality paint is worth the investment. You cannot get the same quality product at a lower price.
However, if the price is something you can not slide for a quick project, a quality product that falls in the middle of the low to high-quality range may be a better option.
More expensive paint will stand the test of time with minimal touch-ups. To get this paint, you need to find the best kind of paint that a company sells, like Aura by Benjamin Moore. Next, if you have an exterior painting project you are looking to hire, find a contractor that uses this high-quality paint by asking them important questions to ensure you are getting the best quality results for your project.