Comparing Benjamin Moore & Sherwin Williams Exterior Paints: Which is Right for You?
May 01, 2023 11:37 AM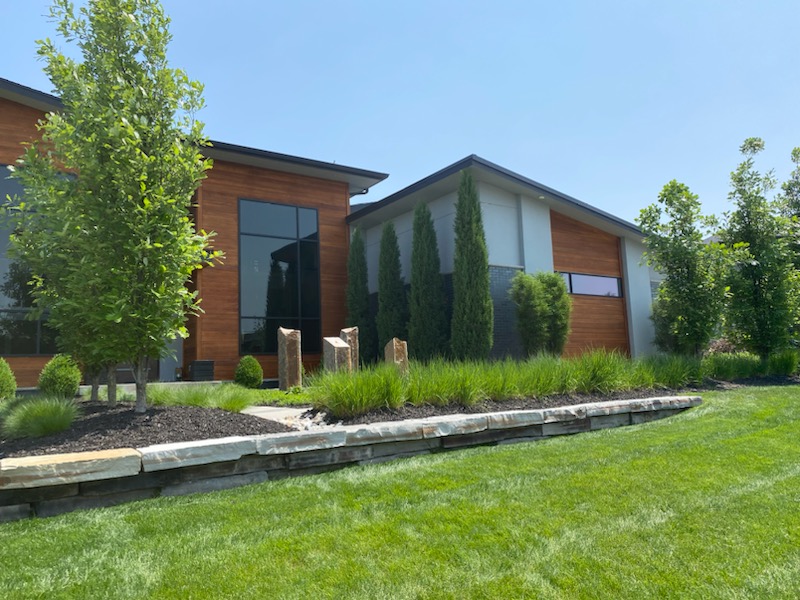 Are you having the exterior of your home repainted and are unsure of what paint product is best for long-term and durable paint? Benjamin Moore and Sherwin Williams are both premiere options for exterior acrylic paint, but they both have a range of low to high-quality products.
At Brush & Roll Painting, we have been painting exteriors since 1996 in Omaha, NE. Our use of high-quality products and prep work ensures results will stand the test of time.
In this article, we will compare the bulk of Benjamin Moore and Sherwin Williams's exterior paint products. By reading this, you can determine exactly what exterior paint would be best for your project.
Quality Comparison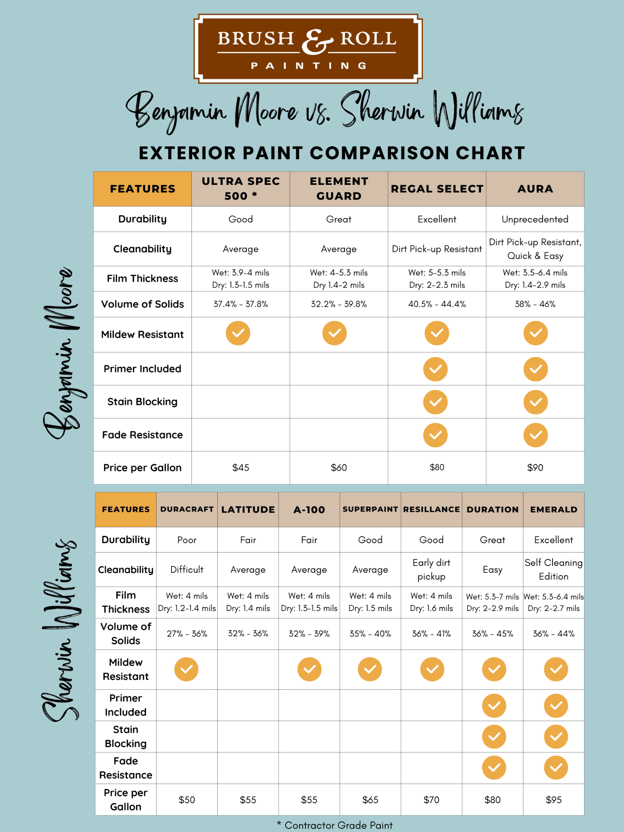 When it comes to quality, both Benjamin Moore and Sherwin Williams offer low to high-quality exterior paints. Both brands are known for their excellent coverage, durability, and finish. However, Benjamin Moore is often recognized as having a slightly better quality than Sherwin Williams.
Benjamin Moore paints tend to have better coverage with fewer coats needed to achieve a desired finish, helping eliminate the possibility of skips or flashing. Benjamin Moore also has almost 2000 more color options than Sherwin Williams.
Terms
Durability
Durable paint will prove itself over time by maintaining its color and resisting damage. This is one of the best qualities you can get in any product, especially paint products. It proves that you are getting your money's worth as the product lasts as long as possible.
Clean-ability
The paint must be easy to clean. Nobody wants stains that won't budge or color the rubs off with the grime. Washing the exterior of your home may be challenging enough, so having the color wash right off will save you a lot of time. High-quality durable paint will be easy to clean which provides you with ease while doing a deep cleaning or a quick spot clean.
Film Thickness
Film thickness is one of the most important factors of exterior paint. It is important for interior paint, but the greater the mil thickness for exterior paint, the more durable the paint will be.
A great film thickness allows you to apply the product quicker rather than doing many coats. A durable layer helps fight against outside forces that can damage the paint. It also helps maintain the color and resist fading from the sunlight or dirt and grime that may find its way into your house.
The Volume of Solids
Solids are one of the main components of paint. After the paint is applied and begins to dry, the solvent evaporates and leaves behind the pigment and resin, which becomes the solids. You want to look for a range of 35-50% in the number of solids in your paint.
The higher that number, the more durable the paint will be, the thicker it applies, and the more coverage it gives. The lower percentage of these solids in paint does the opposite, it is thin, has poor hiding, and leaves you with low durability.
Mildew Resistance
Mildew resistance is an additive in paint. High humidity can cause mildew or mold on paint. With this additive, paints can fight against bacteria growth and protect you from a messy situation.
This is crucial outdoors as you have environmental factors that could impact your paint any day. The heat from indoors can seep outside as a factor as well.
Primer Included
A primer included in the paint tells you that the paint can adhere well to surfaces. The number one job of a primer is to adhere to the original wall or old paint easily while allowing for another coat to be applied smoothly. Primer also helps the color maintain its true shade longer.
Though surfaces should be properly prepped before painting, exterior paint with a primer included will better adhere to siding and wood.
Exterior Painting Cost
The cost per gallon is a good telling sign of how durable the paint is. As you can see, the higher the number of solids, the more durable, great clean-ability, and great coverage will result in a higher price.
Remember while comparing costs in terms of paint, you get what you pay for.
Benjamin Moore tends to be slightly more expensive than Sherwin Williams, with their premium paints costing significantly more. However, Benjamin Moore's paints tend to last longer and require fewer coats, which can save you money in the long run.
Color Selection Comparison
It is so important that you have confidence in the color you choose for the exterior of your home. After all, it will be the very first thing that visitors see.
Benjamin Moore has an edge in terms of color selection, offering over 3,500 options. Their color options tend to be more consistent and have better color accuracy.
Sherwin-Williams has about 1,700 color options available.
Technology
Benjamin Moore and Sherwin Williams have exclusive technology, usually found in their higher-quality products. Both of the brands have developed stain-blocking technology that allows the paint to be scrubbed without any color rubbing off.
Benjamin Moore's groundbreaking technology, Gennex Color Technology, and Color Lock Technology, focuses on maintaining a deep and accurate pigment. The Gennex Color technology eliminates the chemicals that cause dark colors to weaken paint. Color Lock, permanently binds the pigments to the resin, resulting in fade resistance.
Across its product line, Sherwin-Williams has developed several technology features.
Ceramic Microspheres - These are tiny ceramic beads that are added to the paint formula to improve durability, resist cracking, and improve insulation.
Proprietary Resin Technology - This technology provides better adhesion and resistance to stains, making the paint more durable and long-lasting.
Anti-Microbial Technology - This technology helps prevent the growth of mold and mildew on painted surfaces, making it ideal for use in humid environments.
Self-Cleaning Technology - Some Sherwin-Williams paints feature a self-cleaning technology that helps keep painted surfaces clean by reducing the buildup of dirt and grime. Emerald, Sherwin William's highest quality paint, has a special self-cleaning edition of the product.
Environmentally Friendly
Both brands have taken strides to include environmentally safe options for their paint. Each brand carries an exclusion Eco option that is not mentioned above.
Benjamin Moore takes the cake for having the most environmentally friendly paint options as almost all of their products have zero VOCs.
Customer Satisfaction Comparison
Finally, regarding customer satisfaction, both Benjamin Moore and Sherwin Williams have high ratings. Benjamin Moore is known for its exceptional customer service, which includes in-store consultations and color-matching services.
Sherwin-Williams, on the other hand, offers a loyalty program that allows customers to earn rewards for their purchases. Both brands also offer online reviews and ratings, which can provide valuable insight into the quality and performance of their paints.
In our comparison chart, we have included the clean-ability of each product. We know this is an important feature in paint that can get overlooked, but helps when you have an unexpected stain. The higher-quality paints are easiest to clean, providing better customer satisfaction.
Which is Right for You; sherwin williams or benjamin moore?
In conclusion, both Benjamin Moore and Sherwin Williams offer high-quality exterior paints, but each has its unique strengths. Benjamin Moore is known for its superior quality and color accuracy, while Sherwin Williams is often more affordable.
When choosing between the two brands, it's important to consider your specific needs, including your budget, color preferences, and desired finish. Ultimately, the best choice is the one that meets your needs and expectations.
We hope this comparison has helped you make an informed decision and feel confident in your choice of paint brand for your next exterior painting project whether you are doing it yourself or hiring a professional painting contractor.
If you are looking to hire in Omaha, NE, consider Brush & Roll Painting. Our work involves detailed prep and using our skills and experience with high-quality products. Schedule a free estimate with us now.
Next, check out our Guide To Exterior Painting. Beginning this project, you may feel overwhelmed, so get ahead of the game and find out all you need to know and what to expect.