Emerald vs Duration: Which Sherwin Williams Interior Paint Should You Choose?
May 15, 2023 09:22 AM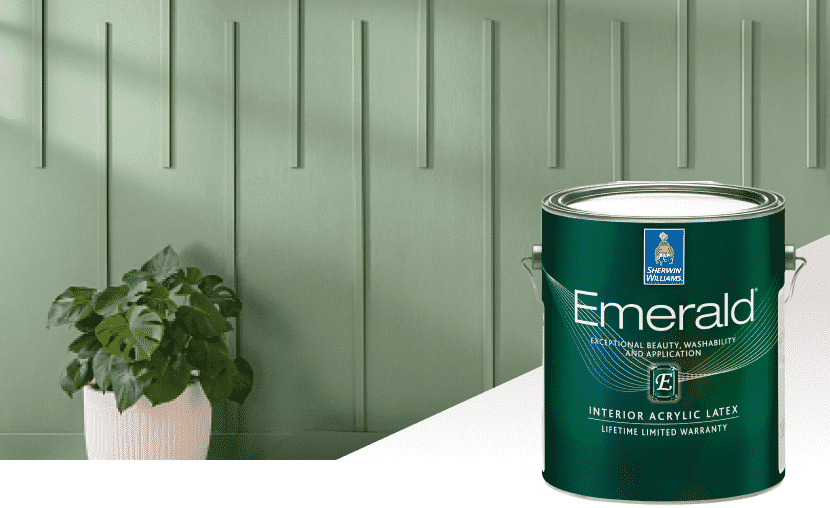 If you prefer to use Sherwin Williams products, but are not sure which interior paint is best, read this article to consider transforming your living space with the remarkable advantages of Emerald by Sherwin Williams.
Brush & Roll Painting has been a trusted interior residential painter near the Omaha area since 1996. Our customer satisfaction process includes high-quality products and a thorough prep work process. We have been through trials and tribulations with paint products on the market, so our knowledge and expertise is a promise.
In this article, we delve into the benefits that make Emerald the go-to choice for homeowners that like Sherwin-Williams paint. We also compare the paint to its precedent, Duration. From its exceptional durability and stain resistance to its eco-friendly formulation, Emerald offers a superior paint experience. Discover how this premium paint can elevate your home's aesthetics while providing long-lasting beauty and peace of mind.
While comparing your paint options, use this information to help you make your decision of what paint product is best for your interior project.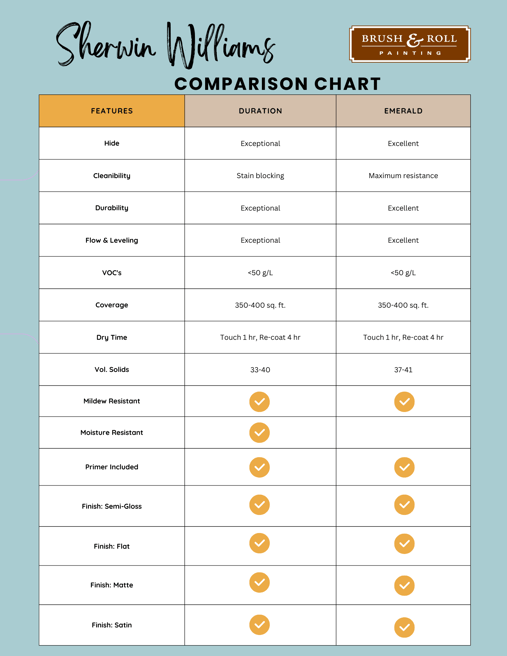 Upgrading to Emerald
Emerald is the most high-quality paint that Sherwin-Williams sells. The paint has advanced washability to give maximum stain resistance. It provides stunning results in fewer coats. It is also a premium paint and primer in one and comes in a designer edition and a standard edition.
The main benefits of Sherwin Williams' Duration, the next high-quality paint Sherwin Williams carries, are that it has advanced stain blocking, good coverage and washability, and is also a paint and primer in one.
Emerald and Duration are water-based acrylic latex. Both kinds of paint are available in over 1,700 colors and in four finishes; flat, matte, satin, and semi-gloss.
Emerald and duration are very close in price, Emerald is roughly $85-$90, while Duration is about $80-$85. The higher quality of Emerald makes the slight price difference worth it for primary areas in your home.
The main difference between Emerald and Duration is that Emerald offers more coverage with less paint. It holds more solids per volume, which means that there will be more coverage and hide while applying. However, they both still cover 350-400 per sq. ft.
Both paints are mold and mildew-resistant. But, Duration has a special moisture-resistance technology, which makes it great for bathrooms and kitchens. Emerald shows its durability in high-traffic areas like living rooms and bedrooms.
Sherwin Williams also claims that Emerald gives a stunning and smooth finish for years to come. Many believe duration does not apply as smoothly because of the thickness of the paint.
Emerald is also the easiest of the two when it comes to applying darker colors since its hide is stronger.
Conclusion
All in all, upgrading paint will never do you wrong. A high-quality paint like Emerald is best in high-traffic areas. Depending on your situation, it may be more cost efficient for you to choose Duration for more low-traffic areas.
At Brush & Roll Painting in Omaha, NE, we stand out from competitors by always using high-quality products for all of our services.
Next, check out our Guide to Interior Painting to ensure everything is checked off before your project begins.