2021 Home Exterior Color Trends in Omaha, NE
April 24, 2021 08:00 AM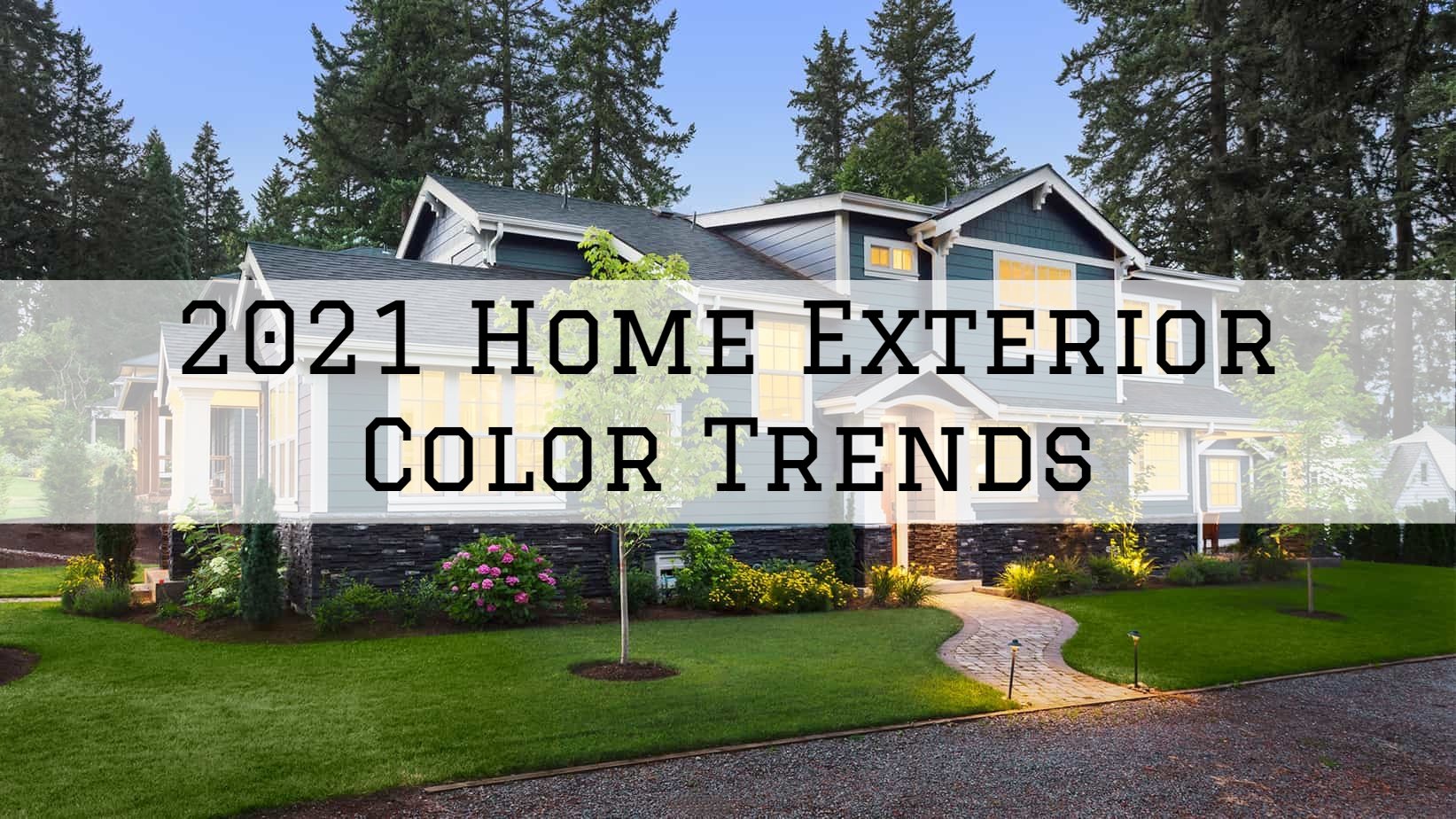 Your home's exterior can make a big, lasting first impression. What kind of impression is yours making? Maybe it needs a bit of a facelift if you haven't had the paint touched up in a while. If you chose a company that offers an exterior paint warranty, it might be time to give them a call.
Maybe you want to start fresh and try something a little different. Whether you're trying to sell your home or you just want to fall back in love with your home again, there are many reasons to have your home's exterior repainted. Our team of color experts at Brush & Roll Painting is sharing their favorite color trends of 2021 for exteriors. We have a feeling many of these color trends will last well beyond 2021.

1. Creamy White
As an alternative to bright, stark white, an off-white shade is much more subdued and calming. Off-white or creamy white is almost vintage and gives that lovely worn-in look that homeowners and designers love. Try Benjamin Moore's White Dove for a sophisticated update to your exterior. It's one of their most popular shades and has become a go-to for color experts and professionals because of the shade's versatility.
2. charcoal gray
Wanting to make a statement with a dark but not-too-dark color? Charcoal gray or dark gray is a great place to start for your home's exterior. Dark shades are always stylish and elegant, and you can paint your front door in just about any color. Benjamin Moore's Kendall Charcoal is an excellent choice as it's deep and luxurious and sure to be an eye-catching choice for your home.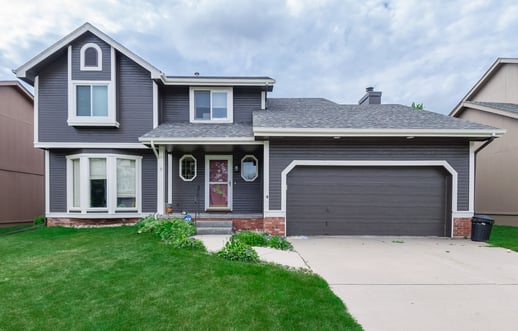 3. Navy
Navy blue is a very classic color that looks good on traditional homes as well as contemporary facades. It's unexpected and makes an impact on curb appeal, something you'll want to consider when choosing an exterior paint color. Try contrasting accents to really make the navy paint shade pop. A cheery yellow or bold red front door will look amazing with navy blue. Benjamin Moore's Hale Navy is a saturated shade that's a true navy, free of green undertones.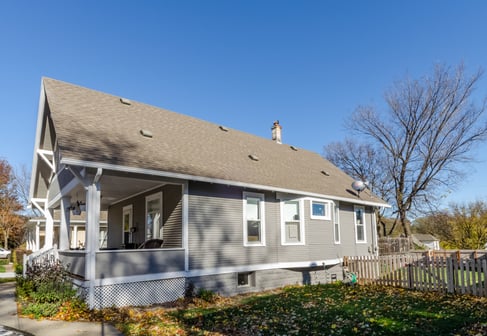 4. gray
Hardly a trend but always growing in popularity, gray is certainly a classic shade for home interiors and exteriors. While beige is still a very popular color for home exteriors, many are opting to switch to a more of-the-moment gray shade. Gray paint shades complement nearly every style of home and can take on warm or cool tones. A warm shade of gray gives an inviting vibe to your home as well as a calming, zen look. A perennial favorite among professionals is Gray Owl by Benjamin Moore.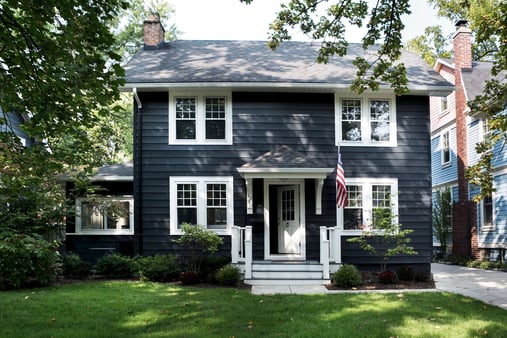 Image courtesy of Marta Xochilt Perez
5. Black
Let's face it—black-painted interiors and exteriors are really cool and interesting. Black is a beautiful paint color and forever in style. Those who opt for black paint aren't afraid of a little drama and dare to be noticed. Embrace the dark side and opt for a black exterior highlighted by white trim and a bold front door. We recommend using Black Jack by Benjamin Moore for your home exterior paint color.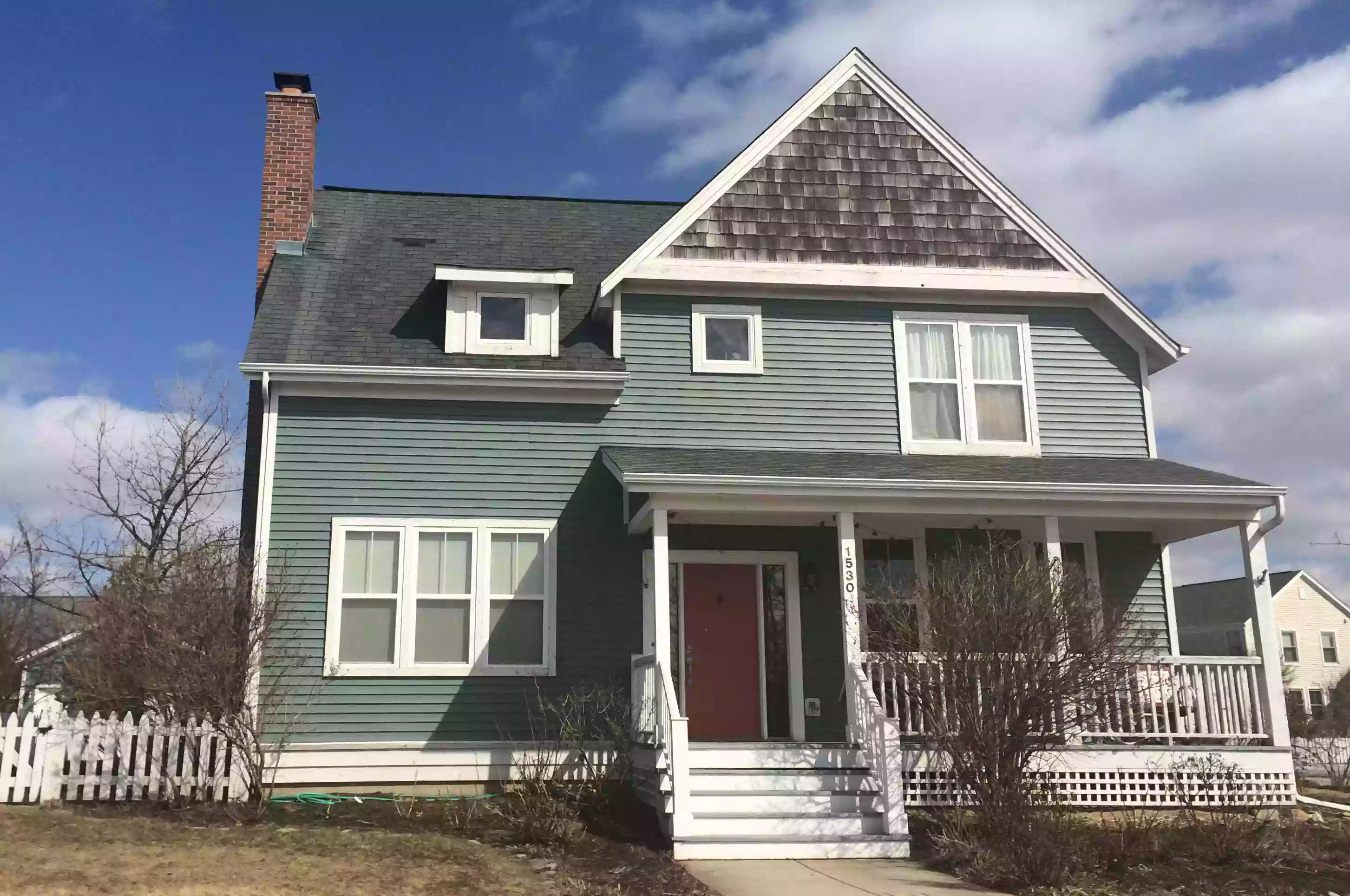 6. Green
Earthy and cool, green brings a soothing vibe to the exterior of your home. Green can either be muted and subdued or bold, depending on what you like and what style of home you have. In this case, the grayish-green hue complements the wood siding, and you can always count on most shades of green to pair perfectly with white or black trim. Try Benjamin Moore's Saybrook Sage, which is "steeped in tradition" and can be used in contemporary and traditional homes alike.
We're certain that these colors have the longevity to last well beyond 2021. And when you're selecting a paint color for your house, staying power is the name of the game. A compilation of trending colors is a great place to start for inspiration and ideas, but always keep in mind the style of your home and your personal style in general. We always say you can never go wrong choosing what you love, especially when it comes to your painting the exterior of your home.
At Brush & Roll Painting, we know that home painting is a serious investment. We also believe any paint job is only as good as the prep. If you want a quality paint job that will stand the test of time, give us a call at (402) 932-9764 or schedule an estimate online.