Best Paint Colors That Go With Oak Wood Cabinets in Omaha, NE
November 04, 2021 11:46 AM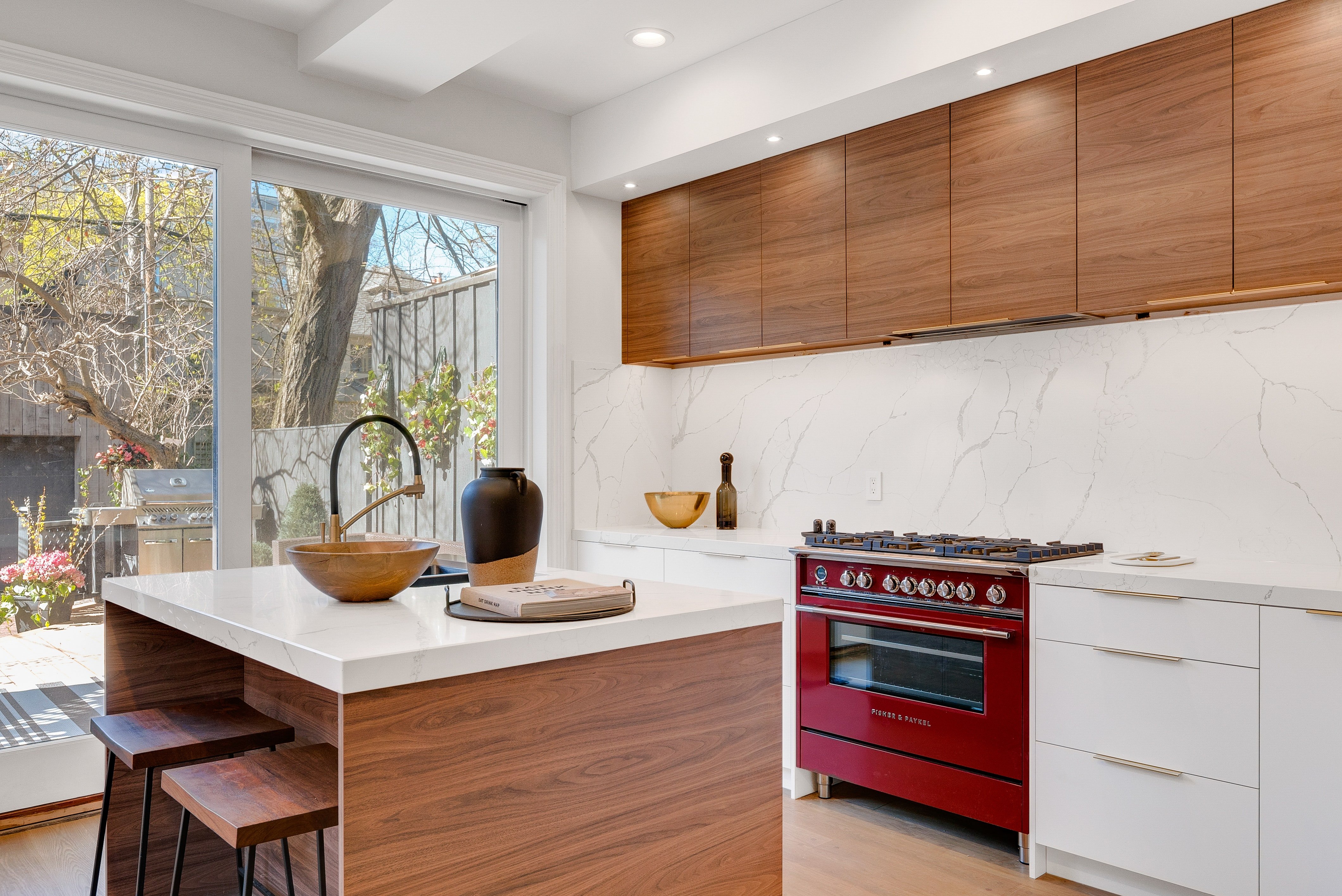 By now you've probably familiarized yourself with the pros and cons of painting oak cabinets. There are good arguments on both sides, but if you're leaning more to the "not painting" side, we've got another way you can update your kitchen and keep the honey oak of your cabinets.
Our color experts at Brush & Roll Painting love to make the color-choosing process as simple as possible, so we've rounded up some colors that will pair perfectly with honey oak cabinets. Whether you're updating a bathroom or your kitchen, these wall colors will bring out your oak cabinets and give your space that refresh you've been wanting.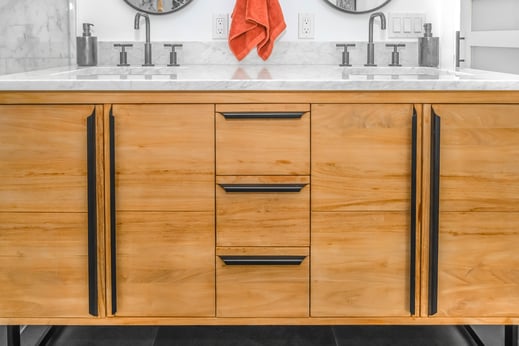 1. Gray

The most versatile neutral of all, gray is a natural choice (literally) for all things cabinet-related. It looks amazing as a kitchen cabinet color choice, a wall color, exterior paint shade, and pairs perfectly with honey oak trim. Light gray or dark gray will complement oak cabinets. If you want more of a contrast, go with the dark gray or charcoal even. We have lots of favorite gray paint colors, but Benjamin Moore's Edgecomb Gray is a true chameleon color that's great to start with.
2. Dark Green
Forest green, dark green, or olive will bring out the warmth of honey oak

cabinets, so it's an excellent choice for a wall color. The contrast of a deep green brings out the unique color and grain in the cabinets. We love it in bathrooms and kitchens alike. Dark green walls have become a foolproof paint shade as they go with any existing decor and interior design style. Give Hunter Green by Benjamin Moore a try to get this look.
3. Navy Blue

We sing the praises of navy blue a lot—and with good reason! It's a beautiful in-between shade for those wanting to go dark but not too dark. For those wanting color but nothing too saturated or bold. It's one of the most classic shades and there are few paint colors it won't look good with. With oak wood cabinets, it's a timeless color pairing. Hale Navy by Benjamin Moore is a forever favorite with designers and homeowners.

4. Gray-Blue
It makes sense that a warm paint shade would go with the warmth of oak

wood cabinets. But choosing a paint color that leans cool is an exciting juxtaposition that not everyone would consider. By teaming up gray-blue with honey oak, you're modernizing your space and giving it an unexpected element. A color like Benjamin Moore's Smoke is a beautiful, barely-there gray-blue that looks good in any room.
5. Seafoam green

Think outside the traditional color wheel! You might be surprised when we tell you that seafoam green or pistachio green is super versatile and easy to work with. A kitchen or bathroom with oak cabinets is no exception! If you want to liven up the walls without going too color-crazy, this is the shade you want. It's soft enough to still be neutral and make a stylish impact. Try the newly trending October Mist by Benjamin Moore.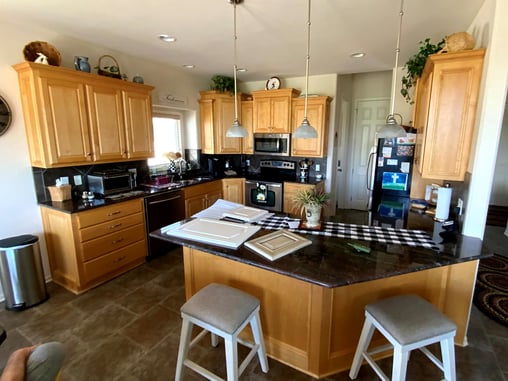 6. Off-White
If you're struggling with what to do with a small kitchen or small bathroom,

painting it a light color like off-white will make the space appear larger. Off-white is warmer and not as stark as white but still reflects natural light and gives the illusion of higher ceilings. Benjamin Moore's Cloud White is perfect for reflecting light and making your space look brighter without being dull.
7. Black

Contrasting colors will always draw the eye and make for an interesting, on-trend look. Case in point, black walls (or an accent wall) with oak cabinets. These opposites play off each other, and black paint is a great way to make your oak cabinets current and give them a stylish edge. A shade like Onyx by Benjamin Moore will recreate the look you're wanting, and black with oak is a great modern farmhouse color scheme as well.
At Brush & Roll Painting, we know that home painting is a serious investment. We also believe any paint job is only as good as the prep. If you want a quality paint job that will stand the test of time, give us a call at (402) 932-9764 or schedule an estimate online.